Conway Lake, New Hampshire, USA
Lake Locations:
USA - New England - New Hampshire - White Mountains -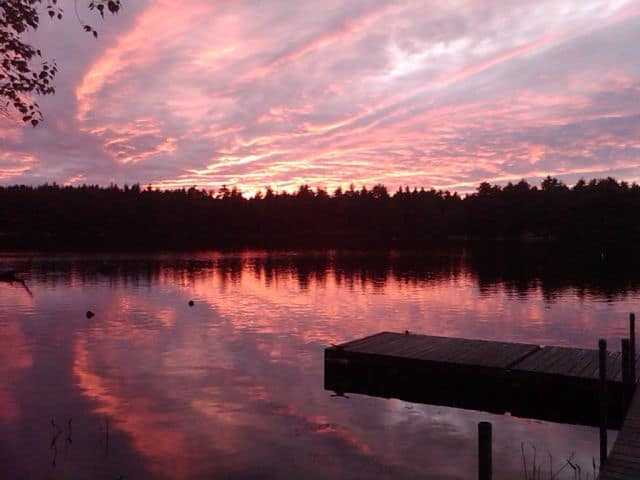 Conway Lake is a hidden treasure nestled in the towns of Conway and Eaton, east of the White Mountains in New Hampshire. Careful conservation efforts and building policies ensure that the lake will maintain its quiet, private nature far into the future. Its location in the shadow of the White Mountains guarantees that visitors and homeowners will have access to almost every outdoor recreation opportunity imaginable.
Stretching four miles long and just under a mile and a half wide, Conway Lake covers 1,316 acres in Carroll County. Snowy Brook is the lake's primary inflow; Mill Brook, a tributary of the Saco River, is the lake's outflow. It is a natural lake that was enlarged by a dam in the early 1800's. The 200 foot long, 17 foot high earth embankment dam is at the north end of Conway Lake.
The history of Conway was shaped by water. By 1817, records state that there were ten mills of various kinds around Conway Lake, and the coming of the railroad in 1865 brought increased prosperity. Lumbermen used Conway Lake to float logs to the sawmills where they were processed before being sent on freight cars to Portsmouth and other destinations. Today Conway and the nearby town of Eaton have shops, restaurants, outdoor outfitters and any amenity a visitor might need. There is real estate available for sale in both towns with vacation rentals and residential development on the shores of the lake. Conway Lake, however, is a closely guarded secret and lakeside development is carefully managed, so real estate is at a premium.
A public boat launch provides access for boating, sailing, and waterskiing. Conway Lake is full of fish, including rainbow trout, largemouth bass, and smallmouth bass. The New Hampshire Department of Fish and Game manages the lake for landlocked salmon. Conway Lake is classified as oligo-mesotrophic with very clean water. Both public and private beaches provide access to the lake for swimming.
It is a short drive from Conway Lake to the White Mountain National Forest. Straddling parts of Maine and New Hampshire, the forest was established on May 16, 1918. It includes Mt. Washington, the highest peak east of the Mississippi River and north of the Smoky Mountains. Trails for mountain biking and hiking cross the forest, and hunting and fishing are allowed in season. Several campgrounds in the forest offer a variety of overnight accommodations. The Kancamagus Scenic Byway is a 34-mile long drive crossing through the center of the forest, providing picturesque sites including an occasional moose. For the more adventurous, Tuckerman Ravine offers a chance for backcountry skiing. Downhill skiing, cross country skiing and a variety of winter sports are available in the White Mountain National Forest.
To the west of Conway Lake, Echo Lake State Park is a fantastic day trip. The 118-acre park provides plenty of opportunity for hiking, biking, and fishing. It is best known, however, for its rock climbing. Cathedral Ledge rises 700 feet above Echo Lake and draws climbers from around the world to rock climb and ice climb New Hampshire's granite.
Surrounded with all the White Mountains have to offer, Conway Lake is sure to call visitors far into the future. Careful conservation practices and limited building will ensure it remains a treasure for future generations to enjoy.
Things to do at Conway Lake
Vacation Rentals
Fishing
Boating
Sailing
Swimming
Beach
Water Skiing
Camping
Campground
Hiking
Rock Climbing
Ice Climbing
Biking
Downhill Skiing
Cross-Country Skiing
Hunting
State Park
National Forest
Fish species found at Conway Lake
Bass
Black Bass
Largemouth Bass
Rainbow Trout
Salmon
Smallmouth Bass
Trout
---
Conway Lake Photo Gallery
Conway Lake Statistics & Helpful Links
Spread the word! Share our Conway Lake article with your fellow Lake Lubbers!