Echo Lake, New Hampshire, USA
Lake Locations:
USA - New England - New Hampshire - White Mountains -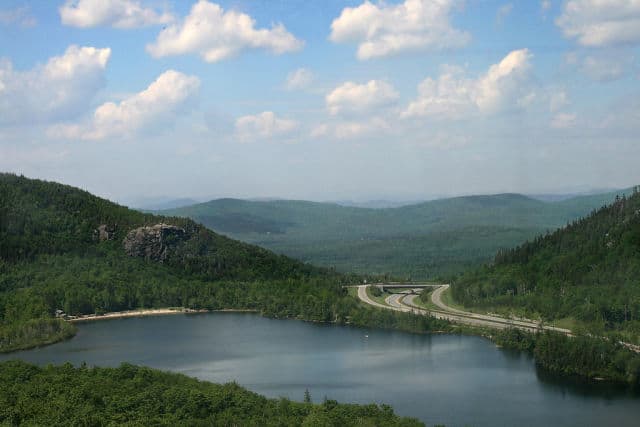 He reaches as far above him as he can, searching for a finger hold that will let him pull himself up the cliff face soaring over Echo Lake. Below him, surrounded by the majesty of the White Mountains of New Hampshire, the lake shines in the sun. Maybe after he finishes his climb he can take a dip in the lake's cool, clear water. Perhaps he could hike around the lake and down the trail to Diana's Bath, a collection of clean pools and waterfalls – but first he has to make it to the top.
At 31 surface acres and with a maximum depth of ten feet, Echo Lake is a small, relatively shallow lake. The lake is entirely surrounded by the Echo Lake State Park, so there is not any residential development on the lake's shore. There are, however, vacation rentals with a view of the lake and within easy walking distance. The state park has a swimming beach and bath house, and the lake's sandy bottom and shoreline picnic area make it popular with families. Echo Lake is classified as oligotrophic which means its water is very clean and clear and will support fewer but generally larger fish. Anglers will find healthy populations of both lake trout and rainbow trout to challenge them. A small boat launch for car top boats provides access to the lake. With the cliffs and ledges climbing almost out of the shore, it is a beautiful lake to explore by canoe or kayak.
Towering 700 feet above Echo Lake, Cathedral Ledge and nearby White Horse Ledge are popular places to rock climb or ice climb and have both fixed and traditional routes. Climbers come from across the country to test themselves against New Hampshire's cliffs. It is also possible for non-climbers to enjoy the view from the top of Cathedral Ledge. A trail wraps around the lake, and a road and trail to Cathedral Ledge offer views across the Saco River Valley.
There are also spectacular views from nearby Mount Washington. At 6,288 feet, it is the highest peak in the northeast, and on a clear day it's possible to see Vermont, New York, Massachusetts, Maine, Quebec and the Atlantic Ocean from its summit. That alone would be worth the climb. Fortunately for the less adventurous, there is a historic cog railway that runs to the summit. Built in 1869, the Mount Washington Cog Railway is a National Historic Engineering Landmark. The Mount Washington State Park covers the summit of the mountain and includes a visitor center and observatory. Just a short drive away, a trip to Mount Washington is a great day trip from Echo Lake.
Echo Lake is surrounded by the world renowned White Mountain National Forest. Historically, the White Mountains have always had spiritual value to the area's native people. That was not necessarily true, however, of the European settlers. In 1867 Governor Harriaman sold the White Mountain region to private interests, and by the late 1800's there were almost a thousand sawmills cutting timber off the mountains. Fortunately, in 1914 the Weeks Act allowed the state to start buying back burnt, logged land. Today the White Mountain National Forest includes over 800,000 acres and draws over seven million visitors every year.
The White Mountains and the Mount Washington Valley are very popular destinations for winter sports. In addition to ice climbing, there are trails for snowmobiling and cross country skiing as well as a handful of downhill ski areas. There is ice skating on Echo Lake, and the town of North Conway also maintains a skating rink. North Conway is a charming mountain town with shops, restaurants and an abundance of outdoor outfitters. Almost anything a visitor might need is within an easy walk or bike ride.
Drawing millions of visitors every year to enjoy the majestic beauty and outdoor recreation opportunities of the mountains, the area around North Conway in Carroll County has a well earned reputation with outdoor enthusiasts. With all that the area has to offer, Echo Lake is one more jewel in the crown of New Hampshire's White Mountain Region.
Things to do at Echo Lake NH
Vacation Rentals
Fishing
Boating
Swimming
Beach
Canoeing
Kayaking
Picnicking
Hiking
Ice Skating
Rock Climbing
Ice Climbing
Downhill Skiing
Cross-Country Skiing
Snowmobiling
Horseback Riding
Waterfall
State Park
National Forest
Fish species found at Echo Lake NH
Lake Trout
Rainbow Trout
Trout
---
Echo Lake NH Photo Gallery
Echo Lake NH Statistics & Helpful Links
Spread the word! Share our Echo Lake NH article with your fellow Lake Lubbers!