Clam Lake, Michigan, USA
Lake Locations:
USA - Midwest - Michigan - Northwest -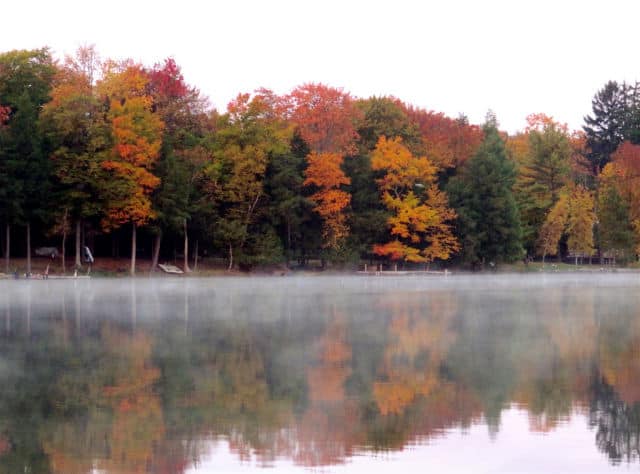 Clam Lake sparkles in the midst of northwest Michigan's beautiful countryside. Tucked between Torch Lake and Lake Bellaire, Clam Lake is part of the lower peninsula's Elk River Chain of Lakes Watershed. Located about 30 miles northeast of Traverse City and an easy 140 mile drive north of Grand Rapids, Clam Lake has become a popular destination for boating, fishing, skiing and sightseeing.
The extensive waterway created by the Chain of Lakes has been an attraction to inhabitants since the first indigenous people resided in the area. Among the natives were the Ojibwa (or Chippewa) people who saw early fur traders transport goods throughout the lakes and rivers of northern Michigan. By the mid-1800s Americans were moving west bringing farmers and loggers to settle the Clam Lake area. After railroads began to appear in the 1890s, tourists and fishermen came to enjoy new lakeside resorts and build family vacation cottages. The lumber industry has dwindled but Antrim County, and its Clam Lake area, remain famous for its cherry orchards and beautiful lakeside retreats, many passed down from generation to generation.
The Elk River Chain of Lakes Watershed covers a massive 500 square miles with the 75-mile-long waterway encompassing 14 lakes, interconnecting rivers and approximately 250 tributaries. The Chain of Lakes Waterway is divided by Bellaire Dam into the Upper Chain and Lower Chain of Lakes. At 439 acres, Clam Lake is the smallest of the Lower Chain of Lakes which includes Lake Bellaire (1,793 acres), Clam Lake, Torch Lake (18,473 acres), Skegemog Lake (2,755 acres) and Elk Lake (8,088 acres). Water leaving Lake Bellaire flows in a southerly direction into the Grass River, continues through the Grass River Natural Area, and feeds the shallow depths of Clam Lake. With a maximum depth of 27 feet and average depth of 13 feet, Clam Lake's warmer shallow water is often the first of the chain to experience ice-out and attract spring anglers.
From the Grass River, water flows along the three-mile length of Clam Lake where it enters the Clam River on its way to Torch Lake. Torch Lake is the largest of the Lower Chain of Lakes and Michigan's second largest inland lake. Clam Lake's close proximity to neighboring lakes makes it both a destination lake and a passageway. Torch Lake waterskiers and wakeboarders often frequent Clam Lake for its calmer water. Boaters, kayakers and canoeists use Clam Lake as a passage through the miles of scenic waterways. But Clam Lake's nine-mile shoreline is also home to over 250 properties serving both year-round and seasonal residents. A study conducted by the Three Lakes Association (Lake Bellaire, Clam Lake, and Torch Lake) determined that "46% of the Clam Lake shoreline is developed, another 16% of the shoreline is protected from development, and the remaining 38% is undeveloped and not protected."
Found at both ends of Clam Lake, private or public paved ramps provide boating access to Clam Lake. Motorized boats and personal water craft are permitted on Clam Lake, although boating traffic studies may lead to future regulation changes. If you want to rent a boat, full-service marinas are conveniently located along the Clam River at the entrance to Torch Lake. Boaters should be aware that both river entrances to Clam Lake are no-wake zones. The Clam River Channel at the northwest end of Clam Lake passes under Torch Lake Drive Bridge with a 10-foot clearance. At the southeast end of the lake, the three- to six-foot shallow bay is lined with marshes coming from Grass River Natural Area.
Those interested in fishing Clam Lake will find that the shallow marshes provide excellent cover for pike and panfish. In deeper water anglers will enjoy casting a line for walleye, bluegill, muskie, perch, brown trout, crappie, smallmouth bass, largemouth bass and rock bass. Whether you come for summer fishing or winter ice fishing, a Michigan fishing license is required.
Since 1966 glacially carved Clam Lake has been monitored for water quality by the Three Lakes Association. The association actively promotes awareness of "water quality, water safety, invasive species, lakeshore management, and other environmental concerns" for residents and visitors to Lake Bellaire, Clam Lake and Torch Lake. In addition, Friends of Clam Lake work to maintain the excellent quality of life enjoyed by the residents of Clam Lake.
At the southeastern end of Clam Lake, the Grass River flows through a 1,443-acre nature preserve. Joining the trend toward eco-tourism, the Grass River Natural Area features over seven miles of trails through five ecozones (adjacent but different plant habitats). Visitors with limited mobility will enjoy part of a pathway that is surrounded by 400 plant species and 49 mammal species including deer, snowshoe hare, fox, coyote, and bobcat. Over 60 bird species grace the rivers, streams and forests including bald eagles, warblers, great-horned owl, barred owl, thrushes, sparrows and woodpeckers. The nature preserve is the property of Antrim County and is open to the public free of charge.
For a change of pace, Clam Lake residents are within minutes of shopping and sightseeing in the village of Bellaire to the north and Alden to the south. Take a day and stroll through intriguing little shops, sample local food offerings, browse a museum or enjoy a round of golf. If you have time for another stop, Traverse City is a short drive away. This city of over 15,000 people sits at the southern end of Lake Michigan's Grand Traverse Bay. Known for hosting July's National Cherry Festival, Traverse City's main street offers over 150 shops, galleries and restaurants waiting for an afternoon of exploration.
When the smell of autumn leaves Clam Lake, thoughts turn to snow and winter sports. Gently sloping hillsides and hiking trails open to cross-country skiing, snowshoeing, ski boarding and snowmobiling. In any season Clam Lake lends itself to many forms of recreation. All you need to do is select among the vacation rentals, area campgrounds or real estate properties found on the shore of Clam Lake or surrounding Chain of Lakes. With a long history as a family gathering place, Clam Lake is lovingly preserved, unforgettably beautiful and waiting for you.
Things to do at Clam Lake
Vacation Rentals
Fishing
Ice Fishing
Boating
Canoeing
Kayaking
Water Skiing
Wakeboarding
Golf
Camping
Campground
Hiking
Cross-Country Skiing
Snowmobiling
Wildlife Viewing
Birding
Museum
Shopping
Fish species found at Clam Lake
Bass
Black Bass
Bluegill
Brown Trout
Crappie
Largemouth Bass
Muskellunge
Perch
Pike
Smallmouth Bass
Sunfish
Trout
Walleye
---
Clam Lake Statistics & Helpful Links
Spread the word! Share our Clam Lake article with your fellow Lake Lubbers!