Castle Rock Lake, Wisconsin, USA
Also known as:  Castle Rock Flowage
Welcome to the ultimate guide for history, statistics, local fun facts and the best things to do at Castle Rock Lake.
If you're considering Castle Rock Lake vacation rentals, we've made it super easy to explore accommodations and nearby hotels using the interactive map below. Simply click on a listing to compare similar properties, best rates and availability for your dates. Or keep scrolling to read our Castle Rock Lake guide!
Castle Rock Lake visitor and community guide
Castle Rock Lake offers what lake lovers want: a lot of water, an abundance of fish, and countless beautiful views. Castle Rock one of Wisconsin's largest inland lakes,
covering an impressive 16,640 acres. The lake and the surrounding area are a great nature getaway, promising visitors a chance to get up close and personal with wildlife.
Castle Rock Lake stretches through Adams and Juneau Counties in Wisconsin's Central Sands Prairie tourism region. It and its larger sister lake, Lake Petenwell are impoundments on the Wisconsin and Yellow Rivers. The Wisconsin River Power Company started construction of the dams creating the lakes in 1947. When the work was done in the early 1950s the Castle Rock Lake and Lake Petenwell Dams were unique because they were built on the sand, one of the first such projects undertaken in the United States.
When the Castle Rock Dam was completed in 1951 two towns flooded when the resulting lake reached full pond. Germantown at the mouth of the Yellow River was a lumber town that got its start in 1848. At its liveliest, Germantown had two breweries. Most of Germantown's buildings had been moved by the time the lake flooded the area. Werner, the other town flooded by Castle Rock Lake was also a lumber town, but by the time construction on the dam had started the town was mostly abandoned. The Castle Rock Dam is still in operation and the Wisconsin River Power Company uses it to generate power for the surrounding area.
Castle Rock Lake has a mostly undeveloped shoreline. Stately trees grace the perimeter of the lake and create homes for birds and other wildlife. The sandy shores make nice beaches. In Juneau County two parks offer a place to stay and play. The 160-acre Castle Rock County Park has more than 300 campsites, boat launch, and swimming beach as well as trails for hiking and cross country skiing in the colder months. Buckhorn State Park, established in 1971, is a 4,500 acre park and wildlife area on a peninsula of Castle Rock Lake. The wildlife in Buckhorn State Park is diverse because the environments are so varied, ranging from floodplain forest to prairie, savanna, and desert-like areas. At the Buckhorn Wildlife Management area you have the opportunity to see Canada geese, herons, sandhill cranes, ducks, muskrats, beavers, otters and mink in the marshes and sloughs. The uplands are home to whitetail deer, coyotes, wild turkeys, and even an occasional black bear. Hawks and owls hunt remnant prairies and mixed oak-pine stands for mice, snakes, insects and other prey. The State Park is certified in the Travel Green Wisconsin program. Travel Green Wisconsin is a voluntary program that reviews, certifies and recognizes tourism businesses and organizations that have made a commitment to reducing their environmental impact.
Nearby Necedah Wildlife Refuge is a perfect destination for bird watchers. It is home to whooping cranes and trumpeter swans along with several rare and threatened species. The refuge was established in 1939 in the Great Central Wisconsin Swamp, the largest wetland bog in the state. All but a few of the 43,656 acres is located in Juneau County. The Central Wisconsin Conservation Area is 60,000 acres on the west boundary of Necedah National Wildlife Refuge. It provides public hunting grounds for upland birds and waterfowl. There is camping at the Meadow Valley Ranger Station as long as you get permission from the department of natural resources.
Adams County has its own Castle Rock County Park. The 141-acre park has 200 camping units. It also includes a designated swimming area, boat launch, 30 boat slips, shelter house, playground equipment, snowmobile unloading and loading area, restroom and showers facilities and a game room plus a concession area. The park is located southwest of Friendship on County Hwy Z.
Roche-A-Cri State Park is 540 acres located one and a half miles North of Friendship. Here you will find 41 campsites. The highlight of the park is the 303 step stairway to the top of Roche-A-Cri Mound. There are also vacation rentals such as waterfront cottages and homes in Adams and Juneau Counties, if you choose to enjoy Castle Rock Lake in a more private way.
When visiting Castle Rock Lake you might want to take a short drive south to the city of Wisconsin Dells. The city of 24-hundred residents is located partially in four counties: Adams, Juneau, Colombia and Sauk. The city gets its name from the dells of the Wisconsin River. The glacially formed gorge features beautiful sandstone formations along the banks of the Wisconsin River. The self-proclaimed "Water Park Capital of the World" has three outdoor water parks and 18 indoor parks. These parks total 70 acres in the Dells area. The area is also home to the unique Dells Museum of Historic Torture Devices. The Museum is open May through September and features torture devices from all over the world.
When planning a trip to Castle Rock Lake, pick your season. The later months of spring offer wildflowers and active wildlife awaking from their long winter's nap. Fine fishing and water sports dominate the warm summer months. A rainbow of colors greets visitors and surrounds the lake in the fall. The reflection of the changing leaves looks like a patchwork quilt of colors. With winter comes snow, cross country skiing, snow mobile races and picturesque views of snow hanging on drooping evergreen limbs.
So pick you season a wild and wonderful time waits.
Custom Castle Rock Lake house decor
Read our full review of these personalized lake house signs.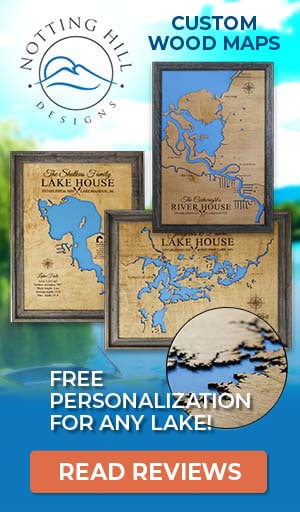 Things to do at Castle Rock Lake
Vacation Rentals
Fishing
Boating
Swimming
Beach
Camping
Hiking
Cross-Country Skiing
Snowmobiling
Hunting
Wildlife Viewing
Birding
National Wildlife Refuge
State Park
Museum
Playground
---
Best hotels and vacation rentals at Castle Rock Lake
The Castle Rock Lake map shown above is a simple and stress-free way to search for trip accommodations. But if you want to take a deeper dive to find the ideal waterfront home, cabin, condo, hotel or resort, visit our favorite lodging partners by clicking the buttons below.
Note: These are affiliate links so we may earn a small commission if you book through them. While there is no extra cost to you, it helps provide resources to keep our site running (thank you)! You can read our full disclosure policy here.
---
Castle Rock Lake photo gallery
New photos coming soon!
Castle Rock Lake statistics & helpful links
We strive to keep the information on LakeLubbers as accurate as possible. However, if you've found something in this article that needs updating, we'd certainly love to hear from you! Please fill out our Content Correction form.
Advertise your Castle Rock Lake vacation rental
LakeLubbers will soon offer homeowners and property managers the opportunity to to showcase their vacation rentals to the thousands of lake lovers searching our site daily for accommodations. If you'd like additional details, please contact our advertising team here.
Looking for the Castle Rock Lake forum?
LakeLubbers previously offered visitors the ability to create accounts and participate in lake forums. When we overhauled the site's content management system in 2021 we had to disable those features. We're evaluating options and welcome your comments and feedback here.
We also encourage you to join our lake-lovin' community on Facebook and Instagram!
Spread the word! Share our Castle Rock Lake article with your fellow Lake Lubbers!