Cass Lake, Minnesota, USA
Lake Locations:
USA - Midwest - Minnesota - Northwest -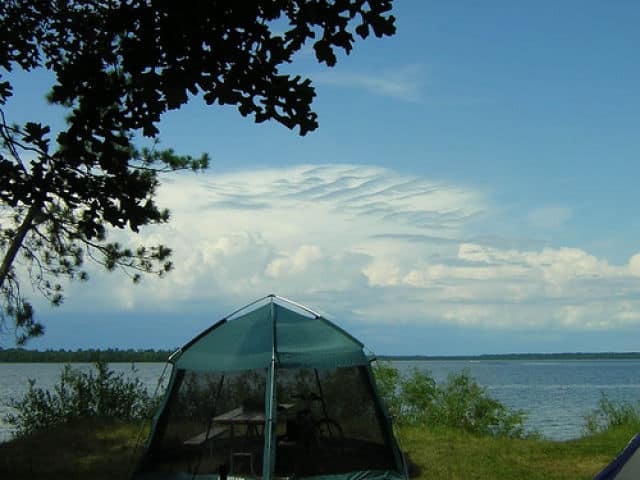 Cass Lake is, without a doubt, one of Minnesota's natural treasures. Its scenic beauty is only surpassed by its rich history, unique features and the many ways visitors can enjoy the lake and surrounding area. The lake is a popular destination for recreational fishing, boating, and swimming. There are numerous campgrounds and resorts located on its shores.
Located in north central Minnesota, Cass Lake is a glacially-formed lake that is approximately 10 miles long and 7 miles wide with over 25 miles of forested shoreline and sandy beaches. The lake is both fed (from the west) and drained (to the east) by the Mississippi River. It is the largest lake of the eight lakes that make up the Cass Lake Chain of Lakes and lies within the Chippewa National Forest and the Leech Lake Indian Reservation.
Cass Lake's water levels are affected by the operation of two dams on the Mississippi River. Otter Tail Power Company operates a dam upstream, just below Stump Lake. At the Cass Lake outlet is Knutson Dam, owned and operated by the U.S. Forest Service. Knutson Dam was built as a logging dam in the 1890s, and rebuilt by the US Army Corps of Engineers in 1928. The dam was then turned over to the US Forest Service.
The rich history of Cass Lake includes its Native American heritage. In the Ojibwe language, Cass Lake is called Gaa-miskwaawaakokaag (where there are many red cedar). The lake is named for General Lewis Cass who led an expedition in 1820 and erroneously identified Cass Lake as the source of the Mississippi River. An expedition in 1832 led by Henry Schoolcraft identified the actual source of the river as being in nearby Lake Itasca.
A fascinating feature to Cass Lake is Star Island, an 1,100 acre island located in the middle of the lake and is accessible only by boat. Interestingly enough, the island has its own lake – Lake Windigo. As noted by Ripley's Believe it or Not! Lake Windigo is "a lake within an island within a lake" and is the only one of its kind in the northern hemisphere.
Cass Lake is also a fisherman's paradise. Anglers commonly catch walleye over 10 lbs. and muskie over 40 lbs. Cass Lake is second only to Leech Lake in the number of muskies caught annually. Other game species include northern pike, largemouth bass, bluegill, crappie, perch, and the elusive burbot. Cass Lake's maze of steep drop-offs, mid-lake bars and sunken islands provide the perfect topography for a fisherman's dream vacation. The U. S. Environmental Protection Agency has placed a consumption advisory on Cass Lake whitefish, including cisco, northern pike, walleye, white sucker, and yellow perch, so check consumption guidelines for your favorite catch.
In addition to fishing, visitors will enjoy the Norway Beach Recreation Area, Cass Lake Campgrounds and surrounding Chippewa National Forest. A large sandy beach, picnic areas, and hiking trails along with the regular lake activities of swimming, canoeing and boating are all available. For bird lovers, the National Eagle Center is located just 10 minutes away. In the winter, visitors can go cross country skiing and enjoy the 50 mile Heartland Snowmobile Trail that runs from Park Rapids to Cass Lake.
Cass Lake is a good distance from major cities with international airports. The closest is in Fargo which is a three and a half hour drive. Northwest Airlines offers connecting service through the Minneapolis/St. Paul airport (4 hours away) to Bemidji Regional Airport which is just a half hour from Cass Lake. With the many activities and natural beauty, plus convenient resorts and accommodations, a trip to Cass Lake is well worth the effort.
Things to do at Cass Lake MN
Vacation Rentals
Fishing
Boating
Swimming
Beach
Canoeing
Camping
Campground
Picnicking
Hiking
Cross-Country Skiing
Snowmobiling
Wildlife Viewing
Birding
National Forest
Fish species found at Cass Lake MN
Bass
Black Bass
Bluegill
Burbot
Cisco
Crappie
Largemouth Bass
Muskellunge
Northern Pike
Perch
Pike
Sucker
Sunfish
Walleye
Whitefish
Yellow Perch
---
Cass Lake MN Photo Gallery
Cass Lake MN Statistics & Helpful Links
Spread the word! Share our Cass Lake MN article with your fellow Lake Lubbers!