Buckskin Hills Lake, Nebraska, USA
Lake Locations:
USA - Midwest - Nebraska - Lewis and Clark -
Also known as:  Buckskin Hills Reservoir and Buckskin Hills Wildlife Management Area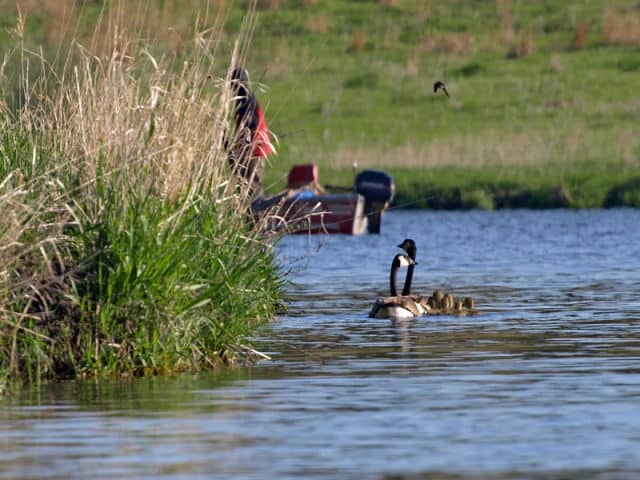 Buckskin Hills Lake is a small prairie lake of about 75 acres located in northeastern Nebraska's Dixon County. Lying four miles southwest of the town of Newcastle, Buckskin Hills is easily accessible from Sioux City, Iowa, 30 miles to the southeast and Sioux Falls, South Dakota, 60 miles north. To find the lake hidden among the gently rolling hills: turn south off of Highway 12 onto gravel road 581 until you reach east/west road 883. Then turn east and follow 883 to the first gravel drive that heads north.
As part of the Nebraska's Lewis and Clark Region, the area around Buckskin Hills Lake holds the stories of America's past. As early as 1100 to 1450 A.D. prehistoric people hunted and farmed this fertile land. Their archeological evidence can be seen at Indian Hill Archeological District just outside of Newcastle. Prior to the settlement of Nebraska territory, people of the Omaha, Ponca, Santee Sioux and Winnebago Nations called these hills home. Lewis and Clark stopped in this area on their trips along the Missouri River in 1804 and again on their return trip in 1806. By the mid-1800s settlers were beginning to call Dixon County home.
Owned by the Lewis and Clark Natural Resource District, and leased and managed by the Nebraska Game and Parks Commission, Buckskin Hills Lake serves as a flood-control reservoir. Designated as a Wildlife Management Area (WMA), Buckskin Hills Reservoir and pasture land provide access to fish, wildlife and hiking trails within its 340 acres. Amenities around Buckskin Hills Lake are few. Primitive restrooms are available and primitive camping is permitted.
The gravel road leading to Buckskin Hills Reservoir ends near a concrete boat ramp, small dock and large graveled parking area. Visitors report that this beautiful lake has very good fishing. Species that thrive in the shallow waters of Buckskin Hills Lake are blue gills, carp and largemouth bass. In fact the Nebraska record for grass carp was set at Buckskin Hills Lake in 2007 at 62 lbs., 1 oz. According to the Nebraska Game and Parks Commission, there is a 5 mph speed limit on the lake.
Canoers and kayakers will enjoy gliding through the peaceful water of Buckskin Hills Lake or paddling up scenic Aowa Creek. Allowing time for photography of beaver, deer or migratory birds, a leisurely trip around the one-mile shoreline takes about two hours.
An 8- to 10-mile trail makes its way through the 265 acres of windswept grasslands and woods surrounding Buckskin Hills Lake. The peaceful trails attract horseback riders, hikers, birders and wildlife watchers alike.
Hunting pheasant, quail, rabbit and waterfowl is permitted within Buckskin Hills Wildlife Management Area. Target shooting is prohibited. Hunting permits and the Nebraska Hunting Guide are available from Nebraska Game and Parks Commission.
Within easy driving distance of Buckskin Hills Lake, nature and adventure lovers will find scenic byways, state parks and lakeside retreats waiting to be explored. Ten miles to the east, Ponca State Park provides access to the Missouri National Recreation River. Part of the Lewis and Clark National Historic Trail, this stretch of the Missouri River is one of two locations where the river looks much as it did before flood-control projects altered the river's flow. Bald Eagles attract bird watchers to the park in the winter. Migratory birds that appear in warmer months include warblers, Scarlet Tanagers, Northern Orioles, Red-breasted Grosbeaks, Indigo Buntings and Ruby-throated Hummingbirds. Wildlife living along the river's wooded banks include: white-tailed deer, wild turkeys, coyotes, red and gray fox, bobcats, raccoons, beaver, mink and opossums.
Straddling the border of Nebraska and South Dakota, Lewis and Clark Lake and surrounding state recreation areas are a short 35-mile drive northwest of Buckskin Hills Lake. These family-friendly destinations offer complete amenities with cabins, campsites, marinas, boat ramps and picnic facilities. Continue a short drive to the west and stop at Niobrara State Park. Camp among the hills overlooking the Missouri and Niobrara Rivers or enjoy fishing, swimming, boating, rafting and horseback riding.
Buckskin Hills Reservoir is surrounded by Nebraska's history. The legends and lore of northeast Nebraska come to life along the state's 231-mile Outlaw Trail – Nebraska Highway 12 Scenic Byway. Community events, attractions and tours tell the story of Indians, explorers, pioneers and outlaws. While visiting the communities surrounding Buckskin Hills Lake, and nearby parks, you will find waterfront vacation rentals and real estate properties designed to make your stay complete. Whether you end your day in a blissfully remote cabin or stroll through the shops of riverside communities, Buckskin Hills Lake and northeast Nebraska will welcome you.
Things to do at Buckskin Hills Lake
Fishing
Boating
Swimming
Canoeing
Kayaking
Camping
Picnicking
Cabin Rentals
Hiking
Horseback Riding
Hunting
Wildlife Viewing
Birding
State Park
Fish species found at Buckskin Hills Lake
Bass
Black Bass
Carp
Grass Carp
Largemouth Bass
---
Buckskin Hills Lake Photo Gallery
Buckskin Hills Lake Statistics & Helpful Links
Spread the word! Share our Buckskin Hills Lake article with your fellow Lake Lubbers!