Brooks Lake, Wyoming, USA
Lake Locations:
USA - West - Wyoming - Northwest -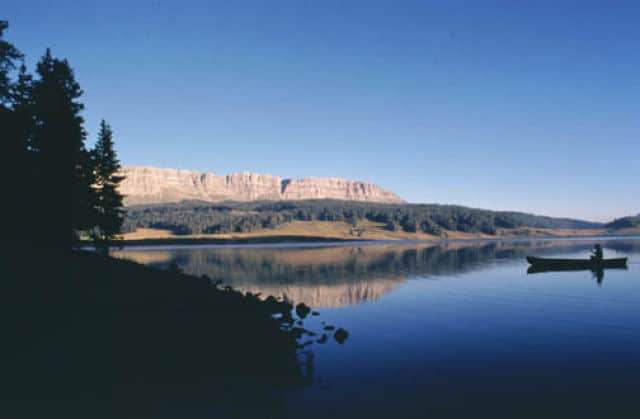 Brooks Lake is a scenic and secluded 234-acre alpine lake tucked away in the Shoshone National Forest in northwestern Wyoming. Surrounded by over 800,000 acres of unspoiled wilderness, recreational possibilities in the area are endless. Just a short drive from Yellowstone National Park and the jagged Teton Mountain Range, Brooks Lake makes a great base for exploring the incredible beauty of the area.
Brooks Lake lies in the Wind River Mountains near the Continental Divide. Most of the area around Brooks Lake is wooded, making for some of the best camping in the region. One small campground and several lodges are located near the shoreline of the lake. Facilities in the campground include vault toilets, picnic tables, and fire grills. Due to its great location, the campground tends to fill up quickly. Reservations are not accepted, and sites are usually full during the summer months by 11:00 am. Grizzly bears and black bears frequent the campsite, so be sure to keep your site clean. Additional campgrounds, vacation rentals, and real estate for rent or purchase can be found in the area.
Brooks Lake is open to the public, and fishing is allowed year round. A boat launch grants anglers and boaters access to the sparkling water. Most water sports are permitted with the exception of jet skiing and water skiing. Anglers can expect to catch rainbow trout, brook trout, lake trout (mackinaw), and splake. Ice fishing is available in winter for the adventurous fisherman. The area receives significant snowfall, and many trails and lakes are still snow or ice covered well into June.
Hikers, climbers, cross county skiers, mountain bikers and horseback riders will find several trails that lead into the rugged beauty of the Wind River Mountains and the Teton wilderness. Upper Jade Lake, Upper Brooks Lake, and Rainbow Lake are within walking distance of Brooks Lake. In addition to bears, hikers will want to be on the lookout for wolves which are usually wary of humans.
In addition to ever popular Yellowstone National Park and Grand Teton National Park, Brooks Lake is an easy drive to many state parks located within the Shoshone National Forest. A cornerstone of the Rocky Mountains, the Forest covers over 2.4 million acres of varied terrain ranging from sagebrush flats to majestic mountains. The higher mountains are snow-capped most of the yea,r allowing for a variety of winter sports. Running south and east from a border it shares with Yellowstone National Park, the forest's alpine heights are drained by rushing rivers which are perfect for fly fishing and whitewater rafting. The backcountry of canyons, forests, alpine meadows, and high-mountain lakes and streams makes the area one of the best places in the U.S. to enjoy the vast outdoors. Visitors can also take advantage of many primitive and developed camping sites which offer excellent scenery and solitude.
Those seeking a little less seclusion may wish to visit the authentic western community of Dubois, just 23 miles east of Brooks Lake. Dubois is a little-known destination surrounded by forests and mountains as well as the desolate beauty and red-banded rock of the Wyoming Badlands. Dubois prides itself on its hospitality, history, and slow pace of life. Seasonal events in Dubois keep the town active. In the summer, locals enjoy 4th of July celebrations, the Community Hog Roast and Poker Run, the Wind River Valley National Exhibit of Art, square dancing and rodeo shows. In the fall, visitors can see the Wind River Valley Artists Guild Show and Oktoberfest. Restaurants in Dubois feature lodge style dining, with a few steakhouses, cafes, and a handful of taverns. Though the town is not known for its shopping, stores carry basic necessities, and there is a local outfitter for recreational equipment. There are also several cultural museums in town.
With its closest neighbors being mountains, trees, and lakes, Brooks Lake offers a vacation destination of perfect western solitude. Located within 2.5 million acres of rugged, yet beautiful country, the area promises visitors an unforgettable outdoor adventure. Those who crave a remote getaway will love Brooks Lake.
Things to do at Brooks Lake
Vacation Rentals
Fishing
Ice Fishing
Boating
Whitewater Rafting
Camping
Campground
Picnicking
Hiking
Horseback Riding
Wildlife Viewing
State Park
National Park
National Forest
Museum
Shopping
Fish species found at Brooks Lake
Brook Trout
Lake Trout
Rainbow Trout
Splake Trout
Trout
---
Brooks Lake Photo Gallery
Brooks Lake Statistics & Helpful Links
Spread the word! Share our Brooks Lake article with your fellow Lake Lubbers!