Bras d'Or Lake, Nova Scotia, Canada
Lake Locations:
Canada - Nova Scotia -
Also known as:  Bras d'Or Lakes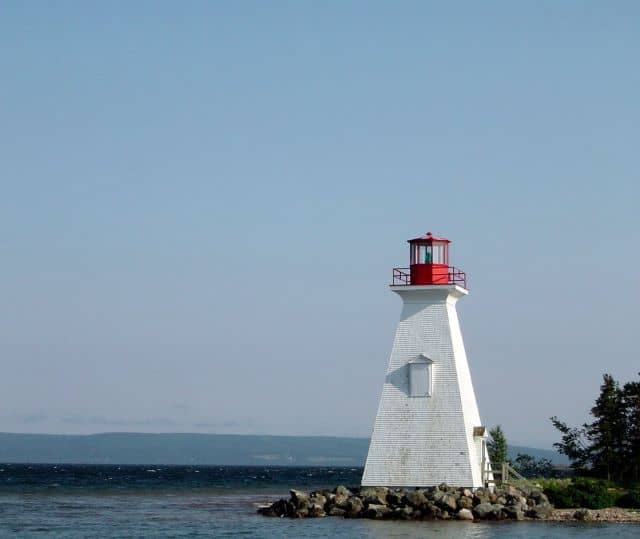 Bras d'Or Lake, translated as Arm of Gold, is a very large somewhat unique water body in central Cape Breton Island, part of Nova Scotia Province in Canada. The 424-square-mile lake is nestled between forested hills with many scenic coves and lovely hideaways for boaters. Little commercial development exists and as a touring area (both by boat and auto), Bras d'Or Lake is superb. The 'National Geographic Traveler' magazine rated Cape Breton Island as its #2 worldwide destination in 2003. Some of the significant tourist destinations around the Lake are:
The Alexander Graham Bell Museum in Baddeck- The famous inventor not only pursued his inventions on and around the Lake, he built a beautiful retirement/summer home on its shore. The Museum displays his experiments in airfoil design where he used kites both hand flown and towed on the Lake. His experiments in hydrofoil boat designs led to the Royal Canadian Navy's HMS Bras d'Or – the fastest warship of the 1960s. The Museum is definitely worth a visit.
The Bras d'Or Lakes & Watershed Interpretive Center, also in Baddeck, will help visitors understand the ecology, unusual animal species and geology of the area. Another worthwhile destination.
Boating and sailing are favored pastimes. The uncluttered expansive surface of the Lake provides an excellent boating experience, and marinas and a yacht club are centered at Baddeck, with others at St. Peters, Grand Narrows, Whycocomagh and Ross Ferry. Cruising yachts can enter Bras d'Or Lake at the south end through the historic St. Peters Canal connecting the Lake with the Atlantic Ocean.
The Bras d'Or Scenic Drive, which completely surrounds the Lake, affords a multitude of beautiful vistas as well as many unusual small towns, many of which still adhere to the Gaelic traditions from Scottish settlers.
Bras d'Or Lake extends 62 miles long and some 31 miles wide. Historically, the Lake's connection to the Atlantic occurred during the Tertiary Period with two channels developing, the Great Bras d'Or and Lennox Passages. The Lake is tidal, but rises and falls only inches, due to the restricted channels. Water in Bras d'Or Lake is much less salty than the Atlantic due to the significant amount of fresh water entering from rivers and streams around the Lake. Large rivers feeding into the Lake are the Washabuck, Georges, Baddeck, Skye, Denys and Middle rivers. Limited circulation of the waters of Bras d'Or is causing some pollution concern and the Province is taking steps to reduce pollution.
Bras d'Or supports a significant population of Bald Eagles, many of which can be seen on the drive around the Lake. In addition, Double-crested Cormorants and Great Blue Heron are frequently seen. Migrating Teal, Black Duck and Ring-necked Duck are also present. Streams and estuaries are home to a good population of muskrat and mink with Snowshoe Hare and bobcat using the area for home.
While commercial fishing was an industry in the 1800s, very little remains. There are successful lobster and oyster fisheries now and some success with oyster farming. Saltwater fish species dominate Bras d'Or Lakes – mackerel, winter flounder, Greenland cod, and some black-spotted stickleback. Rainbow trout have been introduced.
Bras d'Or Lake is a wonderful tourist destination for sightseeing and boating. Its scenery is amazing – a must trip for anyone visiting Nova Scotia.
Things to do at Bras d'Or Lake
Vacation Rentals
Fishing
Boating
Sailing
Snowshoeing
Wildlife Viewing
Birding
Museum
Fish species found at Bras d'Or Lake
Cod
Flounder
Mackerel
Rainbow Trout
Stickleback
Trout
---
Bras d'Or Lake Photo Gallery
Bras d'Or Lake Statistics & Helpful Links
Spread the word! Share our Bras d'Or Lake article with your fellow Lake Lubbers!