Brantingham Lake, New York, USA
Lake Locations:
USA - Mid-Atlantic - New York - Adirondacks -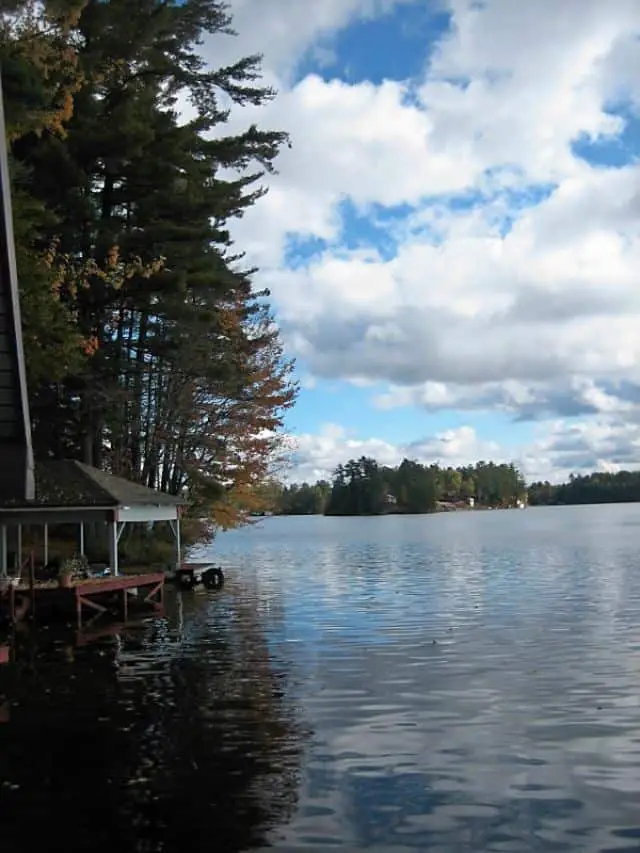 Brantingham Lake is located in Lewis County, New York adjacent to the scenic Adirondack Park Preserve. The local native settlers originally named the area Brantingham and when the white settlers moved to the area in 1796, they adopted the name as their own. Today, with year-round activities, spectacular scenery, and peaceful privacy, Brantingham Lake's residents have nicknamed their home the "Jewel of the Adirondacks."
Every season offers new adventures and activities at Brantingham Lake, each accentuated by the changing backdrop of the rugged Adirondack mountains. During spring, as the mountains come alive with new leaves and flowers, visitors can hike the many trails around Brantingham Lake and listen to the sounds of nature with the return of warmer days. By the end of April, Brantingham Lake should be thawed and visitors can once again enjoy their favorite water activities, including boating and fishing.
During the warmer months of summer, lush mountain greenery gives a vibrant feel to the area as residents and visitors alike get ready to indulge in Brantingham Lake at its finest. Swimming, fishing, sailing, boating, kayaking, canoeing, windsurfing and waterskiing are enjoyed on the crystal clear water. Off the water, the area around Brantingham Lake offers golf, tennis, mountain climbing, hot air ballooning, and camping. With trail maps readily available at most vacation rentals and local resorts, save some time to explore the well-groomed and marked trails for mountain biking, ATVs, hiking and horseback riding.
In the fall, the mountains explode with color, and life on and around Brantingham Lake does not slow down. Lake trout, brown trout, rainbow trout, largemouth bass, smallmouth bass, rock bass, brown bullhead, catfish, yellow perch, sunfish, pickerel, pumpkinseed, whitefish, bluegill, white sucker, and crappy are still in the lake waiting to tease anglers' lines. From October to May, the lake levels are drawn down to prevent shore erosion and damage to the docks during the winter freeze, but the fishing is still great. For hunting enthusiasts, fall at Brantingham Lake and the nearby area offers great hunting for deer, bear, rabbit, ruffed grouse, woodcock and turkey. And all the marked trails provide new scenery as the leaves change from green to vibrant orange, and small animals scurry to prepare for winter.
Wintertime brings an average of 200 inches of snow to Brantingham Lake, giving the area the title of "Snow Capital of the East." It may be cold, but the area glows with activity during the winter months, so bundle up and prepare to enjoy Brantingham Lake's white wonderland. The marked trails are now traveled by snowmobiles, cross-country skis, and snowshoes. Nearby ski resorts provide great downhill skiing. Fishing is now a new challenge as you literally pick a spot and saw a hole. Not sure how to pick that right spot? Nearby fishing guides are available to help find just the right "fishing hole." But winter is also a time of rest, so if you choose to stay in your vacation rental home by the blazing fire with a mug of hot chocolate and enjoy the pristine white view of sleeping mountains and the stillness of the frozen Brantingham Lake, that too is allowed.
If you should choose to leave the secluded quietness of Brantingham Lake, a quick drive into the Adirondack Park offers many diversions. During the warmer months, kayaking, canoeing, whitewater rafting, hiking, horseback riding, biking or rock climbing are all great activities found throughout the park. In the colder months, the many mountain ranges of the Adirondacks offer downhill skiing, snowshoeing, snowmobiling or for the ride of a lifetime, try a bobsled ride. Of course, if you choose to just relax and take scenic tours of the area, the views are breathtaking around each turn in the road.
Residents call Brantingham Lake a "destination" because travelers do not go through here to get anywhere else. Brantingham Lake is primarily a residential lake that is usually quiet and peaceful during the weekdays, but very lively on the weekends. Self described as a friendly, family-oriented community, and not a "tourist trap", Brantingham Lake's waterfront residences and vacation rentals vary from old style Adirondack cabins to upscale modern homes. Although Brantingham Lake is considered rural, it has modern conveniences of cable TV, cell phone coverage, internet service, and has easy access to shopping areas, restaurants, and medical facilities.
Things to do at Brantingham Lake
Vacation Rentals
Fishing
Boating
Sailing
Swimming
Canoeing
Kayaking
Whitewater Rafting
Water Skiing
Golf
Tennis
Camping
Cabin Rentals
Hiking
Mountain Climbing
Rock Climbing
Biking
Downhill Skiing
Snowmobiling
Horseback Riding
Hunting
Wildlife Viewing
Birding
Shopping
Fish species found at Brantingham Lake
Bass
Black Bass
Bluegill
Brown Bullhead
Brown Trout
Catfish
Lake Trout
Largemouth Bass
Perch
Pickerel
Pike
Pumpkinseed
Rainbow Trout
Smallmouth Bass
Sucker
Sunfish
Trout
Whitefish
Yellow Perch
---
Brantingham Lake Photo Gallery
Brantingham Lake Statistics & Helpful Links
Spread the word! Share our Brantingham Lake article with your fellow Lake Lubbers!