Brandenburg Lake, Illinois, USA
Also known as:  Lake of the Hollow, Fox Chain O'Lakes
Welcome to the ultimate guide for history, statistics, local fun facts and the best things to do at Brandenburg Lake.
If you're considering Brandenburg Lake vacation rentals, we've made it super easy to explore accommodations and nearby hotels using the interactive map below. Simply click on a listing to compare similar properties, best rates and availability for your dates. Or keep scrolling to read our Brandenburg Lake guide!
Brandenburg Lake visitor and community guide
Brandenburg Lake, also known as Lake of the Hollow, is a private, freshwater lake connected to Illinois' Fox Chain of Lakes. This glacial succession includes nine major bodies of water, all connected to each other through a number of smaller lakes, canals, and the Fox River. Water level control on the entire Fox River Chain O'Lakes is controlled by a series of dams on the Fox River. The dams, under the control of the Illinois Division of Water Resources, maintain recreational water levels and control flooding. An impressive 6,500 acres of water and 488 total miles of shoreline make up the chain, which attracts a weekend average of 60,000 visitors.
Brandenburg Lake has a surface area of 75 acres, and an island consisting of 23 acres of moist woodlands and grassy meadows. It is situated between the Pistakee Bog Nature Preserve, to the south, and three lakes to the north – Redhead Lake, Myers Bay, and Pistakee Lake. Because it is privately owned, residents enjoy exclusive access to Lake of the Hollow. Only non-gasoline, electric engines with strict horsepower limits are allowed on the lake, keeping the water immaculate for geese, swans, waterfowl and other animals that call the area home.
Brandenburg Lake is a part of the Volo Bog State Natural Area, which encompasses the Pistakee Bog, Brandenburg Bog, and Volo Bog water basins. Owned by the Illinois Department of Natural Resources, the Volo Bog is made up of 900 acres of wetlands, forests, bogs and prairies. Nearly 84,000 visitors tour these lands each year for hiking, stargazing and wildlife watching. A great number of animal species populate the lake and its surrounding shores, including great blue herons, whitetail deer, mink, raccoon, muskrat, red fox and sandhill cranes. Just south of Lake of the Hollow lies the Pistakee Bog Nature Preserve. This protected area is home to at least 11 species of plant that are endangered in the state. It is composed of 399 acres, most of which are controlled by the Illinois Department of Natural Resources.
Brandenburg Lake was dedicated a nature preserve in 1970 and a National Natural Landmark in 1973. It has been home to the Lake County Astronomical Society since 2001. Facilities include a shop, offices, restrooms, picnic areas and library with exhibits relevant to the park.
Hiking around Brandenburg Lake is ideal for relatively short explorations. The Volo Bog Interpretive Trail is a half-mile loop over boardwalks, docks, and woodlands. The Tamarack View Trail is just under three miles long, and passes through wetlands, forests, fields and prairies. The trail – named after the endangered tamarack trees in the area – is ideal for cross country skiing during the winter (a six-inch minimum snow base is required).
Only a handful of real estate properties are available on Brandenburg Lake, making it a peaceful, isolated and exclusive place to live. Stringent environmental laws take precedence over land development, maintaining a pristine habitat for hundreds of bird, animal and insect species.
Custom Brandenburg Lake house decor
Read our full review of these personalized lake house signs.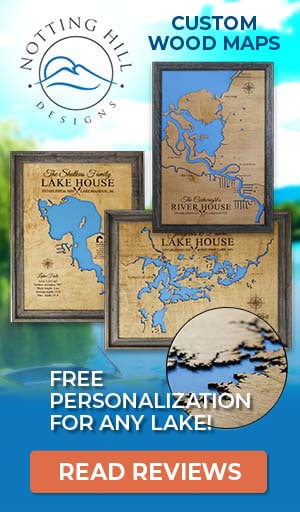 Things to do at Brandenburg Lake
Boating
Picnicking
Hiking
Cross-Country Skiing
Wildlife Viewing
---
Best hotels and vacation rentals at Brandenburg Lake
The Brandenburg Lake map shown above is a simple and stress-free way to search for trip accommodations. But if you want to take a deeper dive to find the ideal waterfront home, cabin, condo, hotel or resort, visit our favorite lodging partners by clicking the buttons below.
Note: These are affiliate links so we may earn a small commission if you book through them. While there is no extra cost to you, it helps provide resources to keep our site running (thank you)! You can read our full disclosure policy here.
---
Brandenburg Lake photo gallery
New photos coming soon!
Brandenburg Lake statistics & helpful links
We strive to keep the information on LakeLubbers as accurate as possible. However, if you've found something in this article that needs updating, we'd certainly love to hear from you! Please fill out our Content Correction form.
Advertise your Brandenburg Lake vacation rental
LakeLubbers will soon offer homeowners and property managers the opportunity to to showcase their vacation rentals to the thousands of lake lovers searching our site daily for accommodations. If you'd like additional details, please contact our advertising team here.
Looking for the Brandenburg Lake forum?
LakeLubbers previously offered visitors the ability to create accounts and participate in lake forums. When we overhauled the site's content management system in 2021 we had to disable those features. We're evaluating options and welcome your comments and feedback here.
We also encourage you to join our lake-lovin' community on Facebook and Instagram!
Spread the word! Share our Brandenburg Lake article with your fellow Lake Lubbers!