Boysen Reservoir, Wyoming, USA
Also known as:  Boysen Lake
Welcome to the ultimate guide for history, statistics, local fun facts and the best things to do at Boysen Reservoir.
If you're considering Boysen Reservoir vacation rentals, we've made it super easy to explore accommodations and nearby hotels using the interactive map below. Simply click on a listing to compare similar properties, best rates and availability for your dates. Or keep scrolling to read our Boysen Reservoir guide!
Boysen Reservoir visitor and community guide
Its gleaming expanse framed by the barren high desert hills of Central Wyoming, Boysen Reservoir offers a welcome respite from the summer heat. Nearly 20,000 acres of water lie behind the Boysen Dam, with its outflow powering hydroelectric generation. Surrounding the 77-mile shoreline, Boysen State Park offers a wealth of water-based recreation for the many visitors who come here each year.
Eleven campgrounds grace the shores of Boysen Reservoir. Most are operated by the State Park system, but one is under the control of the leased marina which also leases seasonal campsites and mobile home lots. The campgrounds have drinking water, picnic tables, wind screens and basic restrooms. There is no electricity and shade is limited. The five boat ramps at Boysen Reservoir are located mostly in camping areas which also serve for day-use. Several offer shallow, sandy swim areas. Because the area is quite popular, reservations are suggested on busy summer weekends. Most of the land around the lake is part of the Wind River Indian Reservation. Several nearby towns are located within a few miles of the reservoir, including Shoshoni, Riverton and Arapahoe. These small villages have stores for general supplies and occasionally, guest lodgings and services. Larger Thermopolis is about 20 miles to the north. The campgrounds mostly remain open in winter as long as roads are passable. The area receives moderate amounts of snow, enough for some cross-country skiing.
The marina provides all of the necessities visiting boaters could want. A fully-stocked store sells boating and fishing needs, water sports equipment and swimwear. A restaurant is available for meals, and a convenience store sells snacks, ice and grocery staples. Dock space can be rented and dry dock storage can be arranged for those who leave their larger boats at the lake. All water sports are enjoyed at Boysen Reservoir, including water skiing, jet skiing, wind-surfing and sailing, while canoes and kayaks often skirt the shoreline. Local boating shops rent all types of boats and sports equipment that can be delivered to the lake.
Fishermen spread the word about Boysen Reservoir; the waters hold some large walleyes, and walleye tournaments are regularly held here. In fact, Wyoming's state-record walleye was caught at Boysen Reservoir-a whopping 17.4 pounds. The lake also holds perch, brown trout, rainbow trout, crappie, largemouth bass, blue gill, smallmouth bass, ling (burbot), sauger and cutthroat trout. Fishing continues year-round, with ice fishing taking over in winter. The boat ramps are built so that they are usable with varying water depths. The United States Bureau of Reclamation website lists current water depths and the depths at which each ramp is usable.
Boysen State Park has a few maintained trails on its 15,000 acres of dry land, but for anyone willing to do a bit of climbing, there is plenty of space to explore. Several areas are perfect for horseback riding. In spring, a surprising display of color is provided by dessert wildflowers, and many animals can be seen in the area. Bighorn sheep are often sighted, while hikers must be alert for the less-often seen rattlesnakes which inhabit the crevasses in the rocks. The scenery across the lake is spectacular, with a section of badlands-type rock formations seen west of the dam area. The exposed rock surrounding the lake exhibits the layers of ancient sediment laid down by eons of rushing water. Hunting is allowed in some portions of the park during the appropriate season. The proper license must be obtained and all regulations followed. Entrance to the State Park requires a daily or seasonal fee except for accessing the marina. Camping is an additional fee.
This section of the Wind River was first dammed in 1908 by Asmus Boysen, a Danish immigrant who wished to produce hydro-electrical power. However, his newly constructed dam quickly flooded the newly-constructed railroad tracks that provided transportation for the budding mining industry. Years of lawsuits resulted in the dam being blown up so that the railway could operate. The current reservoir was finally built between 1949 and 1952 after a rail tunnel over a mile long carried the train tracks beneath the proposed dam and part of the planned lake.
The Town of Thermopolis has a few attractions that will interest all members of the family. The Wyoming Dinosaur Museum is located here, with displays, interpretive exhibits and an on-going 'dig' where youngsters can dig for their own surprise find. The Hot Springs County Museum and Cultural Center holds everything from early native artifacts to geologic displays to the Hole-In-The-Wall Saloon. The museum features a reconstructed Main Street, coal mine exhibit, and a few Wild West Outlaws thrown in for good measure. Nearby is Hot Springs State Park, a day-use park that features thermal mineral pools open for bathing. Operated under the supervision of Hot Springs State Park, the Legend Rock Petroglyph Site holds a large number of ancient pictographs on a large rock wall. The pictographs represent native art from a variety of tribes who lived in the area, with an impressive display of animals and primitive hunting scenes.
Thermopolis offers several hotels, guest lodgings of nearly every description and plenty of restaurants, cafes and local shopping. Outfitters in the area are ready to provide all types of guided outdoor adventure, including river rafting, mountaineering and horseback riding. The drive into Wind River Canyon, just south of Thermopolis, is one of the most scenic in Wyoming. Reaching Boysen Reservoir along historic US 20 is an adventure, with tunnels and breathtaking scenery around each bend. If you haven't scheduled a visit yet, Boysen Reservoir awaits-along with those walleyes.
Custom Boysen Reservoir house decor
Read our full review of these personalized lake house signs.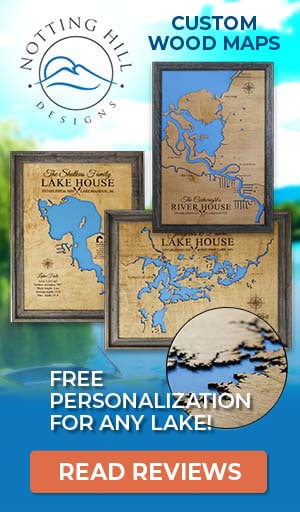 Things to do at Boysen Reservoir
Vacation Rentals
Fishing
Ice Fishing
Boating
Sailing
Swimming
Canoeing
Kayaking
Jet Skiing
Water Skiing
Wind Surfing
Camping
Campground
Picnicking
Hiking
Cross-Country Skiing
Horseback Riding
Hunting
State Park
Museum
Shopping
Fish species found at Boysen Reservoir
Bass
Black Bass
Brown Trout
Burbot
Crappie
Cutthroat Trout
Largemouth Bass
Perch
Rainbow Trout
Sauger
Smallmouth Bass
Trout
Walleye
---
Best hotels and vacation rentals at Boysen Reservoir
The Boysen Reservoir map shown above is a simple and stress-free way to search for trip accommodations. But if you want to take a deeper dive to find the ideal waterfront home, cabin, condo, hotel or resort, visit our favorite lodging partners by clicking the buttons below.
Note: These are affiliate links so we may earn a small commission if you book through them. While there is no extra cost to you, it helps provide resources to keep our site running (thank you)! You can read our full disclosure policy here.
---
Boysen Reservoir photo gallery
New photos coming soon!
Boysen Reservoir statistics & helpful links
We strive to keep the information on LakeLubbers as accurate as possible. However, if you've found something in this article that needs updating, we'd certainly love to hear from you! Please fill out our Content Correction form.
Advertise your Boysen Reservoir vacation rental
LakeLubbers will soon offer homeowners and property managers the opportunity to to showcase their vacation rentals to the thousands of lake lovers searching our site daily for accommodations. If you'd like additional details, please contact our advertising team here.
Looking for the Boysen Reservoir forum?
LakeLubbers previously offered visitors the ability to create accounts and participate in lake forums. When we overhauled the site's content management system in 2021 we had to disable those features. We're evaluating options and welcome your comments and feedback here.
We also encourage you to join our lake-lovin' community on Facebook and Instagram!
Spread the word! Share our Boysen Reservoir article with your fellow Lake Lubbers!