Bowman Lake, Montana, USA
Lake Locations:
USA - West - Montana - Glacier Country -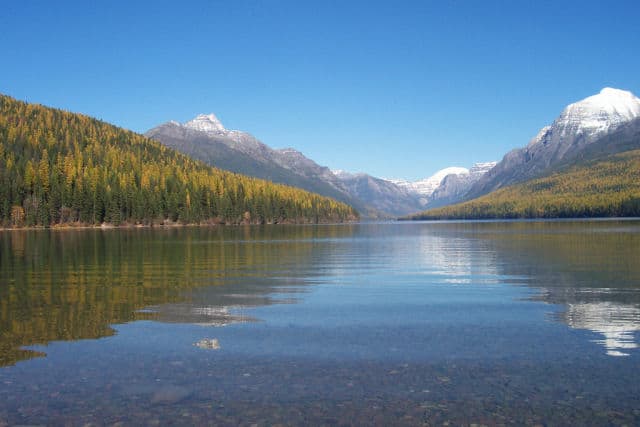 Bowman Lake is located in the northwest corner of scenic Waterton-Glacier International Peace Park. The crystal clear waters of Bowman Lake reflect the peaks of the Livingston Mountain Range in Glacier National Park's North Fork region. Just 32 miles south of the Canadian border, the simplicity and beauty of this glacially carved lake are part of Montana's Glacier Country.
The plains and mountains that extend beyond Bowman Lake were originally home to the Blackfeet, Salish, and Kootenai Nations. In the early 1800's explorers, trappers and traders started to make their way into the territory. Bowman Lake is thought to have been named after Fred Bowman, a trapper who came to Montana around 1885. Today, a trek to the North Fork region continues to be a trip for the more daring and adventuresome. Roads to Bowman Lake are rugged gravel and dirt roads meant for high-clearance four-wheel drives, not RVs or trailers. The drive takes you briefly outside the park through the tiny community of Polebridge. It is best to take advantage of this stop as it is the last opportunity to purchase supplies before heading into the park's backcountry.
With just under two million visitors a year, Bowman Lake offers solitude not easily found in the more accessible areas of Glacier National Park. The challenging drive and remoteness of the lake limits the number of casual campers. Knowing this, Bowman Lake's campground is a popular spot for local residents and a trailhead for wilderness hikers. Campsite amenities are limited to potable water and pit toilets. It is recommended that visitors pack repellant. Mosquitoes and black flies can be a problem in the summer.
Over 700 miles of mountain and valley trails draw hikers to Bowman Lake and Glacier National Park. Be sure to stop at one of the visitor centers where you can pick up maps and guides to all hiking trails. Follow backcountry guidelines and precautions. This is prime grizzly bear, mountain lion and cougar territory. Hiking trails vary in difficulty and terrain from dense forest to wetlands. Some trails climb over 1,000 feet, some cross open alpine meadows with lots of sun, and others loop around Quartz Lakes to the south or Kintla Lake to the north.
A boat ramp is located near the campground at the southern end of Bowman Lake. Motorized boats are limited to 10 horsepower or less on the 1,724 acre lake. To avoid the loss of native fish, none of the park's 131 named lakes are stocked. Species found in Bowman Lake include kokanee salmon and cutthroat trout.
Bowman Lake is an ideal destination for kayaking and canoeing. Paddle along the 14-mile shoreline and photograph pine forests climbing the steep mountain slopes. Always within view are Kintla Peak, Mount Carter or Thunderbird Mountain. In the midst of unforgettable beauty, don't forget that sudden storms are common in the mountains. Take precautions and wear the required life preservers. With a maximum depth of 253 feet, the depth of Bowman Lake's crystal clear water is deceiving – and very cold. Water temperatures in Glacier National Park rarely exceed 50 degrees Fahrenheit so swimming is not a recommended water sport. A warmer choice may be a picnic or wildlife watching where deer often wander along the shore.
Descendants of the people who first walked the shores of Bowman Lake are still here to tell their story. The cultural and history museum of the Confederated Salish and Kootenais Nation is located on their reservation south of Bowman Lake and Kalispell. The Museum of the Plains Indian is located in the community of Browning on the Blackfeet Reservation immediately east of Glacier National Park.
Amenity-rich Flathead Valley lies immediately west of the park and south of Bowman Lake. Here, outdoor enthusiasts can enjoy river rafting, hiking, wildlife viewing and fishing at Flathead Lake, the largest natural freshwater lake in the western United States. Close to ski resorts and golf courses, the valley communities of Columbia Falls, Whitefish and Kalispell have a combined population of 25,000 residents. Home to over 2,000 artists and craftsman, the area has a nice selection of unique shops and galleries. Additional services and entertainment range from outfitters and tour guides to fine dining and performing arts centers.
Glacier Country is America's treasure and Bowman Lake is one of its gifts. Something magical happens on Bowman Lake and continues over the thousands of acres of forests, lakes, streams and meadows surrounding Waterton-Glacier International Peace Park. Nestled among the mountains and valleys are vacation rentals and real estate properties that can set the stage for your stay. Whether you visit for a week or stay for a lifetime, find a comfortable place to relax at the end of a busy day, plan your next outing or simply reflect on the majesty that surrounds you.
Things to do at Bowman Lake
Vacation Rentals
Fishing
Boating
Swimming
Canoeing
Kayaking
Golf
Camping
Campground
Picnicking
Hiking
Wildlife Viewing
National Park
Museum
Fish species found at Bowman Lake
Cutthroat Trout
Kokanee Salmon
Salmon
Trout
Whitefish
---
Bowman Lake Photo Gallery
Bowman Lake Statistics & Helpful Links
Spread the word! Share our Bowman Lake article with your fellow Lake Lubbers!