Boone Lake, Tennessee, USA
Lake Locations:
USA - South - Tennessee - East -
Also known as:  Boone Reservoir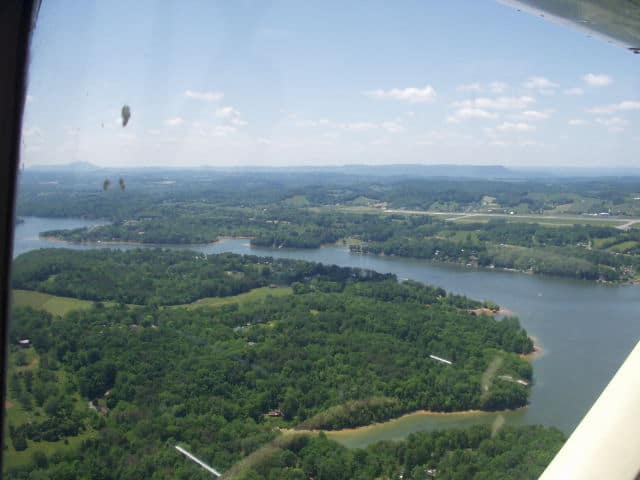 Boone Lake is one of a series of reservoirs lying among the hills in northeast Tennessee. Completed on March 16, 1953, Boone Lake was constructed, and is maintained, by the Tennessee Valley Authority (TVA) for flood control, water supply, recreation and production of hydropower. Spread across Sullivan and Washington counties, Boone Lake visitors are surrounded by spectacular views of the surrounding southern Appalachian Mountains. Part of the East Tennessee Tourism Region, Boone Lake lies near the center of rapidly growing Tri-Cities: Kingsport, Johnson City and Bristol.
Originally settled by the Cherokee Nation, this "overmountain" region was dotted with new communities by 1770. Washington County was Tennessee's first county and its community of Jonesborough is the oldest community in the state. Named for frontiersman and explorer Daniel Boone, the pioneer spirit of Tennessee is remembered in the name, Boone Reservoir.
Boone Reservoir's 4,310 acres extend along the South Fork Holston River forming two river extensions. According to TVA, "at maximum pool level, one arm of the lake extends about 16 miles up the South Fork Holston River, and the other extends approximately 15 miles up the Watauga River." With water levels remaining fairly stable during the summer, Boone Lake's normal full pond is 1,382 feet above sea level. During winter the water level drops to about 1,360 feet.
Including eight miles of island shoreline, Boone Lake has 131 miles of shoreline with 83 percent of the land designated for private development. Some farmland still exists around the lake but the majority of land has been developed with lake-front real estate properties and gated communities. Current development and rapidly expanding cities have added to a history of water quality problems at Boone Reservoir. Since 1994 ecological health ratings for Boone Lake have been "poor" but swimming is considered safe, as is fish consumption within published limits. Boone Watershed Partnership is working diligently with lake users and government agencies to monitor and improve Boone Lake water quality.
Beautiful any time of year, Boone Lake is a major attraction to visitors and residents of surrounding communities. With a maximum water depth of 129 feet and average depth of 44 feet, the lake is often busy with boaters, water skiers, swimmers and fishermen. Marinas can be found in many of the communities surrounding Boone Lake making it possible to boat from one town to the next. Public ramps are limited due to the growing number of private lakefront properties. Paved public ramps can be found at Winged Deer Park on the Watauga River or TVA's Boone Dam Reservation at the western bend of the reservoir.
Sport fishing (listed in TVA order by fishing quality) includes white crappie, smallmouth bass, largemouth bass, striped bass, black crappie, black bass and crappie. Catfish and carp are also prevalent. The Tennessee Wildlife Resources Agency (TWRA) stocks Boone Lake with blue catfish, striped bass, hybrid striped bass and crappie. Anglers should follow TWRA's Fish Consumption Advisories (see link below).
Camping, hiking, wildlife viewing and bird watching sites are waiting to be explored on TVA's designated land in Washington County. Bird species include wild turkey, whip-poor-will, ruby-throated hummingbird, red-eyed vireo, blue-headed vireo, wood thrush, gray catbird, black-throated green warbler, black-and white warbler, ovenbird, hooded warbler, scarlet tanager, yellow-throated warblers, great crested flycatcher, and chuck-will's-widow.
Four additional hiking, hunting and wildlife areas can be found within two miles of Boone Reservoir. To the east, Cherokee National Forest covers 640,000 acres and holds over 20,000 plant and animal species. Watauga River Bluffs Natural Area lies to the south. Public access is limited, but well worth the effort to view the fragile shale bluffs, beautiful trees and wildflowers, including the state's largest concentration of Carolina pink (Silene caroliniana). Morril Cave State Natural Area, also known as Worley's Cave, lies southeast of Boone Lake. The cave is on private property within Sullivan County, but the eight to ten miles of underground passages are open to the public. When completed, Overmountain Victory National Historic Trail will extend 330 miles through Virginia, Tennessee, North Carolina and South Carolina. To the east of Boone Lake, the scenic and historic trail follows the path of 900 patriot militia who met and defeated the British at Kings Mountain, South Carolina in 1780.
For those interested in exploring the legends and lore of East Tennessee, several museums and living history sites are within ten miles of Boone Lake: Tipton-Haynes State Historic Site interprets Tennessee history from its early settlement to the Civil War; Rocky Mount Museum tells the story of Tennessee farm life in 1791 when it was the U.S. Territorial Capital; and Sycamore Shoals State Historic Area is the site of the first American permanent settlement outside the 13 original colonies. Preserving the tradition of storytelling and providing fun for the whole family, the International Storytelling Center is located in downtown Jonesborough.
For beauty that may be equaled but rarely surpassed, Great Smoky Mountains National Park is 90 miles southeast of Boone Lake. Visitors drawn to more than 800 miles of hiking trails, fishing along mountain streams, forest camping and miles of scenic drives, make this is America's most visited park. Offering a wide variety of restaurants, shops and entertainment, the communities of Gatlinburg and Pigeon Forge welcome visitors on their way in and out of the park.
A place of lore and tradition, Boone Lake lends itself to many forms of recreation. Select from a growing number of vacation rentals or lakeside real estate properties and follow the urge to get out and explore. Nature's pleasures and renowned attractions make Boone Lake an ideal family destination. Find your home away from home and celebrate being with the ones you love.
Things to do at Boone Lake
Vacation Rentals
Fishing
Boating
Swimming
Water Skiing
Camping
Hiking
Hunting
Wildlife Viewing
Birding
National Park
National Forest
Museum
Fish species found at Boone Lake
Bass
Black Bass
Black Crappie
Blue Catfish
Carp
Catfish
Crappie
Largemouth Bass
Smallmouth Bass
Striped Bass
White Crappie
---
Boone Lake Statistics & Helpful Links
Spread the word! Share our Boone Lake article with your fellow Lake Lubbers!