Big Sand Lake, Minnesota, USA
Lake Locations:
USA - Midwest - Minnesota - Northwest -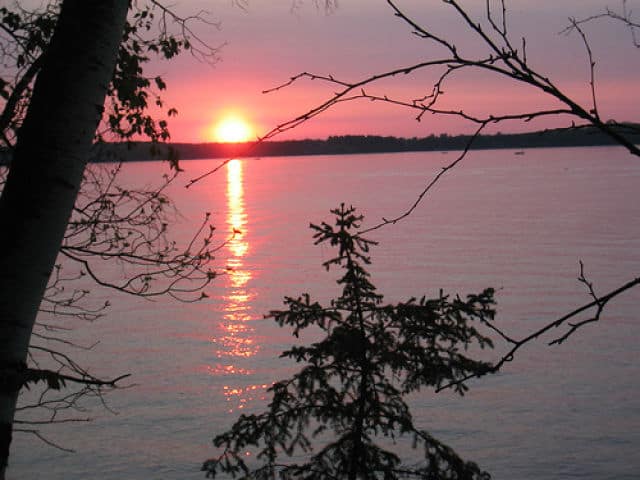 One of the many beautiful lakes in Northwest Minnesota is Big Sand Lake with over 1600 acres, providing many opportunities to enjoy water sports of all types. Located 40 miles south of Bemidji, Big Sand Lake often doesn't make the first-time visitor's radar as it has only two lodge resorts along its shoreline. Most of the eight-mile lakefront is privately owned and holds many properties that have been jealously guarded and handed down within families for generations. Big Sand Lake is the kind of lake where adults have spent every summer within their memory here and share its secrets with grandchildren and great-grandchildren on their annual summer visit. Memories are made here, and preserved by the younger generations who vow to build a place of their own on Big Sand Lake.
Like many of the lakes in this part of Minnesota, Big Sand Lake is known for its sandy beaches, heavily wooded backdrop, and pristine waters. Residents and visitors engage in swimming, canoeing, kayaking, pontooning, water skiing, tubing, jet-skiing and sailing. Even with all of this activity, it is still possible to find the solitary fisherman happily angling on the fog-shrouded, nearly-deserted lake. Many of the properties along the lake's shore hold several acres of land, and many are only occupied seasonally. This gives a sense of solitude which sets Big Sand Lake apart from the busier lakes in the area. A public access area on the south-east shoreline allows visiting anglers to launch their boats, and small boats can also enter through the tiny inlet from Lake Emma and the outlet to Lake Ida. The two resorts on the lake rent watercraft to their guests, including small boats, pontoons, and personal watercraft.
Big Sand Lake is known for its excellent fishing. Walleye, yellow perch, tullibee (cisco), northern pike, smallmouth bass, rock bass, bluegill, pumpkinseed and largemouth bass are all present, primarily in the shallower areas. Varied underwater structure makes for excellent fishing and is much appreciated by experienced anglers. The lake is stocked in even-numbered years with walleye fingerlings and a 'slot-limit' on walleye assures many of the larger fish are returned to the water. All walleye between 20 and 28 inches must be released, and only one exceeding 28 inches may be kept. This keeps the number of smaller walleye down while allowing the larger ones to grow.
Although Big Sand Lake's water is of exceptional clarity, the Big Sand Lake Association works with county and state to monitor water quality and prevent future problems. Although some lakes in the area have experienced an infestation of zebra mussels, Big Sand Lake has so far been spared the damaging interlopers. The BSLA works to educate boaters and shoreline residents of the dangers of invasive species like the zebra mussel, raises funds for ongoing monitoring efforts, and promotes sound shoreline improvements.
In an effort to develop a sense of community and cooperation among Big Sand Lake property owners, the BSLA sponsors community events such as the long-running 4th of July boat parade, and is working on a second boat parade to feature lighted boats and pontoons after dark. In winter, such activities as ice fishing, ice skating, snowmobiling, cross-country skiing, snowboarding and snowshoeing are favorites. Hundreds of miles of groomed snowmobile trails draw visitors to the area in winter. Thousands of acres of public land are open to hunting in season for deer, bear, goose, duck, grouse and wild turkey. The same areas are available for nature observation the rest of the year. A large number of birds and waterfowl call the area home. Within 20 miles of Big Sand Lake, visitors can enjoy Itasca State Park, the location of the official headwaters of the Mississippi River. Paul Bunyan State Forest, Two Inlets State Forest, and several smaller tracts of land are open to the public. Canoe waters, trails, lakes and campsites are numerous in the area.
Only three miles south of Big Sand Lake, the tiny village of Dorset sits astride the well-known Heartland Trail. Dorset has made the most of its location as a tourism crossroads by cultivating an atmosphere of hospitality and service. The town holds several festivals during the summer, offers restaurants, general store, antique shop, artisan shops and even a bed-and-breakfast next to the trail. Less than ten miles from Park Rapids, Big Sand Lake visitors are never far from a golf course or necessary services. Park Rapids produces a detailed 'discovery' guide highlighting all of the attractions, lodgings and outdoor venues in the surrounding area. This is Paul Bunyan Country, and there are annual festivals in his honor, replete with logging exhibitions, competitions and parades.
Although this historic area was explored by Henry Schoolcraft and his Native American guides who located the Mississippi headwaters in 1832, it wasn't until the 1880s that regular settlement began. Before that time, the area around Big Sand Lake was the sole range of Native American tribes, fur trappers and explorers. This is a young area in terms of European settlement. The remains of the farms and fields left by those early settlers can still be seen in many areas near the lake.
Although resort lodgings on the lake are limited, the resorts are usually open during the winter to accommodate snowmobilers and winter sports fans. Several local property owners rent their private cottages and lake homes for short periods. Other lakes in the area also have resorts and lodges, and campgrounds and RV parks are numerous in the area. Bed-and breakfasts, hotels and motels nearby also offer both standard amenities and housekeeping cottages or kitchenettes to accommodate every visitor's needs. Real estate is available on Big Sand Lake, usually a few properties awaiting new owners who want to make Big Sand Lake memories their own. Spend a week or two here and you'll want to pass down Big Sand Lake memories to your grandchildren.
Things to do at Big Sand Lake
Vacation Rentals
Fishing
Ice Fishing
Boating
Sailing
Swimming
Beach
Canoeing
Kayaking
Jet Skiing
Water Skiing
Tubing
Golf
Camping
Campground
Hiking
Ice Skating
Snowboarding
Cross-Country Skiing
Snowmobiling
Hunting
Wildlife Viewing
Birding
State Park
State Forest
Antiquing
Fish species found at Big Sand Lake
Bass
Black Bass
Bluegill
Cisco
Largemouth Bass
Northern Pike
Perch
Pike
Pumpkinseed
Smallmouth Bass
Sunfish
Walleye
Yellow Perch
---
Big Sand Lake Photo Gallery
Big Sand Lake Statistics & Helpful Links
Spread the word! Share our Big Sand Lake article with your fellow Lake Lubbers!