Beseck Lake, Connecticut, USA
Lake Locations:
USA - New England - Connecticut - Greater New Haven -
Also known as:  Lake Beseck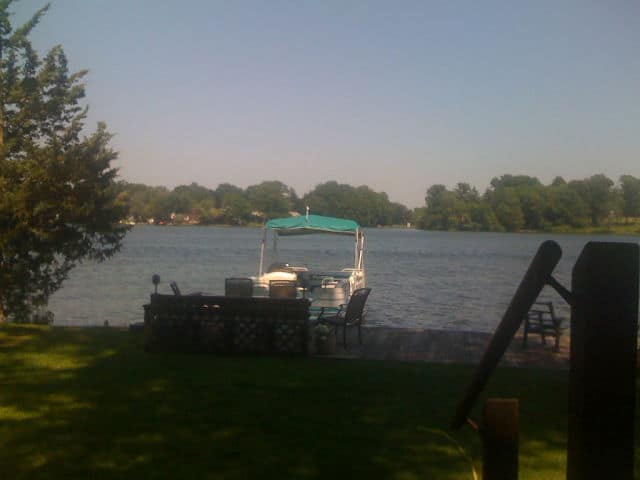 Found in Connecticut's beautiful Greater New Haven Region, Beseck Lake is a quiet residential lake. Ideally located in Middlefield near the center of the state, Beseck Lake is within easy commuting distance from Hartford to the north, Waterbury to the west and New Haven to the south. Whether you stay for summer recreation, fall colors or winter sports, the water, hills and history surrounding Beseck Lake combine to make this a favorite family destination.
It is unclear exactly when or how Beseck Lake (also called Lake Beseck) got its name. It is possible that the name is derived from Mattabeseck, the original Wangunk Indian name for Middletown found northeast of Middlefield. First settled in the late 1600s, Middlefield has stayed true to its rural agricultural roots making Beseck Lake an ideal location for vacations, week-end retreats and country homes.
Historic Beseck Lake is an impoundment of Ellen Doyle Brook, also known as the Beseck River. Around 1848 a group of local entrepreneurs formed the Middlefield Reservoir Company. Providing power for local saw, grist and cider mills, the company built a dam that converted Wild Cat Swamp into Lake Beseck. According to the Town Times Community Guide, the original dam was built with some very interesting local sandstone. "When the builders discovered that the stones contained dinosaur footprints, they laid the stones out in such a way that it looked as though the dinosaurs were traversing the dam." Unfortunately the footprints disappeared when the dam was rebuilt in 1938. Today, the lake and dam fall under the ownership of Connecticut's Department of Environmental Protection.
Beseck Lake continues to be fed by the Beseck River, several unnamed brooks and bottom springs. The 116-acre lake has a maximum 24-foot depth near the dam and maintains an average depth of 12 feet. At the north end of the lake are shallower waters with three-to-six foot depths.
Most of the Beseck Lake's three-mile shoreline is privately owned with developed residential areas found along the eastern, northern and western shore. The southern shore is private forested land. Public access to Beseck Lake is limited to two locations. Town Beach, found along the western shore, is open to Middlefield residents during July and August. Beachgoers must acquire a pass from the Town Clerk's office before going to the beach. The state maintains a public boat ramp off highway 147 along Beseck Lake's eastern shore. Confined space at the ramp limits boat size to 18 feet. Twenty parking spaces are provided with chemical restrooms open in the summer months. Water skiing and boat speeds above eight miles per hour are only permitted from June 15 to the first Sunday following Labor Day, between the hours of 11:00 a.m. and 6:00 p.m. daily. When fall color comes to Beseck Lake canoes, kayaks and sailboats skim across the peaceful water. Once the snow falls and the lake freezes, thoughts turn to ice skating and cross-country skiing.
Anglers report that Lake Beseck is a popular fishing spot, often crowded on weekends. The lake does not have public access to shore fishing, so enjoy casting a line from your boat. Connecticut fishing regulations apply as you fish for bass, golden shiner, banded killifish, brook trout, channel catfish and white perch. For fish consumption advisories, please see the link provided.
Within easy driving distance Lake Beseck visitors can continue to enjoy their country experience. Wadsworth Fall State Park runs along beautiful Coginchaug River and is only a short 10-minute drive northeast of Beseck Lake. Covering 267 acres, visitors enjoy picnicking, stream fishing, pond swimming, or mountain biking and hiking through the hemlock and oak woodlands.
Within the town of Middlefield is information about, and access to, the Blue-Blazed Hiking Trail System. The Connecticut Forest & Park Association members and volunteers maintain over 800 miles of hiking trails running through more than 80 Connecticut towns. Found immediately west of Beseck Lake, the Mattabesset Trail climbs 719-foot Beseck Mountain and covers roughly 50 miles of the Blue-Blazed Hiking Trail System.
Spending time at Beseck Lake is about rest, relaxation and escape from the pace of city life. With a population approaching 4,200, Middlefield and surrounding towns and hamlets of Middlesex County can provide just that. Appealing little shops, intriguing small galleries, and local cafes add moments to be savored and enjoyed. Whether you stay in lakefront accommodations on Beseck Lake or choose a charming vacation rental, bed & breakfast (B&B) or more permanent real estate property, you will be surrounded by Connecticut's natural beauty and country charm.
Things to do at Beseck Lake
Vacation Rentals
Fishing
Boating
Sailing
Swimming
Beach
Canoeing
Kayaking
Water Skiing
Picnicking
Hiking
Ice Skating
Biking
Cross-Country Skiing
State Park
Fish species found at Beseck Lake
Bass
Brook Trout
Carp
Catfish
Channel Catfish
Perch
Trout
White Perch
---
Beseck Lake Photo Gallery
Beseck Lake Statistics & Helpful Links
Spread the word! Share our Beseck Lake article with your fellow Lake Lubbers!