Beaver Lake, North Carolina, USA
Welcome to the ultimate guide for history, statistics, local fun facts and the best things to do at Beaver Lake NC.
If you're considering Beaver Lake NC vacation rentals, we've made it super easy to explore accommodations and nearby hotels using the interactive map below. Simply click on a listing to compare similar properties, best rates and availability for your dates. Or keep scrolling to read our Beaver Lake NC guide!
Beaver Lake NC visitor and community guide
One of the most-visible lakes in the North Carolina Mountain region is unassuming little Beaver Lake. The small man-made reservoir is only about 65 acres in size-and completely private. Framed by nearby mountains, the lake is entirely owned by the property owners in Lake View Park. That doesn't mean that the public is entirely excluded, however. Visitors and guests can enjoy a variety of activities on the lake and shoreline via a fee or annual permit. Not only is Beaver Lake one of the most fashionable addresses in north Asheville, the lake itself is a memorable landmark on any drive along Merrimon Avenue.
Beaver Lake holds channel catfish, bullhead catfish, crappie and bluegill. Largemouth bass garner the most attention, however. A nine-pounder was recently caught on the little lake. There is a fee charged to visitors for fishing, and all anglers must possess a North Carolina fishing license. Fishing is catch-and-release, and no motors are allowed on the lake. All private boats must have permits, and an area is set aside for residents to dock their boats during the season. Visitors may rent canoes, kayaks and pedal boats, and non-residents must pay a small fee for access to the water. A lake 'warden' is on site each day to sell permits and see that the regulations are enforced. Most regular users buy annual permits. A small parking area is set aside for visiting cars. Other visitors come to enjoy the gentle hiking trails surrounding the lake. Dog walking garners a rather hefty annual fee to pay for clean-up costs, but most users consider it worth the price to keep the waters clean. The Asheville Yacht Club regularly gathers here to sail their remote-control sailboats; a special area of water is set aside for their enjoyment.
One extremely popular area for visitors is the Beaver Lake Bird Sanctuary, a ten-acre plot of wetland near the east end of the lake. Te Elisha Mitchell Audubon Society owns and manages the sanctuary, where a wide variety of songbirds, waterfowl, hawks, egrets, butterflies and dragonflies can be observed. Boardwalks and paths through the area lead bird watchers into serious birding territory. Heavy leaf cover often hides the birds during warm weather, so the best sightings are from fall through spring. Guided birding walks occur the first Saturday morning of each month from September to April. Those simply looking for a leisurely walk in pleasant surroundings often use the Sanctuary area as their regular route. The sanctuary backs Merrimon Avenue, and the Country Club of Asheville is across the road, making the silence golden here for listening to bird songs.
Few homes are waterfront; most are set opposite the lake on the other side of the perimeter road. Those homes with lakefront property are set back from the lake under a canopy of trees. Other residential streets are farther back from the lake, but all have lake privileges for which they pay an annual assessment. Beaver Lake is not a city-maintained park. This leads to occasional misunderstandings when visitors object to paying the usual fees. However, the excellent park-like setting is expensive to maintain, and activities such as periodic dredging and weed control are paid for in part by these fees and permits.
Beaver Lake was created when an engineering firm dammed Beaver Dam Creek to benefit a new housing development planned surrounding a meadow known as Baird Bottom. Within a few months of the time the 1923 dam was erected, water covered the former cow pasture to a depth of around four feet and homes were being built. Noted landscape architect John Nolen directed the new lakescape. One of the more spectacular features of the development was a swimming pool, walled off from the lake by a granite and masonry wall. A full acre in size, the swimming pool's water entered through a grotto and waterfall and was filtered and chlorinated by hidden pumps. Ocean sand was brought in for a beach. The pool was backed by a Tea House; a casino, bath house and golf course were added. In 1925, an Olympic swim meet was held at the pool. For many years local visitors and residents enjoyed the huge, naturalized pool. Unfortunately, by `1953, the pumps and filters were worn out. The wall separating the pool from the surrounding lake was leaking in water faster than the aging filtration system could clean it. And, repairing the walls was prohibitively expensive. Sadly, the wall was removed, the Tea House converted to a residential home, and the golf course became part of the bird sanctuary.
Older residents still talk of the days when the Beaver Lake Pool was 'the place to be' on hot summer days. Now, they come to fish off the shore or walk the leisurely paths and enjoy a piece of nature just a few blocks from bustling downtown Asheville. Many of Asheville's numerous visitors visit the lake if they stay in the city for any length of time. Asheville is an attractive city for tourists who enjoy spas, scenery, history and the arts. The downtown area is home to unique shops, lots of restaurants and plenty of nightlife. Historic Biltmore House, the 250-room mansion of George Vanderbilt, and some of the best preserved Art Deco architecture can be seen in the city. Several museums, such as the Colburn Earth Sciences Museum and the Asheville Art Museum, are only a short distance from the YMI Cultural Center which showcases the best selection of Africa-American exhibits in western North Carolina. Natural warm water springs have enhanced Asheville's reputation as a natural spa and wellness center for over 200 years and have proliferated and continually added more exotic and specialty treatments to entice spa tourism. And outdoor activities, including mountain backpacking and whitewater rafting are only a short distance away from the many luxury hotels near the city. Numerous forms of lodgings are found throughout the area, with lots of bed & breakfasts, guest cottages and mountain resorts.
For those looking to stay near Beaver Lake, a few private short-term property rentals are sometimes found. Real estate is usually available, even within Lake View Park. Plan your visit to this special place in the Asheville area.
Custom Beaver Lake NC house decor
Read our full review of these personalized lake house signs.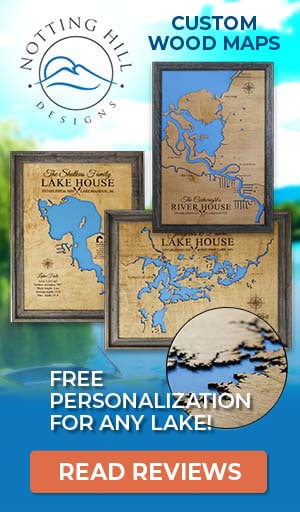 Things to do at Beaver Lake NC
Vacation Rentals
Fishing
Boating
Sailing
Swimming
Swimming Pool
Beach
Canoeing
Kayaking
Whitewater Rafting
Golf
Hiking
Waterfall
Birding
Museum
Casino Gambling
Fish species found at Beaver Lake NC
Bass
Black Bass
Bluegill
Bullhead Catfish
Catfish
Channel Catfish
Crappie
Largemouth Bass
Sunfish
---
Best hotels and vacation rentals at Beaver Lake NC
The Beaver Lake NC map shown above is a simple and stress-free way to search for trip accommodations. But if you want to take a deeper dive to find the ideal waterfront home, cabin, condo, hotel or resort, visit our favorite lodging partners by clicking the buttons below.
Note: These are affiliate links so we may earn a small commission if you book through them. While there is no extra cost to you, it helps provide resources to keep our site running (thank you)! You can read our full disclosure policy here.
---
Beaver Lake NC photo gallery
New photos coming soon!
Beaver Lake NC statistics & helpful links
We strive to keep the information on LakeLubbers as accurate as possible. However, if you've found something in this article that needs updating, we'd certainly love to hear from you! Please fill out our Content Correction form.
Advertise your Beaver Lake NC vacation rental
LakeLubbers will soon offer homeowners and property managers the opportunity to to showcase their vacation rentals to the thousands of lake lovers searching our site daily for accommodations. If you'd like additional details, please contact our advertising team here.
Looking for the Beaver Lake NC forum?
LakeLubbers previously offered visitors the ability to create accounts and participate in lake forums. When we overhauled the site's content management system in 2021 we had to disable those features. We're evaluating options and welcome your comments and feedback here.
We also encourage you to join our lake-lovin' community on Facebook and Instagram!
Spread the word! Share our Beaver Lake NC article with your fellow Lake Lubbers!