Austin Lake, Michigan, USA
Lake Locations:
USA - Midwest - Michigan - Southwest -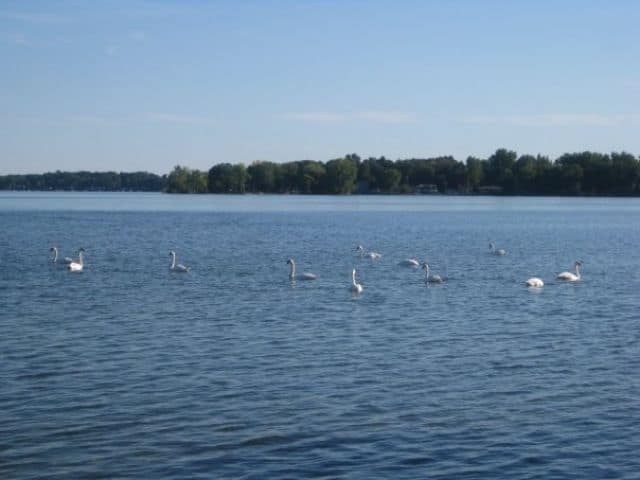 Sitting on a frozen lake, clutching a thermos of hot chocolate in mitten-clad hands, and hovering over a hole in the ice is not everyone's idea of fishing. For those hardy souls that live in Michigan and those that visit the land of the Great Lakes, however, ice fishing can be one of winter's true pleasures. Pulling strings of panfish out of the icy water is just one of the things that make Austin Lake in Southwest Michigan a year-round destination.
It is fitting that ice is one of the things that draws people to Austin Lake because the lake was created by ice. Austin Lake is a shallow natural lake, left over after the glaciers receded about 10,000 years ago. In fact, with a maximum depth of just 11 feet it should be too shallow to support winter populations of fish. The inflow of water from Long Lake and the outflow through Portage Creek keeps the water moving and is what has made Austin Lake a popular winter fishery. The lake is also a favorite with anglers in other seasons, and has a reputation as an exceptional largemouth bass fishery. In the past, the Michigan Department of Natural Resources has stocked Austin Lake with muskie and northern pike, and there are healthy populations of yellow perch, bluegill, and black crappie.
Public access to Austin Lake is by a boat launch ramp maintained by the Park and Recreation Bureau. There is a small fee, and the ramp is closed between 11 p.m. and 4 a.m. Lakeview Park in the City of Portage has shoreline access and fishing piers. The 24-acre park also has a playground, ball fields and places to picnic. With almost 1,100 acres of water, there is room for all kinds of boating on Austin Lake including canoeing, sailing, jet skiing and water skiing. A very active catamaran club holds regattas throughout the season.
Austin Lake is named for the Austin family that settled on the lake's north shore in 1833, and there is evidence of human inhabitants as far back as the lake's formation. Although it is a natural lake, Austin Lake has been altered several times in the past. The lake was dammed on Portage Creek in 1918. It was also dammed in 1958 and a more recent dam underwent repairs to avert a potential dam failure and flood. Long Lake drains into Austin Lake, and in 1925 the water levels of Long, West and Austin Lake were legally set to the same level. Austin Lake is under the control of the Kalamazoo County Drain Commissioner.
There is significant residential development along with vacation rentals around Austin Lake, and real estate for sale includes some very nice lakefront homes. The lake borders the City of Portage and is just south of Kalamazoo. As a result, visitors have easy access to all the amenities of a large city, and commuters can work in the city and live on the beautiful water of Austin Lake.
Portage, along the north shore of Austin Lake, was historically known as the "Celery Capital of the World." The area was settled by Dutch immigrants known as the "Celery Dutch" in 1860. The marshland was planted with celery, which was the area's primary crop from 1890 through the 1930's. Today, visitors can tour the Celery Flats Historical Area, which has celery fields and several historical buildings. There are also canoe and bike surrey rentals so visitors can tour the area from the Celery Flats along Portage Creek.
An easy drive from Austin Lake, the Fort Custer Recreation Area is between Battle Creek and Kalamazoo. The 3,033-acre area started as Camp Custer, a military training center used by the US Army during World War II. The recreation area has campgrounds and over 25 miles of trails for hiking, biking and horseback riding. In the winter there is cross country skiing and dog sledding.
Regardless of the time of year, Austin Lake has earned its reputation as a great place to live and play.
Things to do at Austin Lake
Vacation Rentals
Fishing
Ice Fishing
Boating
Sailing
Canoeing
Jet Skiing
Water Skiing
Camping
Campground
Picnicking
Hiking
Biking
Cross-Country Skiing
Dog Sledding
Horseback Riding
Playground
Fish species found at Austin Lake
Bass
Black Bass
Black Crappie
Bluegill
Crappie
Largemouth Bass
Muskellunge
Northern Pike
Perch
Pike
Sunfish
Yellow Perch
---
Austin Lake Photo Gallery
Austin Lake Statistics & Helpful Links
Spread the word! Share our Austin Lake article with your fellow Lake Lubbers!