Pine Lake, Michigan, USA
Lake Locations:
USA - Midwest - Michigan - Southwest -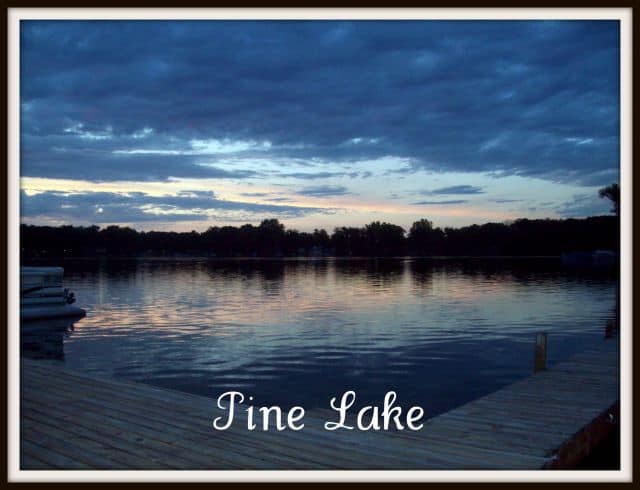 Located in rural Barry County, Michigan, Pine Lake is actually four lakes connected by small navigable channels. With Kalamazoo a short 30-mile drive to the south, Grand Rapids a 65-mile drive to the north, and Battle Creek 30 miles to the southeast, Pine Lake offers a tranquil retreat from the busy pace of city life. The land surrounding 660-acre Pine Lake is typical of the low, rolling plains found in Michigan's Southwest Tourism Region. Here, the four seasons bring a full range of activity from wildlife watching in the spring and boating in the summer to scenic drives in the fall and ice fishing in the winter.
Pine Lake is a spring-fed lake with no inlet or outlet. Lake levels are dependent upon snow melt, rain, and evaporation rates that can lead to substantial fluctuations in water levels. The Barry County Drain Commissioner maintains a pump that adds water to Pine Lake, should the water level become too low. In the event of high water levels, seawalls are constructed to protect lakefront property. The four lakes that make up Pine Lake are known by their number. Lake 1 is the southwestern lake with its far west shore bordering Allegan County; Lake 2 is in the northwest; Lake 3 is in the northeast; Lake 4 is the southeastern lake. In addition to the connecting channels, several islands and coves make Pine Lake an ideal place for fishing and boating.
The Pine Lake Association is a non-profit volunteer organization that monitors conditions in and around Pine Lake's 11-mile shoreline (islands not included). The board and association directors address issues involving water level, invasive plants, and safety. The association publishes "Pine Lake News" and sponsors events that enhance the wonderful sense of community found on Pine Lake. Residents actively participate in the annual Pine Lake garage sale, Fourth of July boat parade, Halloween party, and fundraising raffles.
The majority of Pine Lake's well-developed shore is lined with vacation rentals, seasonal and weekend residences. Two parks owned by Prairieville Township provide public access to Pine Lake. One-acre Center Street Park is located along the western shore of Lake 2. Here, visitors will find a paved boat launch, pier, picnic tables, restroom, and parking. An annual pass and daily fee are required for use of Center Street Park boat facilities. Pine Lake Recreation Area is an 18-acre park with courts for playing volleyball, tennis and basketball, a ball field; play equipment, and pavilion with picnic tables, restroom and water pump.
Those fortunate to live along Pine Lake's waterfront will find opportunities for boating, swimming, water skiing, riding personal water craft, and fishing just outside their door. Posted boating regulations follow "The Michigan Handbook of Boating Laws and Responsibilities," published by Michigan's Department of Natural Resources. In addition to the published regulations, Pine Lake's many coves are all considered no-wake zones. If fishing is your pleasure, you will enjoy the thrill of catching bluegill, largemouth bass, smallmouth bass, northern pike, crappie, or walleye.
Barry County's comfortable country lifestyle attracts residents and visitors to the shores of Pine Lake. Michigan's rural traditions come to life within easy driving distance of Pine Lake. Located on Barlow Lake, Bowens Mills lies 20 miles north of Pine Lake. A Michigan Historical Site, this restored mill has seen milling operations come and go since the late 1830s. Now this living history museum is open by appointment May through August. From the second weekend in September to the end of October, the mill's cider presses come alive for "It's Cider Time Festivals."
Charlton Park Village Museum and Recreation Area, 25 miles northeast of Pine Lake, is built upon lands once used by Pottawatomi Native American tribes. Today, the land is occupied by 25 restored buildings housing artifacts that depict rural Michigan life during the late 19th and early 20th century. The grounds are open daily from Memorial Day through Labor Day. Come prepared for picnics, swimming and fishing because the surrounding 298-acre recreation area includes river and lake access, shelters, paved boat ramp, and beaches.
Yankee Springs Recreation Area lies 10 miles north of Pine Lake; nine lakes are located within this 5,200-acre park. A modern campground at Gun Lake provides a boat launch, electrical service and modern restrooms. Rustic campgrounds are available, including provisions for equestrian campers. Thirty miles of hiking trails, 12 miles of mountain bike trails, and nine miles of horseback trails are open to cross-country skiing in the winter. Fishing, hunting, wildlife watching and swimming are among other activities available in the recreation area. Picnic shelters, playgrounds, two public beaches, and two "universally accessible fishing piers" are available for family fun.
Located between Kalamazoo and Battle Creek, and 20 miles southeast of Pine Lake, Fort Custer Recreation Area offers rustic and modern campgrounds. Originally a World War II military training center, the state now maintains 25 miles of trails open to hiking, cross-county skiing, dog sledding, horseback riding and mountain biking. And when the snows start to fall on Pine Lake, winter sport enthusiasts will find two ski areas within 20 miles of their home. To the west of Pine Lake, Timber Ridge and Bittersweet Ski Areas offer skiing, and snowboarding fun.
With each season, residents find a new reason to appreciate the simple pleasures of life on Pine Lake. Wake to the smell of fresh country air, celebrate holidays with family and neighbors, and enjoy the natural beauty and gentle sounds of lakefront living. You are welcome at Pine Lake, where lakefront vacation rentals and real estate properties are available and waiting for you.
Things to do at Pine Lake
Vacation Rentals
Fishing
Ice Fishing
Boating
Swimming
Beach
Water Skiing
Tennis
Camping
Campground
Picnicking
Hiking
Biking
Snowboarding
Cross-Country Skiing
Dog Sledding
Horseback Riding
Hunting
Wildlife Viewing
Museum
Playground
Fish species found at Pine Lake
Bass
Black Bass
Bluegill
Crappie
Largemouth Bass
Northern Pike
Perch
Pike
Smallmouth Bass
Sunfish
Walleye
---
Pine Lake Statistics & Helpful Links
Spread the word! Share our Pine Lake article with your fellow Lake Lubbers!