Watson Lake, Arizona, USA
Lake Locations:
USA - Southwest - Arizona - North Central -
Also known as:  Watson Reservoir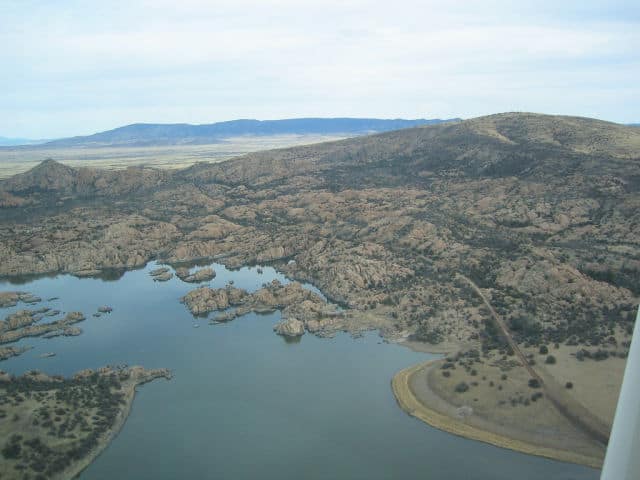 Watson Lake is one of two reservoirs (Willow Creek Lake being the other) located within the Granite Dells just outside of Prescott in North Central Arizona. The Granite Dells are a unique geological feature consisting of massive granite boulders that have eroded into rounded bumpy and unusual shapes giving the rocks a rippled appearance. The two lakes combined with numerous hiking trails offer a great place for boating, picnicking, hiking, and birding. For those who remember the movie, Billy Jack, Watson Lake was used for many scenes in the film.
Watson Lake, named after Senator James Watson of Indiana, a principal investor in the Arizona Land and Irrigation Company, is a 380-acre lake that was formed in the early 1900s when the Chino Valley Irrigation District built a dam on Granite Creek. The City of Prescott bought the reservoir and surrounding land in 1997 to preserve it as recreational land. Watson Lake is located about four miles from downtown Prescott and features fishing, kayaking, canoeing, hiking rock climbing, camping, birding, and day picnicking.
Boats with gas powered and electric powered motors are allowed on Watson Lake, but there is a maximum five mile an hour "no wake" speed limit. The calm water is perfect for kayaks and canoes which are available for rent if you do not have your own. There is one boat ramp for easy access onto the lake.
Anglers can fish from boats or from the shore of Watson Lake. Fish varieties include largemouth bass, crappie, yellow bullhead, bluegill and sunfish. May and June are the best months for sunfish activity. Kids will have a great time fishing from shore or from a floating dock. A fish cleaning station is available for anyone thinking of having fish for lunch or dinner.
Overnight and RV camping is allowed on Watson Lake during the summer months only. There are no hookups on Watson Lake but there are other campgrounds near the lake that offer water and electrical hookups. Restrooms, showers, picnic tables, BBQ grills, covered gazebos, horseshoe pits, and playground equipment is available for visitors to Watson Lake. Although the water is clear and the air is warm, swimming is not allowed in the lake.
Hikers visiting Watson Lake will want to explore the Prescott Peavine National Recreation Trail which runs along the southeastern side of the lake and into the scenic Granite Dells region. The nearly level, packed-gravel trail is well used by joggers, walkers, cyclists, and equestrians. The Peavine Trail intersects with the Iron King Trail which continues on into the Prescott Valley. A 125-acre Watson Woods Riparian Preserve is located near the Peavine Trail and offers bird watchers a chance to spot hundreds of bird species including eagles and hawks.
Rock climbers will want to tackle the challenging granite formations that surround Watson Lake. Mountain rescue groups use the area for training.
If primitive camping isn't your idea of fun, the city of Prescott offers all sorts of vacation rentals. Just four miles from Watson Lake, Prescott is a small, but thriving city on the northern edge of the rugged Bradshaw Mountains. Prescott weather offers four mild seasons and low humidity throughout the year. Restaurants, shopping, and multiple golf courses are available throughout the city. If you are interested in doing some traveling, Phoenix is 75 minutes away and you can make it to Las Vegas in just under four hours. The Grand Canyon, Lake Powell, and other national parks and lakes are also within close range of Watson Lake.
Located in the beautiful Granite Dells, Watson Lake offers breathtaking scenery and quiet spots for kayaking, hiking, fishing and daydreaming. Just minutes away from downtown Prescott, you can wander through an art gallery, listen to a concert, plan a picnic or just enjoy a peaceful solitary day on the water. With so much to see and do, the choices are endless.
Things to do at Watson Lake
Vacation Rentals
Fishing
Boating
Swimming
Canoeing
Kayaking
Golf
Camping
Campground
Picnicking
Hiking
Rock Climbing
Horseback Riding
Birding
National Park
Playground
Shopping
Fish species found at Watson Lake
Bass
Black Bass
Bluegill
Crappie
Largemouth Bass
Sunfish
Yellow Bullhead
---
Watson Lake Photo Gallery
Watson Lake Statistics & Helpful Links
Spread the word! Share our Watson Lake article with your fellow Lake Lubbers!