Alouette Lake, British Columbia, Canada
Also known as:  Alouette Reservoir, Lillooet Lake (historic)
Welcome to the ultimate guide for history, statistics, local fun facts and the best things to do at Alouette Lake.
If you're considering Alouette Lake vacation rentals, we've made it super easy to explore accommodations and nearby hotels using the interactive map below. Simply click on a listing to compare similar properties, best rates and availability for your dates. Or keep scrolling to read our Alouette Lake guide!
Alouette Lake visitor and community guide
Only an hour away from big-city Vancouver, Alouette Lake provides a wilderness experience and a mountain view of beautiful Golden Ears Provincial Park. Originally named Lillooet Lake, the reservoir was renamed Alouette Lake to distinguish it from another Lillooet Lake in British Columbia. The original lake along the Alouette River was much smaller before the building of Alouette Dam in 1928. This first lake in the Alouette, Stave Falls, Ruskin Project chain holds a key position in the BC Hydro-managed project that contains four dams, three powerhouses and a diversion tunnel all built to offer clean, renewable hydroelectric power to British Columbia.
Hydropower isn't the only benefit that the nearly 4000-acre lake offers to area residents. Flood control, agricultural irrigation, fishing and recreation are all built into Alouette Lake's design. The lake is nestled within 154,540-acre Golden Ears Provincial Park. This Park is comprised of an area carved out of larger Garibaldi Provincial Park, a 480,990-acre wilderness in British Columbia's coastal mountains. Most visitors believe the name Golden Ears represents the twin peaks of Mount Blanshard, located near the western edge of the park. In actuality, the name is a corruption of the original Golden Eyries, apparently so-called for the soaring golden eagles in the area. Within Golden Ears Park, Alouette Lake offers three organized campgrounds, swimming, watersports, water skiing, wind surfing, tubing, canoeing and kayaking. Day use areas provide for picnics and swimming. A four-lane cement boat launch provides access to the water, although there is no marina on the lake or overnight docking facilities. A concession rents canoes, kayaks and pedalboats daily during the summer months, and a small concession stand and store provide forgotten camping items or a quick and convenient snack.
A large public beach is adjacent to the main portion of the campground, although no lifeguards are available. A playground, picnic areas, restrooms, RV dump and drinking water round out the basic amenities. A wealth of hiking trails, bike paths and equestrian trails offer miles of access to the park's rugged back country. Spirea Universal Access Trail is accessible to the disabled, while nearly 15 miles of designated bike trails allow mountain bike fans to enjoy their sport. The park map shows the wide offering of trails, and a separate informational sheet gives the particulars. Walk-in wilderness camping is provided in several areas from these trails, with boat-accessible campsites locate along the far reaches of the lake. Much of the 24-mile shoreline is hard to reach any other way. On summer weekends, power boat traffic can be heavy, but weekdays and cooler weather allow paddlers to enjoy quiet waters and a strenuous workout traveling all the way up the lake. The main campground is open all year, although the auxiliary, overflow campgrounds close in winter. During busy summer holiday weeks, reservations may be needed as early as three months in advance.
Fishermen enjoy Alouette Lake for the wide variety of fish. The lake is quite deep with little vegetation, so cold-water fish are the norm. British Columbia Fish & Wildlife regularly stocks cutthroat trout and rainbow trout in the lake, while Dolly Varden, bull trout, kokanee, lake trout, Coho salmon and Chinook salmon are also present. A BC fishing license is required, and anglers should be alert for any special regulations placed on the reservoir. All boaters should be alert during periods of low water for submerged stumps and rocks just below the surface. As with many reservoirs, Alouette Lake has large variations in water depth depending on the weather, the season and water released for agriculture. A low outflow channel near the base of the Alouette Dam for agricultural use assures there is always enough water to support the fish downstream so the fishery remains healthy.
Golden Ears Provincial Park holds a wealth of native wildlife in its forested expanse. The second-growth western hemlock on the mountainous slopes is home to deer, black bears, mountain goats and a wide variety of smaller mammals. The park's website provides a list of birds for bird-watchers. Two of the mountains are accessible by official trails but are quite strenuous and require at least intermediate skills. Hikers attempting the mountain trails should have adequate mountaineering gear and be prepared for unexpected bad weather. Upon reaching this watery paradise, it is hard to believe that small cities exist just downstream along the Fraser River less than 10 miles away. Indeed, preventing downstream flooding is part of the purpose for the reservoir, which stores excess water during times of heavy rains. Because there are no lodgings within the Park other than camping, the nearby town of Maple Ridge holds bed & breakfasts, guest cottages, hotels, motels and guest lodges. With Vancouver only an hour away, Alouette Lake is convenient for an afternoon's visit or a weekend fishing or boating trip.
The Alouette, Stave Falls, Ruskin Project is of interest to those with a curiosity about how water can 'work' for people. The diversion tunnel diverts some water from the northern end of Alouette Lake through a steep mountain ridge to a powerhouse on the shore of Stave Lake where it produces electricity. A second dam and powerhouse at the southern end of Stave Lake uses the water again to produce electricity before it flows into Hayward Lake to produce power at Ruskin Dam. Thus, all of the water is returned to the river after completing its work. A Visitor and Information Center near the Stave Lake Dam provides full information.
A visit to the Alouette Lake area provides the ideal opportunity to view the magnificent scenery and impressive height of the majestic Garibaldi Mountains. Most of the land in the area belongs to the Crown and provides many locations and venues for hiking, nature photography and mountaineering. All of this-and 'civilization' only a few miles away.
* Statistics for Alouette Lake disagree in some cases. We have used figures provided by BC Hydro and British Columbia Travel Guide.
Custom Alouette Lake house decor
Read our full review of these personalized lake house signs.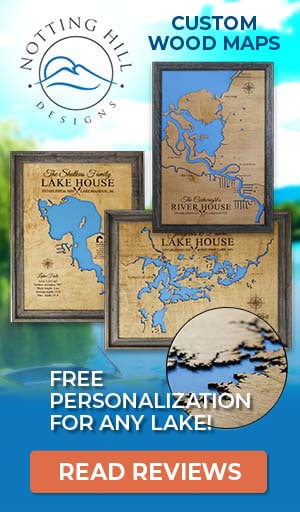 Things to do at Alouette Lake
Vacation Rentals
Fishing
Boating
Swimming
Beach
Canoeing
Kayaking
Water Skiing
Wind Surfing
Tubing
Camping
Campground
Picnicking
Hiking
Horseback Riding
Wildlife Viewing
Birding
Provincial Park
Playground
Fish species found at Alouette Lake
Bull Trout
Chinook Salmon
Coho Salmon
Cutthroat Trout
Dolly Varden Trout
Kokanee Salmon
Lake Trout
Rainbow Trout
Salmon
Trout
---
Best hotels and vacation rentals at Alouette Lake
The Alouette Lake map shown above is a simple and stress-free way to search for trip accommodations. But if you want to take a deeper dive to find the ideal waterfront home, cabin, condo, hotel or resort, visit our favorite lodging partners by clicking the buttons below.
Note: These are affiliate links so we may earn a small commission if you book through them. While there is no extra cost to you, it helps provide resources to keep our site running (thank you)! You can read our full disclosure policy here.
---
Alouette Lake photo gallery
New photos coming soon!
Alouette Lake statistics & helpful links
We strive to keep the information on LakeLubbers as accurate as possible. However, if you've found something in this article that needs updating, we'd certainly love to hear from you! Please fill out our Content Correction form.
Advertise your Alouette Lake vacation rental
LakeLubbers will soon offer homeowners and property managers the opportunity to to showcase their vacation rentals to the thousands of lake lovers searching our site daily for accommodations. If you'd like additional details, please contact our advertising team here.
Looking for the Alouette Lake forum?
LakeLubbers previously offered visitors the ability to create accounts and participate in lake forums. When we overhauled the site's content management system in 2021 we had to disable those features. We're evaluating options and welcome your comments and feedback here.
We also encourage you to join our lake-lovin' community on Facebook and Instagram!
Spread the word! Share our Alouette Lake article with your fellow Lake Lubbers!