Adams Lake, British Columbia, Canada
Welcome to the ultimate guide for history, statistics, local fun facts and the best things to do at Adams Lake.
If you're considering Adams Lake vacation rentals, we've made it super easy to explore accommodations and nearby hotels using the interactive map below. Simply click on a listing to compare similar properties, best rates and availability for your dates. Or keep scrolling to read our Adams Lake guide!
Adams Lake visitor and community guide
Located in southern British Columbia amid the Columbia Mountains, Adams Lake is a more remote and less developed neighbor to nearby Shuswap Lake. Covering 34,000 acres with 93 miles of shoreline, Adams Lake reaches depths of 1,502 feet, making it the second-deepest Lake in British Columbia. Despite its awe-inspiring size, Adams Lake has little development compared to Shuswap Lake. Steep lakeside slopes make it hard to access much of the northern shoreline to build waterfront housing.
Although the northern shores of Adams Lake are hard to reach by road, a forest service road nearly completely circles the lake, often at some distance from the water. Other area roads belong primarily to the lumber companies that own or lease most of the nearby forested slopes. The lumber companies tow cut logs down the lake and anchor them offshore, awaiting their turn at the sawmill near the south end. The few relatively level areas at the south end of the lake hold cottages and homes in several widely separated pockets of land. A cable ferry crosses the south end of the lake between the lumber company and the residential settlement on the opposite shore. The City of Kamloops is about 50 miles to the west. The attractiveness of living on this pristine lakefront is reflected in high real estate prices for a few luxury homes. Wide expanses of open water make water sports such as water-skiing, windsurfing, power boating, sailing and pontooning favored activities among the residents.
Six public boat launch areas maintained by the Adams Lake Provincial Park system allow access to the waters, but it doesn't appear that these launch areas can handle larger boats. Some are car-top-only boat launch areas and favored for canoes and kayaks. Most are used by fishermen who come to Adams Lake to pursue their favorite cold-water prey: Chinook salmon, sockeye salmon, coho salmon, kokanee salmon, mountain whitefish and rainbow trout. In years past rainbow trout were stocked in Adams Lake, but they now seem to be self-sustaining. The lake holds some trophy fish, but anglers complain that the shear size of the lake makes it hard to catch them. Only the most experienced anglers know where to cast their lures to gain the attention of these elusive fish. This doesn't deter the hundreds who sign up to participate in annual fishing tournaments on Adams Lake. All fishermen must have a British Columbia fishing license on their person and adhere to all regulations. The unmanned boat launch sites are open each year until deep snows make the gravel roads impassible.
Forest-covered mountainsides provide scenic canoeing and kayaking opportunities. A wealth of wildlife inhabit the area, including mule deer, white-tailed deer, black bear, moose, mountain lion and numerous smaller mammals. Grizzly bear can sometimes be seen during the fall salmon runs along the river. The inflowing creeks and river mouth are often the place to see bald eagle, osprey, Canada geese, swans, green-winged teal, mallards and other waterfowl.
Several sections of Adams Lake Provincial Park hold primitive campsites accessible only by water. A total of six separate park sections hold varying degrees of services. The Honeymoon Bay site along the western shore is one of the most popular, providing room for RV camping and a sandy beach area. Two other sites possess sandy beaches, but the rest of the access points have typically rocky shorelines. Many of the forestry and park roads are available for hiking, ATV riding and mountain biking. In the fall, hunters arrive to take advantage of specific locations where hunting is permitted.
There is little in the way of services at Adams Lake. An occasional gas station or convenience store is sometimes located in a community of homes near the lakefront. Fortunately, the many amenities at Shuswap Lake are only a few miles away, as are more commercial lodgings. Adams Lake itself has a few private rentals that can be rented for daily or weekly rates. Some are available year-round and benefit those who enjoy winter trekking and snowmobiling. It is obvious from the popularity of Shuswap Lake nearby that Adams Lake development would grow quickly if land were opened for building. A few level lots are still available and can be found for sale. Those who live here value their remote privacy and are in no hurry to encourage major development.
Adams Lake is fed primarily by the Adams River flowing in at the north end. Many smaller tributaries add their snowpack-born waters to the usually cold lake. Adams River flows out of the lake at the southern tip, where it empties into Shuswap Lake less than seven miles downstream. This portion of the Lower Adams River is one of North America's most important salmon spawning grounds, its gravel bed ideal for salmon hatching. At one time, logging interests built a temporary dam across the river mouth, raising water levels to facilitate floating logs. The dam would then be opened and the cut logs washed downstream by the rushing water. That practice was stopped as the annual 'floods' destroyed the gravel beds needed for salmon spawning. The river bed has recovered and salmon runs have returned to near-normal levels.
Provincial parks bordering Adams Lake are smaller and less developed than the parks at Shuswap Lake. Roderick Haig-Brown Provincial Park along the Lower Adams River covers 2,659 acres and hosts about 150,000 visitors a year, most of whom never visit the lake itself. River visitors come primarily for the famous salmon runs in October. In 2010 nearly four million sockeye salmon completed their three-year life cycle in the northern Pacific and returned via the South Thompson and Frazier Rivers to return to their birthplace in the Adams River. Trails and viewing platforms within Roderick Haig-Brown Provincial Park allow visitors to watch this amazing natural cycle. Other nearby park systems such as the Momich Lakes Provincial Park and the Upper Adams River Provincial Park protect nearby streams and sections of old-growth forest.
Visitors desiring pristine, quiet waters and plenty of natural fauna will find Adams Lake a favorite vacation spot. Come view the spawning salmon who endure a 2,500-mile trek to return to the Adams River, a once-on-a-lifetime sight.
Custom Adams Lake house decor
Read our full review of these personalized lake house signs.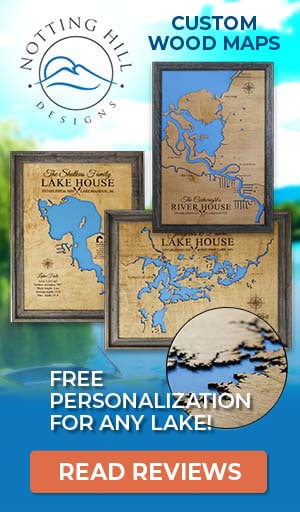 Things to do at Adams Lake
Vacation Rentals
Fishing
Fishing Tournaments
Boating
Sailing
Swimming
Beach
Canoeing
Kayaking
Water Skiing
Camping
Hiking
Biking
Snowmobiling
Hunting
Wildlife Viewing
Birding
Provincial Park
Fish species found at Adams Lake
Chinook Salmon
Coho Salmon
Kamloops
Kokanee Salmon
Rainbow Trout
Salmon
Sockeye Salmon
Trout
Whitefish
---
Best hotels and vacation rentals at Adams Lake
The Adams Lake map shown above is a simple and stress-free way to search for trip accommodations. But if you want to take a deeper dive to find the ideal waterfront home, cabin, condo, hotel or resort, visit our favorite lodging partners by clicking the buttons below.
Note: These are affiliate links so we may earn a small commission if you book through them. While there is no extra cost to you, it helps provide resources to keep our site running (thank you)! You can read our full disclosure policy here.
---
Adams Lake photo gallery
New photos coming soon!
Adams Lake statistics & helpful links
We strive to keep the information on LakeLubbers as accurate as possible. However, if you've found something in this article that needs updating, we'd certainly love to hear from you! Please fill out our Content Correction form.
Advertise your Adams Lake vacation rental
LakeLubbers will soon offer homeowners and property managers the opportunity to to showcase their vacation rentals to the thousands of lake lovers searching our site daily for accommodations. If you'd like additional details, please contact our advertising team here.
Looking for the Adams Lake forum?
LakeLubbers previously offered visitors the ability to create accounts and participate in lake forums. When we overhauled the site's content management system in 2021 we had to disable those features. We're evaluating options and welcome your comments and feedback here.
We also encourage you to join our lake-lovin' community on Facebook and Instagram!
Spread the word! Share our Adams Lake article with your fellow Lake Lubbers!