Bowron Lakes, British Columbia, Canada
Lake Locations:
Also known as:  Kibbee Lake, Indianpoint Lake, Isaac Lake, McLeary Lake, Lanezi Lake, Sandy Lake, Unna Lake, Skoi Lake, Spectacle Lake, Swan Lake, Babcock Lake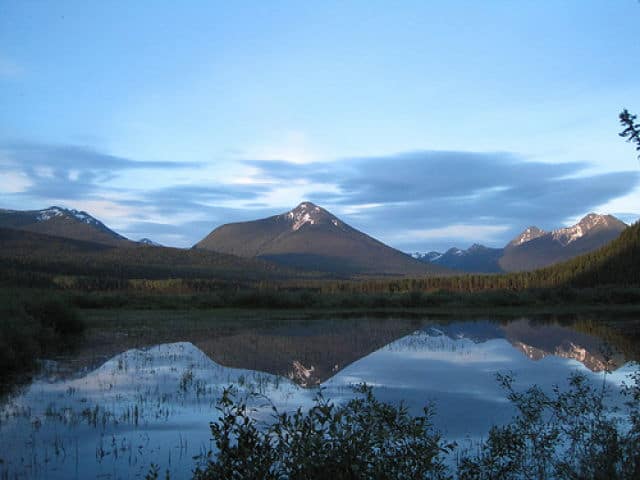 Central British Columbia's Bowron Lakes is one of North America's finest canoe tours. Famous the world over, the Bowron Lakes attract visitors from all over Canada, the United States and Europe. About 4,500 paddlers enjoy the 72-mile circular canoe route in Bowron Lake Provincial Park each year. With limited canoes allowed on the route on any given day, paddle sport enthusiasts often reserve their launch date months in advance in order to 'rough it' in the Bowron wilderness area. Surrounded by the mountains in the Cariboo Range, the park is also a wildlife sanctuary, so photographic opportunities are plentiful. Most websites list ten lakes and any number of waterways as belonging to the Bowron canoe route, although twelve named lakes are listed. Although only one lake is named Bowron Lake, the popular paddle route is usually referred to as the Bowron Lakes.
In the order in which they are traversed, Bowron Lake Provincial Park literature names Kibbee Lake, Indianpoint Lake, Isaac Lake, Isaac River, McLeary Lake, Cariboo River, Lanezi Lake, Sandy Lake, Babcock Creek, Unna Lake, Babcock Lake, Skoi Lake, Spectacle Lake, Swan Lake, (these last two lakes run together and are usually counted as one lake), Bowron River and finally Bowron Lake. As the entire area lies within the protection of the Bowron Lake Provincial Park, none of the lakes except Bowron Lake holds anything but the bare minimum of primitive camping facilities. All water must be carried in or, if obtained from local surface waters, boiled for safety. Wind and rainstorms are common here, making for unexpectedly wet paddling. A number of small cabins spaced around the canoe circle are open for use only in emergencies and as a place to dry out soaked paddlers temporarily. Paddlers are expected to camp in the designated camping areas found along the route, where they cook their packed-in provisions and perhaps fish. Few hiking trails are located along the shorelines with only two marked trails, one trail leading from the southwest shore of Unna Lake to spectacular 79-feet high Cariboo Falls. Most canoe trekkers stop here long enough to take the hike to the picturesque falls which is most striking in the spring during high water. The other marked trail leads to Hunter Lake.
The canoe trail is best handled by experienced, physically-fit canoeists. There are several portages involved in getting from one waterway to another. Care must be taken to follow the marked signs and to portage where indicated, as some of the rivers become impassible due to rapids and waterfalls. Others may lead to lakes not on the route, and those getting off the signed trail can easily become lost. Wildlife are plentiful along the route with moose, deer, mountain goat, caribou, black bear, grizzly bear, waterfowl, beaver, and otter commonly seen. Eagles and ospreys fish the waters, along with the wide variety of the usual birds inhabiting the well-wooded shorelines. Binoculars are a must as are bear-proof caches for all food. Bowron Lake Provincial Park offers a bear safety page on their park website and suggests that all visitors follow safety practices to avoid conflicts with these magnificent creatures.
The park's webpage has suggested lists of equipment that will be needed for the week-long adventure, and some equipment can be rented from local lodges. Weapons are not allowed in the park, which has not been hunted since 1926. Some of the shallower lakes become warm enough for swimming in summer, but others are cold and deep. No statistics on lake sizes and depths are available. Following the route clockwise, paddlers end up at Bowron Lake, the only lake with a boat ramp and vehicle-accessible campground. The usual route takes seven to ten days, but some trekkers take the shorter, three-day route by traveling in the reverse direction from Bowron Lake to Unna Lake and back-a shorter, flatter route with fewer portages and usually better weather.
Bowron Lake is headquarters for the Provincial Park and offers, besides the camping area, the only power boating on the entire circuit. Water skiing, wakeboarding, jet skiing and sailing can be enjoyed on Bowron Lake. The campground offers hiking, swimming, interpretive programs, wildlife viewing, cycling, scuba diving, horseback riding, climbing/repelling, caving, winter recreation such as cross-country skiing and has picnic areas, restrooms, showers, drinking water, playground and is wheelchair accessible. Several small privately-owned commercial lodges still exist along the west shore of the lake and offer resort cabins, restaurants, canoe and kayak rental and guide services. These predate the formation of the Provincial Park in 1961. It is Bowron Lake that attracts many of the fishermen who enjoy the challenge of bull trout, kokanee, rainbow trout and lake trout that are caught here. A provincial fishing license required.
Bowron Lake, originally named Bear Lake, was historically the home to tribes of First Nations. Gold was discovered in the Frazier River valley during the Cariboo Gold Rush of the 1860s. The lake was renamed after John Bowron, the first Gold Commissioner of nearby Barkerville. Here, Billy Barker discovered one of the region's richest gold deposits in 1862. The town sprang up practically overnight; that year it was reputedly the largest city west of Chicago and north of San Francisco. As the claims played out, Barkerville's population moved on, leaving behind a mostly-intact ghost town. After agreeing to buy out or move the homes of the few remaining residents, Barkerville was designated a historic park in the 1950s. The preserved village, complete with historic buildings, shopping and a theater is the official entrance to Bowron Lakes. The original 1869 Anglican church and 125 other buildings have been restored. From May to Labor Day, "townspeople" dress in period costumes. Visitors can pan for gold, dine in the Chinatown section, or take a stagecoach ride. The Richland courthouse stages trials from the town's past, and the Royal Theater performs productions regularly during the summer season.
Bed-and-breakfasts in Barkerville offer quaint and authentic lodgings, and visitors often spend several days visiting all historic Barkerville has to offer. Not far away, the small town of Wells offers more modern amenities, as does Quesnel a few miles from Bowron Lakes. There are plenty of lodgings in the area ranging from the occasional private guest rental to lakeside resorts, hotels and ranch stays. There are several provincial parks in the area, such as Cariboo Mountains Provincial Park and Wells Gray Provincial Park, so campgrounds are plentiful. Real estate may be available in the area, although not directly on the Bowron Lakes canoe circuit. Bowron Lakes and the canoe circuit is definitely a 'must do' experience for avid oupaddlers. A couple of weeks paddling the Bowron Lakes wilderness is a vacation that will be remembered and talked about for a lifetime. So, get your reservations in now for a trek around the circuit. You'll be the envy of your kayak club for years to come!
Things to do at Bowron Lakes
Vacation Rentals
Fishing
Boating
Sailing
Swimming
Canoeing
Kayaking
Jet Skiing
Water Skiing
Wakeboarding
Scuba Diving
Camping
Campground
Picnicking
Cabin Rentals
Hiking
Biking
Cross-Country Skiing
Horseback Riding
Hunting
Waterfall
Wildlife Viewing
Birding
Provincial Park
Playground
Shopping
Fish species found at Bowron Lakes
Bull Trout
Kokanee Salmon
Lake Trout
Rainbow Trout
Trout
---
Bowron Lakes Photo Gallery
Bowron Lakes Statistics & Helpful Links
At LakeLubbers.com, we strive to keep our information as accurate and up-to-date as possible, but if you've found something in this article that needs updating, we'd certainly love to hear from you!
Please let us know about it on our Content Correction form.
Spread the word! Share our Bowron Lakes article with your fellow Lake Lubbers!