Alexandria Chain of Lakes, Minnesota, USA
Lake Locations:
USA - Midwest - Minnesota - Central -
Also known as:  Lake Geneva, Lake Darling, Lake Carlos, Lake Le Homme Dieu, Lake Victoria, Lake Cowdry, Lake Jessie, North Union Lake, Lake Taylor, Lake Stony and Lake Brophy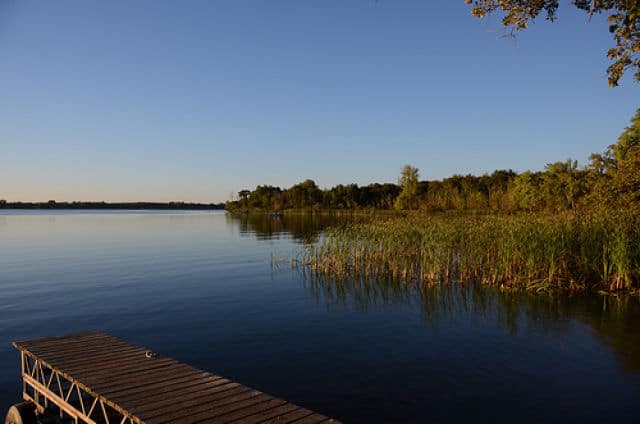 A favorite for family vacations in Minnesota's Central Lakes region is the group of lakes known as the Alexandria Chain of Lakes. The lakes nearly surround the small city of Alexandria, a couple of hours northwest of the Twin Cities. Easy access, a wide variety of water-based activities, and a wealth of vacation resources make the Alexandria Chain of Lakes highly attractive to those searching for a close-to-home getaway or vacation cottage. Typical descriptions of the chain include 11 lakes: Lake Darling, Lake Carlos, Lake Geneva, Lake Le Homme Dieu, Lake Victoria, Lake Cowdry, Lake Jessie, North Union Lake, Lake Taylor, Lake Stony and Lake Brophy. Although some sources state that all 11 lakes are navigable by interconnected channels, more recent information indicates that six lakes are navigable via channels: Lake Le Homme Dieu, Lake Carlos, Lake Geneva, Lake Victoria, Lake Darling, and Lake Jessie, although Lake Jessie may be accessible only by smaller fishing boats. Check with local marinas for the most up-to-date channel conditions before venturing out.
Several other relatively large lakes in the immediate area are not considered part of the 'official' Alexandria Chain but are popular housing spots, including Lake Louise, Lake Winona, Lake Agnes, Lake Henry, and Lake Latoka. Others are not developed and instead grace a wetland setting. Whatever your idea of an ideal lake, it likely can be found within this group.
Few statistics are available for some of the lakes. The five main lakes listed within the Alexandria Chain of Lakes serve to demonstrate the diversity of lakes left behind by the last glacier.
*Lake Carlos is the largest and deepest of the lakes with 2,520 surface acres and a maximum depth of 163 feet. Four public boat ramps are available, including two at the popular Lake Carlos State Park at the north end of the lake.
*Lake Le Homme Dieu, with 1,801 surface acres and a maximum depth of 85 feet, provides two public access areas where boats can be launched. The City of Alexandria provides a public swimming beach area along the southeast shore, while a second public beach can be found at the northern edge near the channel into Lake Carlos.
* Lake Darling stretches out over 1,050 acres with a maximum depth of 62 feet. It is connected to Lake Carlos via a channel.
* Lake Geneva covers 653 acres and reaches depths in 'the holes' of 63 feet. Two DNR boat ramps provide public access.
* Lake Victoria is the smallest of the five main lakes, covering 417 acres with a maximum depth of 60 feet. This lake is popular with fishermen. A public boat ramp and a fishing pier off County Road 23 at the south end make for easy public access, even for non-boaters.
Among other lakes in the area, public boat ramps are located at Lakes Louise, Cowdry, Brophy, Latoka, and Union.
The Alexandria Chain of Lakes is popular with water skiers, power boaters and pontoon sailors who enjoy such things as tubing and wakeboarding. Businesses at the lakes rent fishing boats, pontoons, jet skis and ski boats. Three restaurants can be reached by water along the chain. Several resorts, some of which have been in business for over 100 years, hold prominent spots along the shorelines and attract many families who rent a cottage for their summer vacation. Canoe access landings are available on several of the streams that enter the lakes, so paddlers can enjoy their canoes or kayaks in peace and serenity even on days when the main lakes are busy with boaters.
Fishing is always popular, with largemouth bass and walleye the most popular angling targets. Bluegill, black crappie and northern pike are also present, with one or another of the connected lakes always a hot fishing spot. The connecting canals mean fish can move from one lake to another, based on temperature, local conditions and feeding pressures. Bass tournaments are often held here. Ice fishing is popular in the winter, along with ice skating, cross-country skiing and snowshoeing.
The 1,200 acres within Lake Carlos State Park is particularly pleasant for cross-country skiing and nature hikes among a variety of ecosystems including tamarack bogs, ponds, wet meadows and marshes. Hunting is permitted in some areas during the season with applicable permit. Heron, ducks, beaver, deer, grebes and loons are often seen in the park, along with a variety of native animals and migrating birds. The Alexandria Chain of Lakes is also on the route of the 55-mile Central Lakes Trail. The well-used trail runs between Lake Geneva and Lake Victoria and also between Lake Darling and Lake Cowdry. Open to walking, biking and skating, the non-motorized trail becomes motorized in winter for snowmobiles. The paved trail, built along an old railroad bed, extends from Osakis to Fergus Falls. On the Osakis end, the trail connects to the Lake Wobegon Trail which in turn connects to the Morrison County Trail, making for a total length of about 130 miles of paved trail. Campers will find a number of campgrounds to choose from on and near the lakes, including the campsites at Lake Carlos State Park.
The City of Alexandria considers lake visitors its main business, providing information to help tourists connect with needed services and offering entertaining activities. Bicycles are rented locally, horseback riding is available, and local wineries offer tasting events. Some of the unusual attractions include the Runestone Museum, Fort Alexandria, and the Minnesota Lakes Maritime Museum. The Runestone Museum holds the world-famous Kensington Runestone, a purported 14th century artifact found a few miles away. Found in a farmer's field before 1900, the battle is still raging in scientific circles as to the authenticity of the artifact. The actual spot where the inscribed stone was found is a few miles away and can be visited. The Museum itself also holds Native American artifacts and exhibits of native history in the region, displays of Norse history and pioneer life, exhibits of Minnesota wildlife, and a children's hands-on area.
The replica Fort Alexandria displays an 1880's school house, authentic log buildings, and in celebration of the ethnicity of many early Minnesota pioneers, a replica 40-foot Viking ship, the Snorri. The Maritime Museum features famous boat makers from the glory days of mahogany-crafted boats and racing such as Cris-Craft, Larson Boat Works and Gar Wood's famed racing wins, along with collections of fishing memorabilia and pictures of the famous area resorts from the area's early days.
The Visitors Center in Alexandria is open to provide maps and information on local lakes and attractions. A number of antique shops, artisan studios and unique shopping experiences are located in the area. The City of Alexandria offers regular outdoor concerts, a lecture series, a theatre group, and several nightlife venues. Lodgings are plentiful, including more than a dozen nearby hotels and motels, numerous resorts, private lakefront rentals and several RV parks. Real estate is often available on the Alexandria Chain of lakes and other nearby lakes. The lakes are located only two hours from the Minneapolis-Saint Paul area. No matter where your passions lie, the Alexandria Chain of Lakes delivers.
* Statistics listed are for Lake Carlos.
Things to do at Alexandria Chain of Lakes
Vacation Rentals
Fishing
Fishing Tournaments
Ice Fishing
Boating
Sailing
Swimming
Beach
Canoeing
Kayaking
Jet Skiing
Water Skiing
Wakeboarding
Tubing
Camping
Campground
Hiking
Ice Skating
Biking
Cross-Country Skiing
Snowmobiling
Horseback Riding
Hunting
Wildlife Viewing
Birding
State Park
Museum
Antiquing
Shopping
Fish species found at Alexandria Chain of Lakes
Bass
Black Bass
Black Crappie
Bluegill
Crappie
Gar
Largemouth Bass
Northern Pike
Perch
Pike
Sunfish
Walleye
---
Alexandria Chain of Lakes Photo Gallery
Alexandria Chain of Lakes Statistics & Helpful Links
Spread the word! Share our Alexandria Chain of Lakes article with your fellow Lake Lubbers!