Yahara Chain of Lakes, Wisconsin, USA
Also known as:  Lake Mendota, Lake Monona, Lake Wingra, Lake Kegonsa, Lake Waubesa
Welcome to the ultimate guide for history, statistics, local fun facts and the best things to do at Yahara Chain of Lakes.
If you're considering Yahara Chain of Lakes vacation rentals, we've made it super easy to explore accommodations and nearby hotels using the interactive map below. Simply click on a listing to compare similar properties, best rates and availability for your dates. Or keep scrolling to read our Yahara Chain of Lakes guide!
Yahara Chain of Lakes visitor and community guide
When ice leaves the Wisconsin Southern Savannah Region, nature lovers head to Dane County and the Yahara Chain of Lakes. This lovely chain of lakes bisects the capital city of Madison and provides many miles of connected waterways, nature trails, parks, beaches and picnic grounds. Originating from a boggy expanse created by the last period of glaciation, the chain officially begins at Cherokee Lake north of Lake Mendota.
Cherokee Lake is small, with only about 57 surface acres, and is a wide spot in the Yahara River created by human intervention. Around 1850, a dam was built across the outlet of Lake Mendota which raised water levels over five feet, flooding the marshes. In 1960 developers attempted to create dry land from the adjoining marsh areas along the river. Bogs have a tendency to float, however, and soon the developed land broke lose and floated away. The resulting wider spot in the river became Cherokee Lake. The lake and surrounding wetlands are favorites for canoeing, kayaking, birding and nature observation. The shoreline holds parks, including a dog park, and several canoe launching locations. Dane County and conservation groups are attempting to stabilize shoreline bog areas to prevent further wetland loss.
Immediately downstream and forming the northern border of the City of Madison, Lake Mendota covers 9,824 acres. The 22-mile shoreline encompasses farmlands, residential suburban homes and a number of parks. The north shoreline holds Governor Nelson State Park, with a sand swimming beach, several boat launches and over 18 miles of hiking and cross country skiing trails. The big lake, convenient to city lakelubbers, holds rowing clubs, marinas, multiple boat launches, restaurants and watersports facilities. Mendota County Park provides a campground. Sailboat racing has taken place on Lake Mendota since 1839, with races being held by the local yacht club every Saturday, Sunday and Wednesday during the boating season. A boat lock is available for a fee at the Tenney Dam above the Yahara River channel to Lake Monona. The stream has been channelized and deepened to accommodate larger boats. The only lighthouse on the Yahara Chain of Lakes is located near the locks, its strobe light used only during storms. Popular with fishermen, Lake Mendota holds walleye, northern pike, muskie, largemouth bass, crappie and smallmouth bass.
Lake Monona is surrounded by the City of Madison and is the most popular recreational lake in the city. With 3,274 acres, Lake Monona was a resort lake in the 1800s, supporting many cottages and resort hotels. About 40% of the shoreline is public lands, and the lake is a favorite for water skiing, jet skiing, tubing, windsurfing and boating. The fishing here is fine, with largemouth bass, northern pike, walleye, muskie, bluegill smallmouth bass. A few lake sturgeon still inhabit the lake. Several parks, marinas and watersports businesses share the 13-mile shoreline. The University of Wisconsin-Madison main campus is located on the narrow isthmus between Lake Monona and Lake Mendota, with beautiful Olbrich Botanical Gardens located at Olbrich Park on the east end of the lake. Several large hotels are located along the shore and are a favored spot for conferences, while the parks often host festivals and marathons. On the west end of the lake, small Wingra Creek brings water from Lake Wingra. The channel is not passable by boat all the way to Lake Wingra, but a parkway trail along the channel is a favorite among cyclists and hikers.
Compared to other lakes in the Yahara Chain of Lakes, Lake Wingra is rather small at 321 acres. Although the lake adds its flow to Lake Monona, it is not actually a part of the waterway, but is an immensely enjoyable side-trip for any visitor to Madison. There are no fast boats here; no gasoline motors are allowed. There is also no private development along the shoreline. The lakeshore is encompassed by parkland and the grounds of the University of Wisconsin-Madison Arboretum. A swimming beach, boat rentals and miles of nature trails offer a welcome respite from the busy city just on the other side of the trees. Fishing is excellent, with bluegill, panfish, crappie, northern pike, walleye, largemouth bass and muskie in good numbers. A favored tradition in early spring is to gather at the low dam to Wingra Creek to watch migrating muskies leap the dam on their way upstream to Lake Wingra to spawn.
Heading downstream on the Yahara Chain of Lakes, one leaves the City of Madison behind and enters small Mud Lake, a 233-acre wide spot in the river. Upper Mud Lake is a great place for bird watching and is surrounded by wetlands which offer spawning habitat for large numbers of fish. Mud Lake flows directly into Lake Waubesa, a 2,050-acre lake forming the western edge of the town of McFarland. Lake Waubesa has several parks, with Babcock Park and Lake Farms Centennial Park both offering camping facilities. Lake Waubesa was once home to a great many Native Americans; a 1914 survey listed 188 mounds, including effigy mounds, conical mounds, linear mounds and burial sites around Lake Waubesa, many of which have since been destroyed. A public pier is located at McFarland in McDaniel Park. The park is the home of the Waubesa Sailing Club, two pebble beaches and picnic areas. Public slips are available for small sailboats. The lake supports a nice warmwater fishery with muskie, northern pike, bass, walleye and panfish. A short side trip to a day of boating in the area is the short hike to Indian Mound Park near the McFarland Water Tower. Here, a bear-shaped effigy burial mound can be viewed. A mowed path extends from the State-owned Jaegers Canoe Landing. The Babcock Park Lock and Dam control water levels on Lake Monona and Lake Waubesa.
South of Lake Waubesa, the Yahara River travels through Lower Mud Lake, with 193 acres, to Lake Kegonsa. Third-largest in the chain, Lake Kegonsa covers 3,140 acres and is the most residential of the lakes; there is little public land here. LaFollette Dam at the outlet controls water levels. Lake Kegonsa State Park receives plenty of visitors. The LaFollette County Park near the dam provides boat launching facilities as does the Fish Camp Launch at the inlet to the lake. The warmwater fishery features bass, perch, walleye, largemouth bass and bluegills. A private facility rents small boats near the inlet. The lake is popular for water skiing, boating and sailing. A few of the old resort camps are still in business and provide lodgings along the water. Other lodgings are available along the chain suitable for nearly any budget, including the campground at Lake Kegonsa State Park. The entire Yahara Chain of Lakes is available to provide plenty of water-based fun to the entire family. And you absolutely must bring the fishing gear!
Custom Yahara Chain of Lakes house decor
Read our full review of these personalized lake house signs.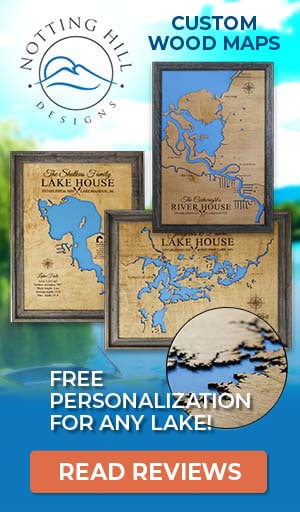 Things to do at Yahara Chain of Lakes
Vacation Rentals
Fishing
Boating
Sailing
Swimming
Beach
Canoeing
Kayaking
Jet Skiing
Water Skiing
Tubing
Camping
Campground
Picnicking
Hiking
Cross-Country Skiing
Wildlife Viewing
Birding
State Park
Fish species found at Yahara Chain of Lakes
Bass
Black Bass
Bluegill
Crappie
Largemouth Bass
Muskellunge
Northern Pike
Perch
Pike
Smallmouth Bass
Sturgeon
Sunfish
Walleye
---
Best hotels and vacation rentals at Yahara Chain of Lakes
The Yahara Chain of Lakes map shown above is a simple and stress-free way to search for trip accommodations. But if you want to take a deeper dive to find the ideal waterfront home, cabin, condo, hotel or resort, visit our favorite lodging partners by clicking the buttons below.
Note: These are affiliate links so we may earn a small commission if you book through them. While there is no extra cost to you, it helps provide resources to keep our site running (thank you)! You can read our full disclosure policy here.
---
Yahara Chain of Lakes photo gallery
New photos coming soon!
Yahara Chain of Lakes statistics & helpful links
We strive to keep the information on LakeLubbers as accurate as possible. However, if you've found something in this article that needs updating, we'd certainly love to hear from you! Please fill out our Content Correction form.
Advertise your Yahara Chain of Lakes vacation rental
LakeLubbers will soon offer homeowners and property managers the opportunity to to showcase their vacation rentals to the thousands of lake lovers searching our site daily for accommodations. If you'd like additional details, please contact our advertising team here.
Looking for the Yahara Chain of Lakes forum?
LakeLubbers previously offered visitors the ability to create accounts and participate in lake forums. When we overhauled the site's content management system in 2021 we had to disable those features. We're evaluating options and welcome your comments and feedback here.
We also encourage you to join our lake-lovin' community on Facebook and Instagram!
Spread the word! Share our Yahara Chain of Lakes article with your fellow Lake Lubbers!