Winnisquam Lake, New Hampshire, USA
Lake Locations:
USA - New England - New Hampshire - Lakes Region -
Also known as:  Lake Winnisqam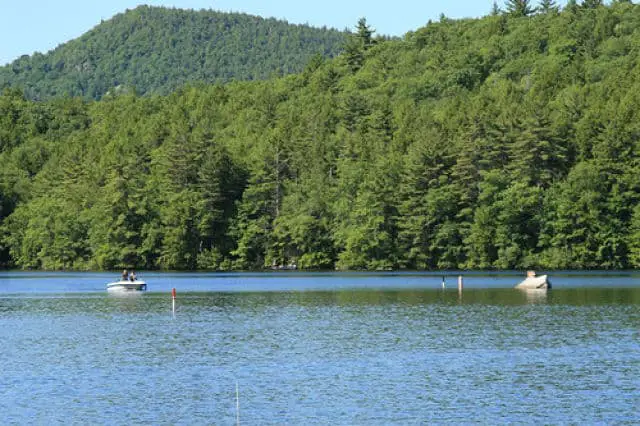 Covering 4,238 acres, Winnisquam Lake is New Hampshire's fourth-largest lake located entirely within the state's borders. Located in New Hampshire's "Lakes Region" with the small city of Laconia on its east shore, Lake Winnesquam greets an eclectic mix of residents and visitors to it's environs to enjoy its plentiful recreational options. Nothing quite compares to the splendor of New Hampshire's outdoors, and the beauty of the pines reflecting on Winnisquam Lake will simply entrance you. Activities around the lake focus on this fact, and you'll spend most of your time outdoors when you're here.
Winnisquam Lake holds salmon, trout and bass, trout, both reproducing naturally and artificially stocked. Bass tournaments are a common occurrence here, with anglers engagind in friendly competition as they make every cast in anticipation of a record-breaking catch. Even if not fishing competitively, the lake can provide a unique fishing experience. The water is clear; so clear that watching the fish is nearly as entertaining as attempting to catch them. The beauty of the green, tree-lined shoreline invites one to simply float along enjoying the sight of the large amount of wildlife that seems to appear in every cove and inlet.
Ahern State Park follows the shoreline of Winnisquam Lake, offering 128 acres of paths and hiking trails winding their way through pungent evergreens. So tranquil is the park that you'll feel like you have gone back in time, to an era when the sound of man's machines didn't pierce nature's stillness. The State Park provides a sandy beach to entice swimmers to the cool and refreshing spring-fed waters.
Summer isn't the only season to visit Winnisquam Lake. A favorite fall color destination, the reds, golds and oranges of New England's hardwoods is especially beautiful here. Reflected a second time in the mirror-surface of the lake, the autumn colors provide for spectacular photography opportunities amid breath-taking beauty. Winter brings winter sports fans for sledding, cross-country skiing, snowshoeing and snowball fights. The annual dog-sled derby is not to be missed. And a winter's adventure-day at Winnisquam Lake can only be considered complete when a steaming cup of hot chocolate ends the day. Make sure you arrive in time to get yours!
Things to do at Winnisquam Lake
Vacation Rentals
Fishing
Fishing Tournaments
Swimming
Beach
Hiking
Cross-Country Skiing
Wildlife Viewing
State Park
Fish species found at Winnisquam Lake
---
Winnisquam Lake Photo Gallery
Winnisquam Lake Statistics & Helpful Links
Spread the word! Share our Winnisquam Lake article with your fellow Lake Lubbers!