Wildcat Lake, Wisconsin, USA
Lake Locations:
USA - Midwest - Wisconsin - Lake Superior Northwoods Region -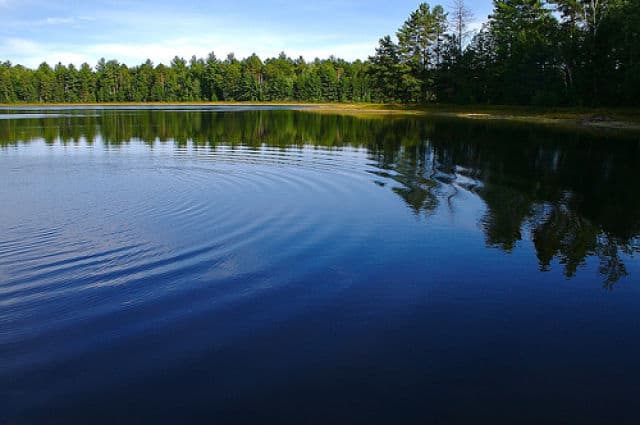 Bundled in boots and a warm coat, sipping a steaming thermos of coffee, a woman steps off her back porch and treads through a barely visible path towards the snowy Wildcat Lake. The fresh powder squeaks slightly with each imprinted step; branches remain still as she brushes by them, each tiny twig encased in ice until spring thaw. As the Wisconsin lake opens up in front of her, the sun emerges from behind a cloud, sending shimmering, reflective light across the lake's icy shell.
In the winter, Wildcat Lake resembles a fairy wonderland. Dark green pine trees sag with snow around the four miles of shoreline while birds flit about, chirping and soaring over the 305-acre lake. Fish swim about in an average depth of 12 feet while the body of water flows into a nearby lake known as Big Kitten Lake.
In the summer, Wildcat Lake's warmer weather brings anglers from all over the area to test their luck in the waters. Located in Vilas County, whose borders boast 194 lakes within nine miles of Boulder Junction city, Wildcat Lake is known for bluegill, largemouth bass, smallmouth bass, walleye and abundant panfish. Angler's also visit the area for the county's annual musky marathon, which also swim beneath the lake's depths.
As summer turns to fall, a kaleidoscope of colors surround Wildcat Lake's shores, making it the perfect time for hikers to don a scarf and boots while scouting the area. Miles of trails wind around the county as the leaves fall in delicate disarray. Tread carefully when looking for wildlife, which can pop up at any time, including beavers, otters, foxes, coyotes and black bears.
Canoeing and kayaking at Wildcat Lake yields a sense of tranquility in the calming waters. Paddle quietly close to shore with binoculars in hand to see an assortment of song sparrows, chikadees or goshawks. Pack a lunch and hang out in the middle of the lake, soaking up the sun's bright rays.
The areas around Wildcat Lake is an outdoor lover's idea of paradise. Test out your snow gear and camp out in the Northern Highland State Forest, a section of the Northern Highland-American State Forest. Approximately 220,000 acres make up streams, lakes and rivers that make for picture-perfect camping spots.
The large number of lakes surrounding Wildcat Lake allows year round outdoor activities. Winter in this area doesn't mean holing yourself inside your house, but instead means strapping on cross-country skis or snowshoes and hoofing it through a magical landscape. Keep a bike helmet on during the rest of the year to take advantage of the intense mountain biking trails spread throughout the county.
Looking for culture and a social atmosphere outside Wildcat Lake? Head to downtown Boulder Junction a mere 4 miles away to wine and dine the night away. Take a slow stroll down the main stretch while peeking into jewelry, pottery, and rustic furniture shops.
Whether you're a part of Wildcat Lake's scenery by snapping up vacation rentals every year or settling down to lakefront real estate property, your choices of outdoor options are unimaginable. Try ice-fishing in the winter, horseback riding in the fall, flower picking in the spring and kayaking in the summer. Wildcat Lake's waters are easy to hop into and enjoy.
Things to do at Wildcat Lake WI
Vacation Rentals
Fishing
Ice Fishing
Swimming
Canoeing
Kayaking
Camping
Hiking
Biking
Horseback Riding
Wildlife Viewing
Birding
State Forest
Fish species found at Wildcat Lake WI
Bass
Black Bass
Bluegill
Largemouth Bass
Perch
Smallmouth Bass
Sunfish
Walleye
---
Wildcat Lake WI Photo Gallery
Wildcat Lake WI Statistics & Helpful Links
Spread the word! Share our Wildcat Lake WI article with your fellow Lake Lubbers!