Whitefish Lake, Wisconsin, USA
Lake Locations:
USA - Midwest - Wisconsin - Lake Superior Northwoods Region -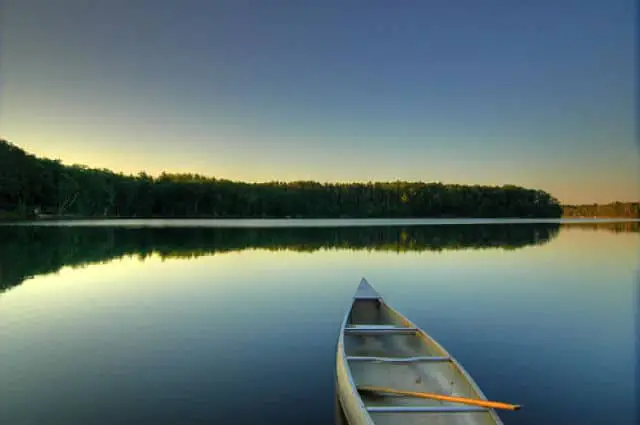 Surrounded by beautiful scenery, Whitefish Lake is a remote and picturesque area in Wisconsin's Sawyer County. Its quiet surroundings are home to towering pines and great bald eagles. With almost 800 acres of serene blue waters and secluded wooded shores in Wisconsin's Northwoods region, Whitefish Lake is the perfect getaway.
Whitefish Lake is part of the Hayward Lakes which also include Lac Court Oreilles, Grindstone Lake, Round Lake, Lake Chippewa, and Nelson Lake. The Hayward Lakes provide ample opportunity for prime fishing, and Whitefish Lake is no exception. With a mean depth of 45 feet and a maximum depth of 105 feet, fish species inhabiting the lake include walleye, northern pike, bluegill, crappie, largemouth bass,, smallmouth bass, and the famous muskie. Anglers will appreciate a visit to the National Freshwater Fishing Hall of Fame in nearby Hayward. The Hall of Fame includes a museum that preserves and displays historical artifacts of freshwater sport fishing. One of the highlights of the museum is the "Shrine to Anglers" which is a 143-foot long, 41 foot-tall muskie that holds the museum and over 300 mounted fish. Visitors can stand in the gaping open jaw and enjoy the enshrinement. The Hayward area also hosts an annual Muskie Festival that includes sidewalk sales, arts and crafts shows, live music, children's games, mouth-watering food booths, fishing contests, a carnival, and a Grand Parade.
Whitefish Lake is located near the Wilderness Walk Zoo. The zoo is filled with wild Northwoods animals and tame farm animals available for your feeding, playing, and learning pleasure. Stroll through the woods and set up a picnic, or pan for gold and make lasting memories. Bring your camera for this special experience you won't soon forget.
Sawyer County is home to the Chequamegon Nation Forest which hosts a variety of events year round. You can hike, bike, and ski on your own terms or take part in an exciting race. Skiers from all over come to take part in the three-day American Birkebeiner Cross Country Ski Race. Visit during the warmer months for the annual Chequamegon Fat Tire Bike Race. The Flambeau River State Forest also attracts visitors for some of the same reasons. This forest is available year round for hiking, biking, canoeing, camping, ATVs, snow skiing, snowshoeing, and snowmobiling. You don't have to be a wildlife enthusiast to enjoy the sugar and red maples, yellow birch, and white ash trees that inhabit the forest. Visit during the fall and witness a spectacular display of colors. With 90,000 acres, this forest is home to many animals. Take a moment to listen to song birds and watch soaring bald eagles.
The Hayward Lakes have a rich Native American history dating back to 500 BC, with tribes migrating along the St. Lawrence Waterway to the Wisconsin Northwoods Region. Bands of the Lake Superior Chippewa settled in the area with its bountiful wild rice. Later, the area's abundant natural resources lured fur traders and loggers. Hayward's logging history is still alive today with the city hosting the Lumberjack World Championships every July; competitions include chopping, sawing, tree climbing, and logrolling for men and women.
Hayward also proudly boasts the title of golf capital of Wisconsin. Golf courses feature rolling hills, impressive northern pines, and exceptional greens interwoven with sand bunkers and water hazards. With more than 17 courses within driving distance, it is no surprise that this is a popular attraction. Spend a luxurious day golfing among the scenic environment, relaxing atmosphere, and charm of Wisconsin's Northwoods.
There are plentiful vacation rentals and real estate properties for sale around Whitefish Lake. With restaurants, shopping, museums, and plenty of accommodations, Whitefish Lake is sure to capture your heart.
Things to do at Whitefish Lake WI
Vacation Rentals
Fishing
Canoeing
Golf
Camping
Picnicking
Hiking
Biking
Downhill Skiing
Snowmobiling
Wildlife Viewing
Birding
State Forest
Museum
Shopping
Fish species found at Whitefish Lake WI
Bass
Black Bass
Bluegill
Crappie
Largemouth Bass
Muskellunge
Northern Pike
Perch
Pike
Smallmouth Bass
Sunfish
Walleye
Whitefish
---
Whitefish Lake WI Photo Gallery
Whitefish Lake WI Statistics & Helpful Links
Spread the word! Share our Whitefish Lake WI article with your fellow Lake Lubbers!