White Sand Lake, Wisconsin, USA
Lake Locations:
USA - Midwest - Wisconsin - Lake Superior Northwoods Region -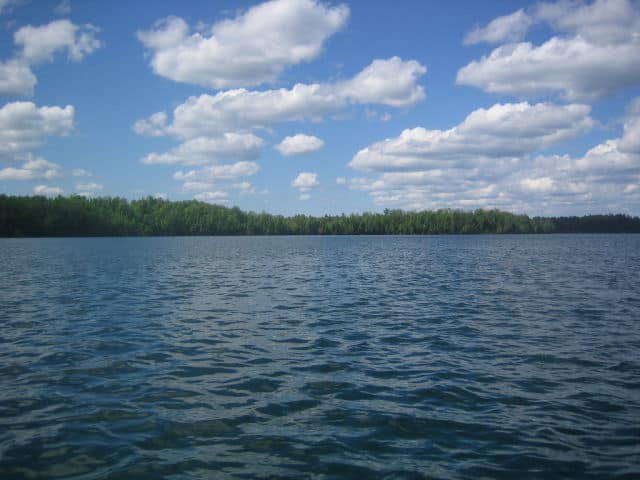 The sound of laughter emanates from within a dense pine forest in the Northwoods region of Wisconsin at White Sand Lake. Bare feet from a group of children thud softly on pine needles as the group emerges from the trees, making a beeline for one of the lake's docks. Tossing towels and sunglasses onto the sandy shoreline, each child races across the wooden platform before executing a youthful splash into the water.
This scene may seem like something out of a film, but instead is a typical day for families visiting and vacationing at White Sand Lake. The 1,229-acre lake is a clear freshwater lake offering anything from hiking, to fishing, to snorkeling. The retreat is complete with picturesque log cabin rentals or real estate dotting its 11-mile shoreline.
The White Sand Lake Association keeps a close eye on maintaining the quality of life at the lake in Vilas County, so that those looking for relaxation can find it in many forms. A simple hike through the wilderness may reveal bald eagles resting on a limb, a black bear shuffling around a bend, or a variety of loon species searching for fish at the edge of the lake. Grab your camera and set out for the lake in the early morning or the late evening to watch the sun glint off the crystalline waters.
Anglers will find consistent catches at White Sand Lake, which has an average depth of 25 feet. Northern pike, crappie, perch, smallmouth bass, rock bass, bluegills and largemouth bass can be caught when settling down with patience. The lake boasts excellent numbers of walleye and trophy musky and vacationers can watch from the shore as anglers pit their wits against the fish.
Those wishing for quality family time can take their pick of vacation rental cabins or real estate spread throughout White Sand Lake's shoreline. Parents can mingle with other vacationers while watching their children build sandcastles at one of the lake's beaches. Others can don snorkeling gear, squeezing silky sand in their fist while watching tiny fish fly by under their goggles.
Activities at White Sand Lake still abound during winter time. Boulder Junction, a quick 30-minute drive northwest, is known as the "winter fun capital of the world." Year round residents, or those simply looking to escape to a winter wonderland, snowshoe through fresh snow, cross country ski around the dense forests, continue fishing through the ice, or pack a snack in their snowmobile and race through the well-groomed trails. During the rest of the year, visitors can go horseback riding, hiking, geocaching, hunting or golfing.
The Lac du Flambeau Indian Reservation, translated as Lake of the Torches, is located less than 10 miles southwest of White Sand Lake. Throughout the year the reservation holds vibrantly-colored pow-wows to celebrate life while singing and dancing the night away. Come during late summer to pick fresh strawberries off the vine at the reservation's farm, or immerse yourself in history and traditions at their cultural center.
Nature is easily found in this part of the country. White Sand Lake is surrounded by other lakes such as Ike Walton Lake, Little Sand Lake or Steams Lake. Keeping with the outdoor theme is Northern Highland-American Legion State Forest, a 225,000-acre forest chock full of activities. Over 30 miles of biking trails and over 400 miles of snowmobiling trails awaits adrenaline junkies, while others can remain content to camp out under the stars.
Make it easy on yourself when looking for your next vacation site and choose the peaceful vacation rentals at White Sand Lake. Peer through the trees, thick with pine needles and birds, and watch the sun set, or grab a canoe and take off to discover new scenery at the lake. The opportunity to live in a wondrous landscape year round awaits you.
Things to do at White Sand Lake
Vacation Rentals
Fishing
Boating
Swimming
Beach
Canoeing
Snorkeling
Golf
Camping
Cabin Rentals
Hiking
Biking
Snowmobiling
Horseback Riding
Hunting
Wildlife Viewing
Birding
State Forest
Fish species found at White Sand Lake
Bass
Black Bass
Bluegill
Crappie
Largemouth Bass
Northern Pike
Perch
Pike
Smallmouth Bass
Sunfish
Walleye
---
White Sand Lake Photo Gallery
White Sand Lake Statistics & Helpful Links
We strive to keep the information on LakeLubbers as accurate as possible. However, if you've found something in this article that needs updating, we'd certainly love to hear from you! Please fill out our Content Correction form.
Looking for the White Sand Lake forum?
For years, we offered LakeLubbers visitors the option to create an account, vote on favorite lakes, edit lake descriptions and participate in forums.
In 2021, we embarked on a major site overhaul with a new content database system. While the result is a modern and faster site which is now optimized for both desktop and mobile users, it also meant we had to put account options on hold and take some time to reevaluate ways to interact with our visitors. 
We hope you'll stick around and see what's new here, and of course, we still welcome your comments and feedback regarding anything on LakeLubbers! You can do that here.
Spread the word! Share our White Sand Lake article with your fellow Lake Lubbers!