White Rock Lake, Texas, USA
Lake Locations:
USA - Southwest - Texas - Prairies and Lakes -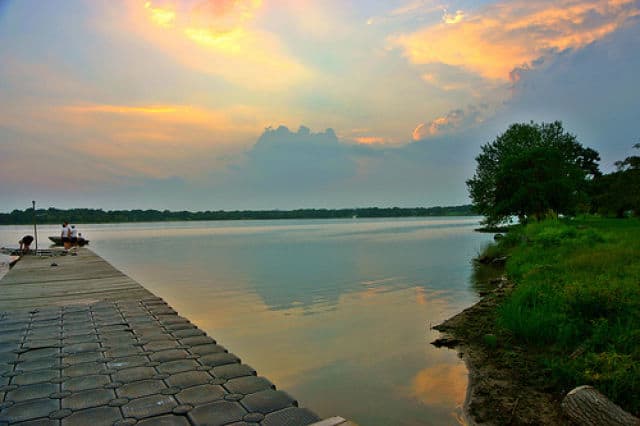 Located northeast of the City of Dallas, White Rock Lake is an artificial reservoir built to supply drinking water to the residents of Dallas. Its construction began in March 1910 and was completed more than a year later in October 1911. White Rock Lake was formed by damming White Rock Creek; its waters exit the lake over a spillway into the Trinity River. Due to the ever-increasing water demands of Dallas residents, a second lake, Lake Dallas (now Lewisville Lake) was created in 1929. Today, White Rock Lake provides a portion of Dallas' drinking water and cooling waters at a steam-electric generating plant. Spreading out over 1088 acres with more than 9 miles of shoreline, White Rock Lake also serves as a recreation and cultural mecca for residents and visitors alike.
The area around White Rock Lake has seen enormous change since its completion in 1911. In 1927, the lake was nicknamed the "People's Playground". The City of Dallas began to provide amenities to the visitors such as a bath house, bathing beach, and a boat house to boost the lake's popularity. A few years later, the City of Dallas furnished the park with picnic tables constructed of concrete and stone.
Up until the 1950s White Rock Lake was a popular spot for Dallas residents. Residents not only enjoyed the scenic beauty and the cool breeze but also indulged in swimming, fishing, even dancing on the floating Bonnie Barge. Howver, due to a ban on swimming and high-speed motor boats in the 1950s, White Rock Lake's popularity decreased. During the next 20 years the lake was in a state of decline. Then, beginning in the 1970s, plans were drawn for the preservation of the natural beauty of the lake.
In 1971 the first "Run the Rock" marathon was held to draw the public back to White Rock Lake. This event is a Boston marathon qualifier. In 1980 the Bath House, one of the first Art Deco buildings in the Southwest, was renovated into the Bath House Cultural Center, serving artists and independent theatres of Dallas. The Center presents art exhibits, theatrical performances, concerts, festivals, workshops, and lectures. The Dallas Arboretum and Botanical Garden, located on the southeastern shore of White Rock Lake, offers 66 acres of gardens and fountains with a view of the lake and the Dallas skyline. A new visitors' center was built in 2002. "Dallas Blooms", the largest outdoor floral festival in the Southwest, features more than 400,000 spring-blooming bulbs.
White Rock Lake Park now has 6 playgrounds and more than 200 picnic tables. It has a Hike and Bike Trail, a designated bird-watching area, rental facilities and fishing piers. The Park even has a "dog park" where pets can roam free and enjoy their own swimming area. Sailing is a popular lake activity. The Corinthian Sailing Club sponsors Sunday afternoon races, annual regattas, and sailing lessons. The Southern Methodist University (SMU) Sailing Club also uses White Rock Lake for team practice.
Due to efforts of the City of Dallas to preserve the natural state of the lake, White Rock Lake can now proudly boast to be home for a wide variety of flora and fauna. With 19 types of fish swimming in its waters, it is an angler's delight with catches of channel catfish, white crappie, and largemouth bass. Anglers can use electric trolling motors or motor boats with a 9.9-horsepower limit. Every fall, visitors and residents alike await the arrival of migrating white pelicans that spend the winter at White Rock Lake.
The area surrounding the White Rock Lake has become a desired residential area of Dallas such as Lake Park Estates, Forest Hills and Lakewood. Various senior living communities are also located close to the lake. Today, White Rock Lake has regained its popularity and is a favorite destination for both young and old. Due to the continued efforts of the city and volunteer organizations, efforts continue to fully restore White Rock Lake for its 100th anniversary in 2010.
Things to do at White Rock Lake
Vacation Rentals
Fishing
Boating
Sailing
Swimming
Beach
Picnicking
Hiking
Birding
Playground
Fish species found at White Rock Lake
Bass
Black Bass
Catfish
Channel Catfish
Crappie
Largemouth Bass
White Crappie
---
White Rock Lake Photo Gallery
White Rock Lake Statistics & Helpful Links
Spread the word! Share our White Rock Lake article with your fellow Lake Lubbers!