West Twin Lake, Michigan, USA
Welcome to the ultimate guide for history, statistics, local fun facts and the best things to do at West Twin Lake.
If you're considering West Twin Lake vacation rentals, we've made it super easy to explore accommodations and nearby hotels using the interactive map below. Simply click on a listing to compare similar properties, best rates and availability for your dates. Or keep scrolling to read our West Twin Lake guide!
West Twin Lake visitor and community guide
West Twin Lake is situated in Montmorency County in the northeastern region of the Lower Peninsula of Michigan. This 1,313-acre lake is paired geographically with East Twin Lake, which does indeed reside to the east of West Twin Lake, as does the town of Lewiston, Michigan. West Twin Lake is about 35 miles inland from Lake Huron and 70 miles inland from Lake Michigan.
Popular recreation in the area includes tennis, horseback riding, wildlife viewing, bird watching, sightseeing, biking, hiking, miniature golf, and golfing during the warmer months, with four golf courses in the Lewiston area. Winter recreation is also full of choice with downhill and cross-country skiing, ice fishing, snowshoeing, and snowmobiling. There are well-developed and well-maintained trails for snowmobilers, and Montmorency County has designated trails for off-road vehicles and all-terrain vehicles throughout the rural countryside.
Montmorency County has a population of about 10,500, with local economies supported mainly by agriculture, forestry, and tourism. With its great hardwood forestland, it's also known as the Elk Capital of Michigan. More than 85 percent of this county is considered forest, and there are more than 245 lakes and reservoirs in this county alone, with Michigan as a state boasting more than 11,000 lakes and reservoirs total.
The Twin Lakes Property Owners Association (TLPOA), founded in the early 1980s, has been promoting the stewardship of both West Twin Lake and East Twin Lake for decades and continues to do so. They are involved in organized programs to protect the water quality of these lakes as well as prevent development-based pollutants from entering the waters here. They are proving that their efforts are successful, since good water quality has remained steady since the 1970s.
Fishing in West Twin Lake is legendary, and recent years are no exception, with common species such as walleye, sunfish, bluegill, rock bass, yellow perch, northern pike, smallmouth bass, largemouth bass, rainbow trout, steelhead, perch, pumpkinseed sunfish, and brook trout being fished. Some years, the lake is stocked with walleye, to the tune of 65,000 to 130,000 fish. Tiger muskie was also stocked in previous years, but no more–although it appears that a solid population of this species has been established in the lake through these stocking efforts. The parts of the lake that have deep weed growth, which occurs mostly around the western and southern shorelines, are great for fishing as well.
Obviously, boating is also popular on West Twin Lake, as are canoeing, kayaking, pontooning, jet skiing, and water skiing. West Twin Lake is a wide lake, rather like an oval with pinched points on the west and east ends, that allows a great choice of water activities. With a mostly sand-covered and gravel-based bottom along much of its shoreline, the lake is also popular for swimming.
Hunting and trapping are also popular activities with the dedicated sportsmen of Michigan. From wild turkey to black bear to snowshoe hare to white-tailed deer, hunters enjoy the densely forested areas around Lewiston and the Twin Lakes. Trappers have a variety of game to choose from, including muskrat, beaver, weasel, and raccoon, as well as many more species.
The area is replete with woodland, including lowland conifers such as eastern tamarack, black spruce, and northern white cedar; wetland forests are filled with black ash, red maple, and slippery elm; hardwoods include sugar maple, basswood, and American beech. But the most populous species in the area surrounding West Twin Lake are white pine, jack pine, red pine, red oak, white oak, aspen and white birch.
West Twin Lake is only half of the water attraction in the immediate area, with East Twin Lake providing the other half. Lewiston borders East Twin Lake, which is smaller than West Twin at 830 acres. With a population of about 1000, Lewiston is a great area for visiting local shops–including specialty stores featuring quilts, antiques, furniture, home decorations, and art–and participating in seasonal events and activities for locals and vacationers alike. Lined with informal eateries, including pizza parlors, sandwich shops, and ice cream shops, as well as bars, diners, and lovely restaurants, there's sure to be something for every taste.
A great time to visit West Twin Lake is in late spring, around mid-May, when the annual Morel Mushroom Festival takes place in Lewiston. This popular event features a wide variety of dishes that focus on the local fungus–which is highly sought after and is often found on organized group "morel hunts." This festival also features a large arts and crafts show, guided forays into the local wilderness in search of morels, and many other fun family-oriented activities.
Lewiston has an electric array of accommodations for vacationers who are looking forward to visiting West Twin Lake. Bed and breakfasts, privately owned motels and hotels, condos, campgrounds, historic inns, motor inns, and other lodges and resorts can be found in the area. Around the lakes, which are heavily developed with residential properties, docks jutting out into all areas of the lakes, short- and long-term cottages and lakeside homes are available for rent, some with gorgeous views of the waters and scenery. Many rentals include private docks and beach access.
West Twin Lake and East Twin Lake are features of the Au Sable River Watershed. The water from these lakes moves out in a general southwestern direction and feeds the northern branch of the Au Sable River. West Twin Lake is only 26 feet deep at its maximum, and it averages less than 10 feet, with only a few areas dipping down to greater depths.
Many vacationers find that spending a few weekends or a week or two each year on West Twin Lake isn't enough, and they decide to relocate to this area. With so many lovely homes to choose from, homebuyers will delight in touring lakeside cottages, recently built A-frame homes, and renovated older homes with modern amenities. Although the lake's shore is rather well-developed, West Twin Lake has a truly private and secluded feeling about it, as the deep forest surrounding the lake remains intact and adds privacy around the residences.
Custom West Twin Lake house decor
Read our full review of these personalized lake house signs.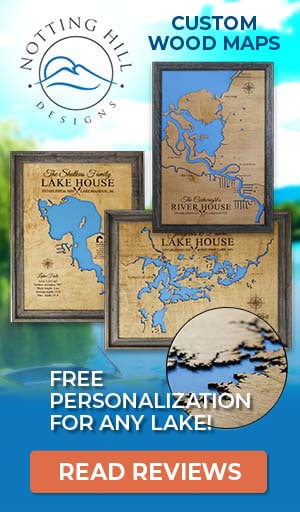 Things to do at West Twin Lake
Vacation Rentals
Fishing
Ice Fishing
Boating
Swimming
Beach
Canoeing
Kayaking
Jet Skiing
Water Skiing
Golf
Tennis
Camping
Campground
Hiking
Biking
Cross-Country Skiing
Snowmobiling
Horseback Riding
Hunting
Wildlife Viewing
Birding
Miniature Golf
Antiquing
Fish species found at West Twin Lake
Bass
Black Bass
Bluegill
Brook Trout
Largemouth Bass
Muskellunge
Northern Pike
Perch
Pike
Pumpkinseed
Rainbow Trout
Smallmouth Bass
Steelhead Trout
Sunfish
Tiger Muskellunge
Trout
Walleye
Yellow Perch
---
Best hotels and vacation rentals at West Twin Lake
The West Twin Lake map shown above is a simple and stress-free way to search for trip accommodations. But if you want to take a deeper dive to find the ideal waterfront home, cabin, condo, hotel or resort, visit our favorite lodging partners by clicking the buttons below.
Note: These are affiliate links so we may earn a small commission if you book through them. While there is no extra cost to you, it helps provide resources to keep our site running (thank you)! You can read our full disclosure policy here.
---
West Twin Lake photo gallery
New photos coming soon!
West Twin Lake statistics & helpful links
We strive to keep the information on LakeLubbers as accurate as possible. However, if you've found something in this article that needs updating, we'd certainly love to hear from you! Please fill out our Content Correction form.
Advertise your West Twin Lake vacation rental
LakeLubbers will soon offer homeowners and property managers the opportunity to to showcase their vacation rentals to the thousands of lake lovers searching our site daily for accommodations. If you'd like additional details, please contact our advertising team here.
Looking for the West Twin Lake forum?
LakeLubbers previously offered visitors the ability to create accounts and participate in lake forums. When we overhauled the site's content management system in 2021 we had to disable those features. We're evaluating options and welcome your comments and feedback here.
We also encourage you to join our lake-lovin' community on Facebook and Instagram!
Spread the word! Share our West Twin Lake article with your fellow Lake Lubbers!