West Okoboji Lake, Iowa, USA
Lake Locations:
USA - Midwest - Iowa - Northwest -
Also known as:  West Lake Okoboji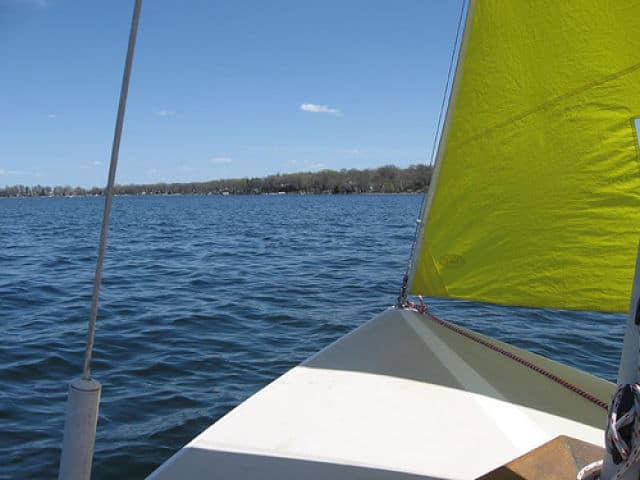 West Okoboji Lake is one of Iowa's eight Great Lakes located in Dickinson County. It was named "Minnetonka" by the Sioux Indians meaning "Great Waters." Subterranean springs provide the lake with 3,847 acres of clear blue water, which has aided in making West Okoboji Lake Iowa's most popular lake. West Okoboji Lake is Iowa's deepest natural lake. Like many of the Great Lakes, West Okoboji is also referred to as a glacial pothole, as it is a remnant of the most recent ice age over 13,000 years ago.
With hiking, camping, fishing and motor sports, there is something for everyone at West Okoboji Lake. Bring your jet skis and motor boats. As West Okoboji Lake is Iowa's deepest lake with a maximum depth of 136 feet, there are no motor restrictions. Don't have a motor boat? No problem. Swim, snorkel or fish from any one of the beaches along the 20 miles of shoreline. If the water feels too cold at one beach, try another. Some of the swimming beaches along the shore are colder than others due to the natural springs being so close to the shore.
West Okoboji Lake attracts many anglers each year as the state records for smallmouth bass, white bass, short nose gar, tiger muskie, and northern pike were all set with fish caught in West Okoboji Lake. While there are no motor restrictions at West Okoboji, there are a number of fishing restrictions to be aware of before you take home the big one. The lake contains a wide variety of fish including yellow perch, bluegill, walleye smallmouth bass, northern pike, muskie, crappie and white bass, black bass. The restrictions apply only to the walleye and muskie. There is a daily bag limit of three walleye. All walleye between 17 and 22 inches must be released back into the lake alive. A limit of one walleye per day exceeding 22 inches is acceptable. Any muskie shorter than 40 inches must be returned to the lake alive. The fishing season is closed between December 1st and May 20th.
One of the many trails at West Okoboji is The Spine Trail. It has 14 miles of trail that wind through several of the Great Lakes. It is paved and accommodates two-way traffic, ideal for bikers, runners or those looking for a mild hike. The Spine Trail is a sure way to observe the beauty of the clear blue waters of West Okoboji. Facilities included along the trail are restrooms, picnic areas, information displays and kiosks and resting or viewing benches to enhance your lake experience.
While visiting West Okoboji Lake, don't pass up the opportunity to view Iowa's historic landscape at the Kettleson Hogsback Wildlife Area or Caylor Prairie State Preserve.
Many retirees and second home buyers choose West Okoboji for the beauty of the lake and for the city's opportunity for shopping, entertainment and local amusement parks. There are seven golf courses near the Great Lakes. One of these is Okoboji View Golf Course which has a view of West Okoboji Lake from 13 of its 18 tee boxes. Other recommendations include the Lakes Area Community Theater, the Lakes Art Center, Route 86 Music and Indoor Golf, or the local children's theater. A popular place for the locals and visitors is the Jackson Speedway where exciting racing can be observed every Saturday night between May and August. Family fun and entertainment can be found at the Arnold's Park, an amusement park with rides, go carts, miniature golf, live concerts as well as a beach where you can enjoy a variety of water sports.
Retirees and second home buyers also choose West Okoboji Lake for its remote location yet easy accessibility. It can be reached from one of the many surrounding towns or cities, three of which are Orleans, Milford and Spencer. Iowa's Great Lakes are located 15 miles from I-90 which runs along southern Minnesota near the Iowa border. If traveling on 1-90, it is worth the detour even if West Okoboji Lake isn't your final destination. For visitors traveling longer distances, the nearest large airport is in Minneapolis-St. Paul.
This historic lake holds something for all: a perfect location to settle or just for a family getaway. Strengthen family ties, perfect your fishing skill or let that stress melt away as you relax in the sun here at West Okoboji Lake.
Things to do at West Okoboji Lake
Vacation Rentals
Fishing
Boating
Swimming
Beach
Jet Skiing
Snorkeling
Golf
Camping
Picnicking
Hiking
Wildlife Viewing
Amusement Park
Miniature Golf
Shopping
Fish species found at West Okoboji Lake
Bass
Black Bass
Bluegill
Crappie
Gar
Muskellunge
Northern Pike
Perch
Pike
Smallmouth Bass
Sunfish
Tiger Muskellunge
Walleye
White Bass
Yellow Perch
---
West Okoboji Lake Photo Gallery
West Okoboji Lake Statistics & Helpful Links
Spread the word! Share our West Okoboji Lake article with your fellow Lake Lubbers!