Tygart Lake, West Virginia, USA
Lake Locations:
USA - South - West Virginia - Mountaineer Country -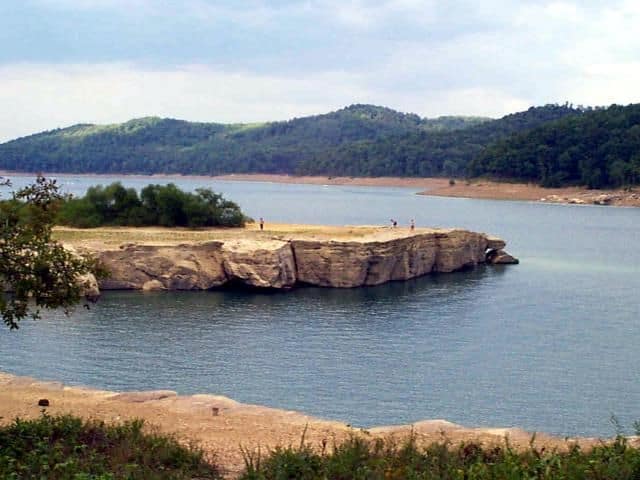 The wilderness song of Tygart Lake calls to fishing enthusiasts, boaters, campers, hikers, writers and artisans. Located near the beautiful Appalachian town of Grafton, West Virginia, the lake's recreational offerings attract visitors from the Mountain State as well as from the surrounding states of Maryland, Ohio, Pennsylvania, and Virginia.
Tygart Lake was a U.S. Army Corps of Engineers project designed to prevent flooding along the Tygart River Valley and the Monongahela and upper Ohio Rivers. Completion of the Tygart Dam in 1938 created a ten-mile long lake covering 1,750 acres with 31 shoreline miles. The lake's summer pool elevation is 1,094 feet above sea level. The Corps lowers the water level in the fall to a winter pool elevation of 1,030 feet, so that the reservoir can collect snow melt and spring rains without flooding downstream. Water releases from Tygart Lake also help to meet commercial navigation needs on the Monongahela and upper Ohio Rivers.
Although built for flood control and navigation, today Tygart Lake is a recreational mecca in northern West Virginia. The lake is surrounded by Tygart Lake State Park, which is managed by the West Virginia Division of Natural Resources. The park offers camping, pontoon and fishing boat rentals at the marina, picnic areas, five hiking trails ranging from 1/2 mile to 2 miles, and free guided nature tours. The hiking trails are lush with dogwood and rhododendron during the spring. The guided tours are by master naturalists who provide the history of the Appalachian Mountain woods and its inhabitants. With special tours for the Tygart Lake area conveniently scheduled from spring through summer, this special treat should not be missed.
Tygart Lake is an angler's delight. The lake's deep waters are alive with a variety of fish. It is a popular choice for bass fishing (largemouth and smallmouth) as well as walleye, crappie, perch, and channel catfish. Trophy sized muskie measuring a full 50 inches are being caught with increasing frequency and excitement in the area. Golden trout and rainbow trout are also a draw to the lake's sparkling waters, stocked at the Tygart Dam.
Tygart Lake accommodations range from campsites to cabins to a lakeside lodge. The Tygart Lake State Park Campground is open from mid-April through October, offering both electric sites and standard sites. Modern vacation cottages feature fireplaces, electric and propane heat, modern kitchens and baths, and are completely furnished for housekeeping with cooking utensils, dishes, linens, towels and blankets. The lodge, perched on a promontory overlooking the lake, offers rooms with all modern amenities.
Additionally, visitors can enjoy reminiscing about their peaceful stays and the scenic beauty of the state park as there is opportunity to choose a three day workshop to record those memories in outdoor painting, photography, or women's writing. From spring into autumn, writers, painters, and camera buffs may take advantage of three days of instruction available at Tygart Lake. Inspired by horizon sunsets, pine covered paths, and cool blue waters, beginners and masters can hone their skills.
Pontoon boats and fishing boats can be rented hourly or weekly for inspiration or sport. Water skiing and scuba diving abound. Kayaking and whitewater sports are available nearby on the Tygart River.
Off-water adventures also await visitors to Tygart Lake. Family friendly and budget conscious, visits to the nearby Philippi Covered Bridge and Museum provide interest for history buffs as well as strolling through Grafton National Cemetery, burial grounds for Civil War soldiers. Pricketts Fort and New Fort Salem are also nearby attractions. And for avid golfers, Tygart Lake State Park has partnered with two nearby golf courses. With all that Tygart Lake and surrounding area have to offer, many visitors choose to return each year for that annual treat.
Nearby Attractions
Tygart River
Audra State Park
Valley Falls State Park
Pricketts Fort
Fort New Salem
Grafton National Cemetery
International Mother's Day Shrine
Anna Jarvis House
West Virginia Northern Rail Excursions
Jackson's Mill
Things to do at Tygart Lake
Vacation Rentals
Fishing
Boating
Kayaking
Water Skiing
Scuba Diving
Golf
Camping
Campground
Picnicking
Cabin Rentals
Hiking
State Park
Museum
Fish species found at Tygart Lake
Bass
Catfish
Channel Catfish
Crappie
Golden Trout
Muskellunge
Perch
Pike
Rainbow Trout
Trout
Walleye
---
Tygart Lake Photo Gallery
Tygart Lake Statistics & Helpful Links
Spread the word! Share our Tygart Lake article with your fellow Lake Lubbers!