Turtle-Flambeau Flowage, Wisconsin, USA
Lake Locations:
USA - Midwest - Wisconsin - Lake Superior Northwoods Region -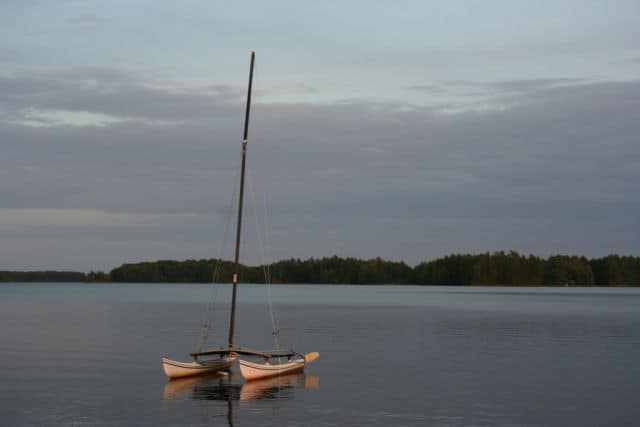 Called the "Crown Jewel of Wisconsin," Turtle-Flambeau Flowage is a beautiful undeveloped getaway. Its quiet water, plentiful fish and wildlife and private wooded shores make it a perfect vacation destination for nature enthusiasts from all over.
The Turtle-Flambeau Flowage was created with the construction of the Turtle-Flambeau Dam. In 1926 the dam was built impounding the Turtle and Flambeau Rivers to generate power for the Flambeau Paper Corporation located 20 miles south on the Flambeau River. The flowage flooded sixteen smaller lakes, three rivers, and several smaller creeks. There were several resorts around the lakes that were flooded with the creation of the Turtle-Flambeau Flowage. The resort owners were offered either money or land around the new lake. Most of the owners accepted cash, and today 90% of the shoreline of Turtle-Flambeau Flowage is state owned. The Wisconsin DNR manages resources on the flowage and the dam is owned by the Chippewa Flambeau Improvement Company.
Because of the state's involvement, the tall stands of birch and pine around the shore of Turtle-Flambeau Flowage won't be knocked down for commercial development and visitors for generations to come will be able to hear the loons call across the lake. There are also lots of breeding pairs of osprey and eagles and all the wildlife of the Wisconsin Northwoods. The hunting and bird watching in Iron County is exceptional, and anglers will find abundant populations of walleye, muskie, and panfish.
In 1992 Gov. Tommy Thompson designated the area around Turtle-Flambeau Flowage a protected Wilderness Area. The Wisconsin DNR declared the Turtle-Flambeau Patterned Bog and State Natural Area in 1996. The patterned bog is rare in Wisconsin and an important resource for wildlife. There are also 195 islands in Turtle-Flambeau Flowage and almost 230 miles of shore to explore making the lake ideal for quiet boating in a canoe or kayak. Visitors preferring more adventure can take the 26 mile long canoe trip from the flowage to the city of Park Falls passing through 23 rapids on the way.
The foresight that kept Turtle-Flambeau Flowage from being overdeveloped ensures that this quiet lake is truly a Wisconsin jewel.
Things to do at Turtle-Flambeau Flowage
Vacation Rentals
Fishing
Boating
Canoeing
Kayaking
Hunting
Wildlife Viewing
Birding
Fish species found at Turtle-Flambeau Flowage
Muskellunge
Perch
Pike
Walleye
---
Turtle-Flambeau Flowage Photo Gallery
Turtle-Flambeau Flowage Statistics & Helpful Links
Spread the word! Share our Turtle-Flambeau Flowage article with your fellow Lake Lubbers!