Tichigan Lake, Wisconsin, USA
Also known as:  Waterford Impoundment
Welcome to the ultimate guide for history, statistics, local fun facts and the best things to do at Tichigan Lake.
If you're considering Tichigan Lake vacation rentals, we've made it super easy to explore accommodations and nearby hotels using the interactive map below. Simply click on a listing to compare similar properties, best rates and availability for your dates. Or keep scrolling to read our Tichigan Lake guide!
Tichigan Lake visitor and community guide
Tichigan Lake is a portion of the Waterford Impoundment on the Fox River in Wisconsin's Lake Michigan Region. It offers private lakefront living to a large number of lakelubbers. Tichigan Lake itself is a modest 268 acres, but with its connection to 108-acre Buena Lake and the 756-acre impounded portion of the Fox River, the continuous water surface covers over 1,100 acres. All three water bodies are formed by the Waterford Dam in the Village of Waterford at the south end of Buena Lake. The approximately 24 miles of shoreline are private except for the 1,500-acre Tichigan Wildlife Area encompassing the northern portion of the impoundment basin. Additionally, a large portion of the shoreline is wetlands, allowing for plenty of natural habitat. So although the lakefronts of Tichigan and Buena Lakes are heavily developed, a large area of natural shoreline is available for bird-watching and wildlife viewing.
Several state-owned boat launches give the public access to the expanse of water. Paddle sports enthusiasts often arrive at Tichigan Lake via the Fox River; the river is accessible for many miles if paddlers don't mind a few easy portages. Located at the west side of Racine County, the Waterford Impoundment and the Fox River drain to the Mississippi River system; rivers in eastern Racine County flow toward Lake Michigan.
Fishing is a favored sport on Tichigan Lake. The entire Waterford Impoundment often hosts bass tournaments. As most of the water is shallow with good weed cover, bluegill, largemouth bass, northern pike, smallmouth bass, walleye, crappie and catfish are all caught regularly. Brook trout and brown trout inhabit the incoming stream mouths and quiet portions of the Fox River. The impoundment draws ice fishermen every winter. As common carp have become quite numerous in the lakes, a local environmental group, Fox River C.A.U.S.E., has hosted 'carp round-ups' and pay participants a dollar for each carp removed from the lakes.
Boating of all types is popular on the entire Waterford Impoundment. A few restrictions apply, such as no-wake areas, areas with speed limits, and areas reserved for seaplane landings. But this still leaves plenty of space for water skiing, jet skiing, tubing, sailing, wake-boarding and power boating. Many lakefront homes have their own swimming area. A marina rents small boats and provides slip spaces for those wishing a berth on the lakes. A favored watercraft is the pontoon boat, with local residents using them to visit neighbors and enjoy summer evenings. One enterprising local business has constructed a large 'party barge' with canopy, rest rooms and seating for more than 40 passengers that may be rented for special occasions.
Tichigan Wildlife Area is popular with nature lovers and hunters alike. Certain areas are off-limits as a refuge, but other areas are open to hiking and bird-watching. Tichigan Marsh is the largest emergent marsh in Racine County. Great egrets, least bitterns, terns, teal, wood ducks, Wilson's phalaropes and white-rumped sandpipers are often viewed here, making the wildlife area one of the preferred birding spots in south-central Wisconsin. Hunters stalk deer, waterfowl, turkey, small game and pheasants in the wildlife area during hunting season. The area is open for hiking year-round, and contains a snowmobiling trail for winter enjoyment. Local snowmobiling clubs maintain a system of snowmobile trails in the area, making it easy for riders to reach a variety of destinations. A popular hiking-mountain biking trail extends through the Tichigan Lake area, linking with two other portions of scenic trail. The scenic trail corridor, stretching 13 miles south to north from Burlington to Wind Lake, is actually comprised of three rail-trails: the Burlington, Waterford-Wind Lake, and Norway trail. The three are currently being connected to form one trail. The trail systems are convenient and scenic cross-country skiing and snowshoeing venues.
Although Tichigan Lake and Buena Lake are both private, with no camping areas or public parks, the Village of Waterford takes its responsibility as a lakefront destination seriously. A number of annual events and activities draw visitors to the area: the Waterford Balloon Festival, music festivals along the river, a Full-Moon 4-Mile Run, and a Canoe and Kayak Outing join the traditional fireworks display over the water on the Fourth of July. Waterford itself is a stretched-out community encompassing most of the Impoundment, with the village center at the south end around the Waterford Dam. As the popularity of Tichigan Lake has grown, so have condo developments and vacation opportunities. Waterford provides most necessary services, including health providers, golf courses, restaurants,schools and shopping. With the larger city of Racine only half an hour away and numerous small towns in the area, any desirable activity or service is within a few minutes' drive of the impoundment.
The Waterford Impoundment and Tichigan Lake have a long history in the area. The first dam was built in 1836 by two businessmen who built sawmills and grain milling facilities at the shallow point of the Fox River where horses could easily cross. The town was first incorporated in 1906. The dam continued to grow; its final reconstruction occurred in 1977 and provides for 7,100 acre-feet of water within the impoundment. Although Tichigan Lake reaches 65 feet in depth, most of the impoundment is far shallower with average depths around six feet with has several sand bars. Its central location, about 30 miles from Milwaukee, makes the Waterford Impoundment a popular location for both seasonal homes and year-round commutes. A number of private homes and cottages are available for weekly or monthly rental. A few hotels located nearby offer lodging, although they do not overlook the lake itself. Real estate along the lakefront is available in the form of existing housing in all price ranges. If you want to access Tichigan Lake and the Waterford Impoundment, there are many ways available to do so. We hope you can join us for a visit soon!
*Statistics listed are for the impoundment as a whole.
Custom Tichigan Lake house decor
Read our full review of these personalized lake house signs.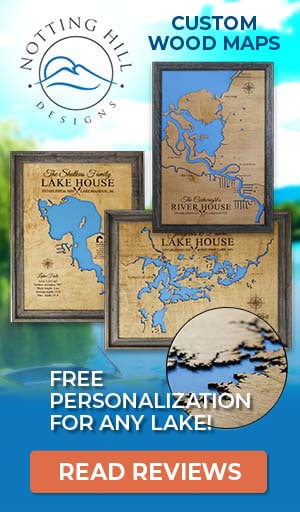 Things to do at Tichigan Lake
Vacation Rentals
Fishing
Fishing Tournaments
Boating
Sailing
Swimming
Canoeing
Kayaking
Jet Skiing
Water Skiing
Tubing
Golf
Camping
Hiking
Biking
Cross-Country Skiing
Snowmobiling
Horseback Riding
Hunting
Wildlife Viewing
Birding
Shopping
Fish species found at Tichigan Lake
Bass
Black Bass
Bluegill
Brook Trout
Brown Trout
Carp
Catfish
Crappie
Largemouth Bass
Northern Pike
Perch
Pike
Smallmouth Bass
Sunfish
Trout
Walleye
---
Best hotels and vacation rentals at Tichigan Lake
The Tichigan Lake map shown above is a simple and stress-free way to search for trip accommodations. But if you want to take a deeper dive to find the ideal waterfront home, cabin, condo, hotel or resort, visit our favorite lodging partners by clicking the buttons below.
Note: These are affiliate links so we may earn a small commission if you book through them. While there is no extra cost to you, it helps provide resources to keep our site running (thank you)! You can read our full disclosure policy here.
---
Tichigan Lake photo gallery
New photos coming soon!
Tichigan Lake statistics & helpful links
We strive to keep the information on LakeLubbers as accurate as possible. However, if you've found something in this article that needs updating, we'd certainly love to hear from you! Please fill out our Content Correction form.
Advertise your Tichigan Lake vacation rental
LakeLubbers will soon offer homeowners and property managers the opportunity to to showcase their vacation rentals to the thousands of lake lovers searching our site daily for accommodations. If you'd like additional details, please contact our advertising team here.
Looking for the Tichigan Lake forum?
LakeLubbers previously offered visitors the ability to create accounts and participate in lake forums. When we overhauled the site's content management system in 2021 we had to disable those features. We're evaluating options and welcome your comments and feedback here.
We also encourage you to join our lake-lovin' community on Facebook and Instagram!
Spread the word! Share our Tichigan Lake article with your fellow Lake Lubbers!