Swift Creek Reservoir, Virginia, USA
Lake Locations:
USA - South - Virginia - Central Virginia -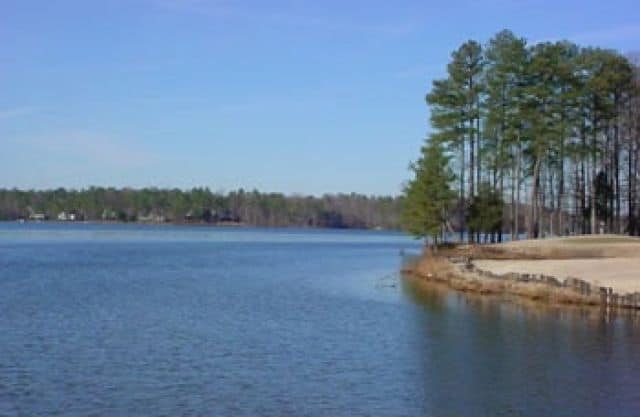 Surrounded by secluded communities, beautiful Swift Creek Reservoir is the perfect respite in the suburban jungle. Just 20 minutes southwest of Richmond and within easy driving distance of everything, Swift Creek Reservoir is the lake in the center of the neighborhood.
Owned by Chesterfield County in Central Virginia, Swift Creek Reservoir was created in 1965 to provide drinking water for Chesterfield County. The headwaters of the reservoir start in Powhatan County, and it is an impoundment of Swift Creek. At 1,700 acres, Swift Creek Reservoir has plenty of water to explore. Public access, however, is somewhat limited. The fingers of water and wooded coves that rim the reservoir are the perfect backdrop for several private neighborhoods. Lake access is through the waterfront communities, whose amenities include golf courses, tennis courts, and swimming pools. Some of the communities also have club houses and sailing clubs with boat rentals.
Canoes, kayaks and sailboats are popular ways to explore Swift Creek Reservoir's many coves, and even with limited access, it is a great pleasure boating lake. The reservoir also has a decent reputation as a bass lake. Anyone who visits Swift Creek Reservoir can enjoy a meal looking out over the water in one of several lakefront restaurants, and nearby Midlothian and Hallsboro have shopping, hotels, motels, and bed and breakfasts. Real estate is available for sale around Swift Creek Reservoir, promising a tranquil place to end a commute from Richmond.
For visitors who prefer a little more wildlife, Pocahontas State Park is just a few miles from Swift Creek Reservoir. Named for Chief Powhatan's famous daughter, the park was built by the Civilian Conservation Corps. The National Park Service donated the 7,950 acres park to the Virginia State Park system in 1946. The Pocahontas State Park was the largest state park at that time and the first recreation park in the area. Only electric motors are allowed on the two small lakes, but they have plenty of fish to challenge anglers. During the summer visitors can rent canoes, kayaks, row boats, and paddle boats from the state park. There are miles of trails for hiking, biking, and horseback riding and plenty of opportunities to see wildlife. Overnight accommodations include camping with tent and RV sites and cabins.
The park is also home to the Civilian Conservation Corps (CCC) Museum. A short drive from Swift Creek Reservoir, the museum is housed in an original CCC building built when Pocahontas State Park was created. The Corps was established by Franklin Delanor Roosevelt to combat unemployment. The young men ranged in age from 18 to 25 and were unemployed, unmarried people whose families were on relief. Twenty-five dollars of the $30 they were paid monthly were sent back home to support their families. Responsible for planting two billion trees and restoring 4,000 historic sites, the CCC also built 40,000 bridges and created 800 state parks.
With its beautiful water, secluded coves, and quiet neighborhoods, it's no wonder so many people choose to make Swift Creek Reservoir their home. A deck overlooking the water is the perfect place to end a long day and short commute.
Things to do at Swift Creek Reservoir
Fishing
Boating
Sailing
Swimming
Swimming Pool
Canoeing
Kayaking
Golf
Tennis
Camping
Cabin Rentals
Hiking
Biking
Horseback Riding
Wildlife Viewing
State Park
National Park
Museum
Shopping
Fish species found at Swift Creek Reservoir
---
Swift Creek Reservoir Photo Gallery
Swift Creek Reservoir Statistics & Helpful Links
Spread the word! Share our Swift Creek Reservoir article with your fellow Lake Lubbers!