Stonewall Jackson Lake, West Virginia, USA
Lake Locations:
USA - South - West Virginia - Mountain Lakes -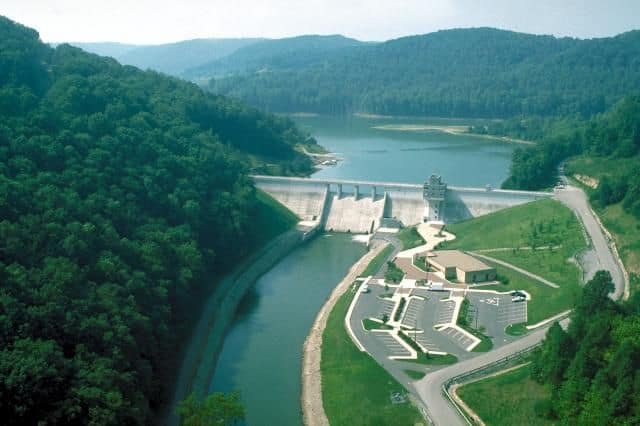 Stonewall Jackson Lake, a young West Virginia lake that only finished completion in 1990, was built by the U.S. Army Corps of Engineers to provide flood protection along the West Fork River, create hydroelectric power, and improve water quality for the surrounding area. The lake performs all of these duties, but has also become a favorite destination for vacationers on a mission to get some much-needed rest and relaxation.
Stonewall Jackson Lake is the perfect setting for your next vacation, offering almost every lake activity you could dream up. Boating is a popular recreational activity; visitors can explore 82 miles of gently winding shoreline with quiet coves that are home to many native animals. If you are a canoeist or kayaker, you'll be pleased to hear that a fifth of the lake is designated as no wake, so boating is safer than on other lakes. Power boaters, don't worry; you also have a home here at Stonewall Jackson Lake, where no horsepower limit is enforced, so you can really let loose and have a quick jaunt across the lake's smooth surface.
The West Virginia Division of Natural Resources leases federal land to manage the 2000-acre Stonewall Jackson Lake State Park and more than 18,000 acres for public hunting and fishing. Fishing is particularly good at the lake, in part because of its youth: trees and bushes dotting the bottom form the ideal habitat for the lake's wide variety of fish life. When you drop a line in at Stonewall Jackson Lake, you're just asking for a prize catch of bluegill, bullhead, carp, channel catfish, crappie, muskellunge, walleye, and yellow perch. But before you head out, don't forget that fishing in West Virginia requires a fishing license.
If you'd like to pamper yourself a bit, the lake's Stonewall Resort offers beautiful luxury rooms, a spa offering full massage and beautification services, a 374-slip marina, and an 18-hole golf course with one-of-a-kind scenery. Additionally, there is a sundeck with panoramic vistas of Stonewall Jackson Lake, allowing you to enjoy a mug of coffee or glass of wine while watching a spectacular sunset reflect off the clear, crystalline waters.
Nature lovers always enjoy the lake's trail system, which give you backstage access to the diverse flora and fauna of West Virginia. Take your camera along as you walk the winding trails, catching glimpses of squirrels munching on nuts, white-tail dear prancing through the forest, and chipmunks running across your path.
After a long hike, wash the stickiness off by taking a dip in blue waters. Splashing around, racing a friend, or simply floating on your back seems to be a complete activity in and of itself, and is only enhanced by a picnic lunch, refreshing drinks, and the company of friends and family.
Normal summer pool elevation of Stonewall Jackson Lake is 1073 feet above sea level, covering 2650 surface acres. The Corps of Engineers lowers water levels about eight feet from October through March in anticipation of winter snows and spring rains.
Stonewall Jackson Lake is a great place to follow your heart's desire. West Virginia's sun, breezes, and hospitality complement any visit to the lake, and you'll quickly realize that your stay will be exactly what you make of it.
Things to do at Stonewall Jackson Lake
Vacation Rentals
Fishing
Boating
Canoeing
Kayaking
Golf
Picnicking
Hiking
Hunting
Wildlife Viewing
State Park
Fish species found at Stonewall Jackson Lake
Bluegill
Carp
Catfish
Channel Catfish
Crappie
Muskellunge
Perch
Pike
Sunfish
Walleye
Yellow Perch
---
Stonewall Jackson Lake Photo Gallery
Stonewall Jackson Lake Statistics & Helpful Links
At LakeLubbers.com, we strive to keep our information as accurate and up-to-date as possible, but if you've found something in this article that needs updating, we'd certainly love to hear from you!
Please let us know about it on our Content Correction form.
Spread the word! Share our Stonewall Jackson Lake article with your fellow Lake Lubbers!