Stonecoal Reservoir, West Virginia, USA
Lake Locations:
USA - South - West Virginia - Mountain Lakes -
Also known as:  Stonecoal Lake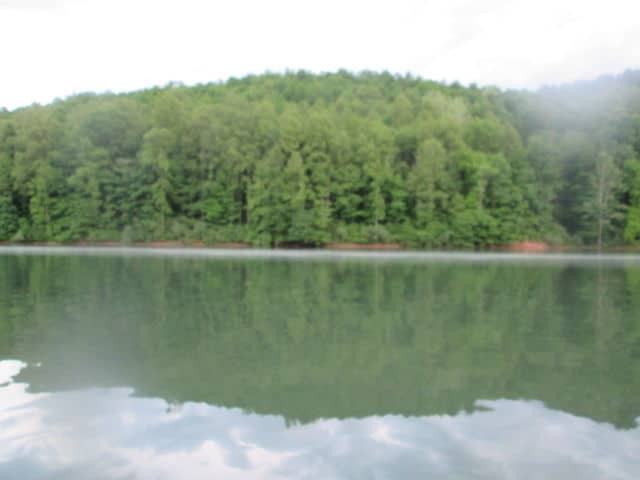 Stonecoal Reservoir is a 550-acre lake nestled in the foothills of the Allegheny Mountains between the cities of Weston and Buckhannon, West Virginia. The lakes sits within a 3,000-acre Wildlife Management Area and offers excellent boating, fishing, and hunting opportunities.
Located in both Lewis and Upshur counties, Stonecoal Reservoir currently holds a number of state records for trophy size fish. The state record muskellunge was caught in 2003 at 52.7 inches and 38.5 pounds. A shorter, but heavier (49.75 lbs) muskie was also pulled from the lake's water. Stonecoal Reservoir also holds state records for rainbow trout (11.74 lbs), golden rainbow trout (8.63 lbs) and carp (41.5 lbs). There are two concrete boat ramps, located at both ends of the lake. Motorboats are restricted to 10 horsepower. Once on the lake, anglers have a good chance of catching largemouth bass, smallmouth bass, channel catfish, crappie, bluegill, and walleye in addition to the record setting species. The lake is stocked regularly. The foot of the Stonecoal Creek Dam, on the western shore, is noted as an excellent fishing hole. Although most fish are safe to eat, certain West Virginia sport fish have been found to have low levels of chemicals and mercury. Refer to the West Virginia Current Fish Advisory link at the bottom of this page for more information.
The Stonecoal Reservoir Wildlife Management Area offers 3,000 acres of hunting and hiking opportunities. Hardwood forests cover 80 percent of the area where hunting opportunities abound for deer, bear, turkey, squirrel, and waterfowl. Camping, swimming and open fires are not permitted within the Wildlife Management Area. This includes Stonecoal Reservoir.
Visitors to Stonecoal Reservoir wishing to camp can enquire at a small private campground located near the headwaters of the lake, or take a short drive west to 3,800-acre state park Stonewall Jackson Lake and State Park. The lake offers 2,650 acres for fishing, boating, and swimming. The Stonewall Jackson Wildlife Management Area encompasses more than 18,000 acres for prime hunting. The park also features camping, hiking, biking, boat launch and rentals. There is also modern resort complete with golf course, restaurant and lake cruises. Every fall the park hosts "The National Hunting and Fishing Days" which offers seminars, classes, children's actives, vendors, and everything imaginable that concerns hunting and fishing.
East of Stonecoal Reservoir is the town of Buckhannon where you can golf, browse shops for gifts or souvenirs, visit a covered bridge and museum, sit down to a delicious meal, spend the night in a rustic cabin or modern vacation rental, of just enjoy a scenic ride through the West Virginia countryside. Buckhannon is also home to Audra State Park where you can fish the Middle Fork River or enjoy gorgeous hiking trails which run through thousands of acres of heavily wooded lands. Audra State Park also has tent and trailer sites campsites.
If you're making the Stonecoal Reservoir area your vacation destination or just passing through, you'll find some top notch fishing and hunting is this quiet, yet beautiful section of the Mountain State.
Things to do at Stonecoal Reservoir
Vacation Rentals
Fishing
Boating
Swimming
Golf
Camping
Campground
Cabin Rentals
Hiking
Biking
Hunting
Wildlife Viewing
Birding
State Park
Museum
Fish species found at Stonecoal Reservoir
Bass
Black Bass
Bluegill
Carp
Catfish
Channel Catfish
Crappie
Largemouth Bass
Muskellunge
Perch
Pike
Rainbow Trout
Smallmouth Bass
Sunfish
Trout
Walleye
---
Stonecoal Reservoir Photo Gallery
Stonecoal Reservoir Statistics & Helpful Links
At LakeLubbers.com, we strive to keep our information as accurate and up-to-date as possible, but if you've found something in this article that needs updating, we'd certainly love to hear from you!
Please let us know about it on our Content Correction form.
Spread the word! Share our Stonecoal Reservoir article with your fellow Lake Lubbers!