Squaw Lake, Wisconsin, USA
Lake Locations:
USA - Midwest - Wisconsin - Lake Superior Northwoods Region -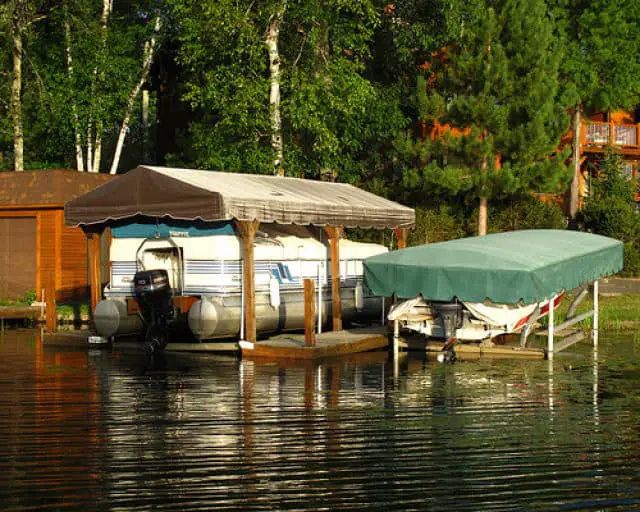 One of the better-kept secrets in Wisconsin's Lake Superior Northwoods Region is Squaw Lake. This 785-acre lake hides in plain sight across the borders of Oneida and Vilas Counties. One reason it escapes notice is that Vilas County already holds one of the world's highest concentrations of freshwater inland lakes – some with wide publicity and public awareness. Wisconsin also holds several other lakes by the same name, although they are much smaller. All of these factors allow Squaw Lake to settle quietly into the background, providing uncrowded enjoyment to those lucky enough to find it.
Long, shallow Squaw Lake lies north-and-south along Squaw Creek. A natural lake, the creek does sport a small dam upstream in the Riley Lake Wildlife Management Area which keeps water levels stable. The shoreline is well-wooded, with private homes hidden among the trees. Some of the shoreline is wetlands, allowing for plenty of nesting area for water birds, waterfowl and aquatic mammals. Bald eagles soar above the quiet waters, while loons nest hidden in the emergent vegetation. Great blue herons glide silently to a hunting space in the shallows where their sharp bills make quick work of small fish and crustaceans. And residents and visitors alike marvel at the clear, spring-fed water stained rust with tannin, sporting colorful wood ducks and mallards like jewels around its perimeter.
Most of the bottom of Squaw Lake is sand, making this an excellent lake for swimming. Boating of all types is popular, but strict hour limits are placed on such activities as water skiing and personal watercraft to keep the late evenings and night-time hours silent and serene. People wanting to venture out on the lake usually do so on pontoon boats or fishing craft, but canoes and kayaks are well-represented. Fishermen visit the lake year-round as the lake is known locally as an excellent spot to catch walleye, muskellunge, northern pike, largemouth bass, smallmouth bass and bluegill. Nearly nine miles of shoreline and several small un-named inlets provide excellent spots where 'keepers' lurk. A public boat launch is provided on the north shore, but many fishermen choose to rent cabins at one of a few resorts on the lake where they can fish happily for several days at a time. Many families return to these resorts annually as there is plenty to entertain the entire family.
Squaw Lake provides year-round fun for its lucky property owners and guests. Although the lake freezes early due to its shallow depth, it also warms early in spring, providing open water for summer activities. In the fall, the surrounding woods are clothed in red and gold, while winter brings the silence of a pristine white blanket where every four-legged passerby leaves evidence of its passing. Ice fishermen make a beeline to the thickening ice, where they continue their favorite sport in a somewhat chillier manner. The three-county area that surrounds Squaw Lake is well-supplied with hiking and cycling trails, snowmobile trails, cross-country skiing and snowshoe paths. Just west and north of Squaw Lake in Price County, the Riley Lake Wildlife Management Area offers up several hiking and canoeing trails, space for picnicking and hunting in season. There are many, many lakes within a short distance. The several chains of lakes in the Eagle River area are only a short distance to the east.
The towns of Lac Du Flambeau and Minocqua are both within 20 miles of Squaw Lake and will provide most necessities a vacationing family might need. Lac Du Flambeau lies within the Lac Du Flambeau Chippewa Reservation and provides a variety of activities and venues with which to help the tribe celebrate their proud heritage. There is a casino of course, but there is also the George W. Brown, Jr. Ojibwe Museum & Cultural Center. An annual Powwow held here is one of the larger powwows in the United States. An interpretive nature trail located on the shore of Moving Cloud Lake within the Reservation offers a glimpse of the sights and sounds of the natural forest areas. There is even 'pay fishing' at the William J. Poupart, Sr. Fish Hatchery & Trout Pond. And those with an eye for native American art will want to visit the Mikadawaboo Coffee and Art Emporium where they can watch demonstrations of traditional crafts and enjoy original Native American art. Visitors with a yen to enjoy museums and history will want to make a side-trip to the Northwoods Children's Museum at Eagle River, where children learn in a fun, hands-on environment. About 50 miles southeast of Squaw Lake, the Rhinelander Logging Museum is one of the most authentic and complete logging museums in the country. It's worth the trip to see the pictures of the loggers and the camp, view the odd implements used for logging in the 1870s, and begin to understand the difficult task accomplished by these hardy early laborers.
Finding vacation rentals near and on Squaw Lake isn't difficult as long as you call and reserve early. Besides the several resorts on the lake, private homes and seasonal cabins are often found for rent. As the entire area is a popular vacation area, there are many camping areas and bed-and-breakfasts to be found close-by. There is even the occasional real estate opportunity along the shoreline. Once you visit Squaw Lake, you will likely decide to spend all of your vacations here. So make the first visit soon . . .but don't tell a soul: Squaw Lake rather enjoys being a well-whispered secret!
Things to do at Squaw Lake
Vacation Rentals
Fishing
Boating
Swimming
Canoeing
Kayaking
Water Skiing
Picnicking
Cabin Rentals
Hiking
Biking
Cross-Country Skiing
Snowmobiling
Hunting
Wildlife Viewing
Birding
Museum
Casino Gambling
Fish species found at Squaw Lake
Bass
Black Bass
Bluegill
Largemouth Bass
Muskellunge
Northern Pike
Perch
Pike
Smallmouth Bass
Sunfish
Trout
Walleye
---
Squaw Lake Statistics & Helpful Links
At LakeLubbers.com, we strive to keep our information as accurate and up-to-date as possible, but if you've found something in this article that needs updating, we'd certainly love to hear from you!
Please let us know about it on our Content Correction form.
Spread the word! Share our Squaw Lake article with your fellow Lake Lubbers!