Squam Lake, New Hampshire, USA
Lake Locations:
USA - New England - New Hampshire - Lakes Region -
Also known as:  Big Squam Lake, Little Squam Lake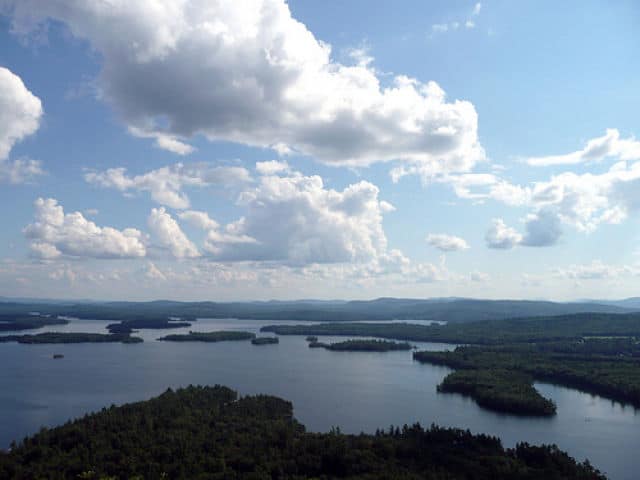 Big Squam Lake,the second-largest lake located entirely in New Hampshire, covers almost 6,800 acres in the state's Lakes Region. Dotted with historic houses, stunning foliage, and incredible views, Big Squam Lake attracts visitors from miles around. The lake gained notoriety in 1981 as the filming location of the blockbuster movie 'On Golden Pond' which earned Oscars for Henry Fonda and Katharine Hepburn and an Oscar nomination for Jane Fonda.
The waters of Big Squam Lake flow into Little Squam Lake through a natural channel, then exit the lakes through a dam into the Squam River. Little Squam Lake covers about 408 acres, with an average depth of 23 feet and a maximum depth of 84 feet. This smaller lake offers three full-service marinas and a state-run, public boat launch ramp. The channel connecting the two lakes flows under a covered bridge, allowing a maximum boat height of around 22 feet.
Squam Lake is rich in history, a fact illustrated by its name. Originally called Keeseenunknipee by the Abenaki Nation, the name meant "goose lake in the highlands." Around 1779 the white settlers changed the name to Kusumpy, Kesumpe or Casumpa . In the 1800's, the Abenaki Indians overruled and renamed the lake Asquam, meaning "water." In the early 1900's, the lake's name was shortened to simply Squam Lake.
New England is known for its covered bridges, and the greater Squam Lake area does not disappoint. More than 50 covered bridges grace New Hampshire's Lakes Region, each one with its own history and quaint beauty. An afternoon car trip is the ideal way to see a bit of the region's spectacular scenery and history.
Speaking of scenery, Squam Lake is perhaps best known for its beautiful vistas. Towering pines, crystal waters, flowering bushes, and swooping birds decorate the horizon in summertime. Cooler temperatures bring brilliant reds, yellows, and oranges, and later paint the entire region in white purity. For those unaccustomed to such natural beauty, Squam Lake is truly an unexpected treat for the eyes.
After you've seen the splendor of Big Squam Lake from the land, it's time to test your lake legs and explore from a different point of view. The lake is home to 28 islands large enough to be named, including Moon Island and Bowman Island which are owned and maintained by the Squam Lakes Association. As if given a key to a magical portal, breathtaking scenes await you around every corner. Graceful loons, trees reflected on still waters, deer grazing, fish jumping, and so many more peaceful nature scenes await you. Take your camera and your binoculars, and prepare for a day that you will never forget.
The Squam Lakes Association on Big Squam Lake provides a boat launch ramp for small boats. The Association also rents canoes, kayaks and sailboats. For visitors who prefer to leave the driving to others, the Natural Science Center offers 90-minute summer cruises, and private charters are available for scenic and fishing tours. Personal watercraft and houseboats are not permitted on Squam Lake, and speed is limited to 40 horsepower in the daytime and 20 horsepower at night. Several areas of the lake are marked as "No Wake" for boater safety.
Summertime bass tournaments are popular on Squam Lake. The lakes are warmwater and coldwater fisheries, with numerous largemouth bass, smallmouth bass, landlocked salmon, and lake trout.
The Town of Sandwich, NH provides several beach park areas, namely Town Beach, Bear Camp Beach, the Pot Hole Swim Areas, and Beede's Falls at Sandwich Notch. The quarter-mile walk is easy to the shallow, sandy swim area at the base of Beede Falls.
If you're an animal lover, consider taking a Moose Tour with the Squam Lake Natural Sciences Center. Weighing anywhere between 600 and 1600 pounds, these huge mammals populated the region long before the settlers arrived. Moose antlers alone can weigh up to 60 pounds, but you'll be surprised at how graceful they look as they plod through the forest. If you don't live in the northern United States, this may be your only chance to see a live moose, so don't miss the opportunity.
Big Squam Lake is an area of great beauty and warm hearts. You will be welcomed here with open arms, the lake will lure you to her shores, and the scenery will charm you so much, that you may never want to leave!
Things to do at Squam Lake
Vacation Rentals
Fishing
Fishing Tournaments
Boating
Sailing
Swimming
Beach
Canoeing
Kayaking
Camping
Wildlife Viewing
Birding
Fish species found at Squam Lake
Bass
Black Bass
Lake Trout
Largemouth Bass
Salmon
Smallmouth Bass
Trout
---
Squam Lake Statistics & Helpful Links
Spread the word! Share our Squam Lake article with your fellow Lake Lubbers!