Spruce Knob Lake, West Virginia, USA
Lake Locations:
USA - South - West Virginia - Potomac Highlands -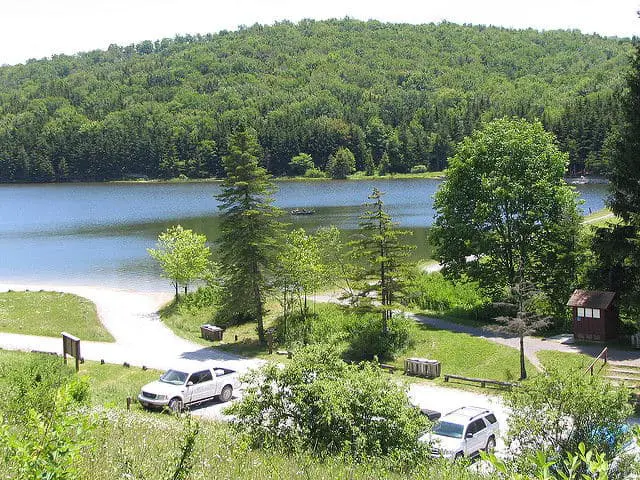 Spruce Knob Lake, in West Virginia's Potomac Highlands, proves that good things come in small packages. Only 23 acres, the little reservoir was created especially for recreation when a dam was built across Narrow Ridge Creek in 1952. Tucked into Monongahela National Forest's nearly 81,000 acres, Spruce Knob Lake is the highest elevation lake in the state. The lake is very near Spruce Knob, the state's highest point and a popular look-out for visitors to the region. What Spruce Knob Lake lacks in size it more than makes up for in scenic beauty and great trout fishing.
Surrounded by hills covered in a mix of evergreens and hardwood trees, Spruce Knob Lake offers a welcome touch of serenity to those who visit. The silence is broken only by the calls of the many birds and the occasional shouts of excited children as they hook a tiny bluegill from the fishing dock. Only electric motors are allowed for boats, and the waters are ideal for canoes and kayaks. No swimming is permitted in the little lake, but most visitors are here for the scenery and the fishing. The lake is managed as a 'put-and-take' trout fishery: the West Virginia Division of Natural Resources stocks catch-able size trout twice each summer. The lake holds mostly rainbow trout, although there are a few other species that may provide a surprise at the end of a line. A state fishing license, a trout stamp, Conservation stamp and a National Forest stamp are all required for fishing. There is a small boat ramp near the dam, along with restrooms and the handicapped-accessible fishing dock.
Spruce Knob Lake isn't the only thing that draws visitors to this area of the Spruce Knob-Seneca Rocks National Recreation Area. A Forest Service campground is located a short distance from the shoreline under a canopy of trees. Some of the 30 campsites can be reserved, but a few are always saved as first-come-first served sites. All regular campsites contain a picnic table, tent pad, grill and fire ring. Twelve walk-in campsites are tent-only with the parking lot about 75 feet away. Except for busy holiday weekends, the campground often has unoccupied campsites as it is not directly on the shore of the lake and no swimming access is provided. Campers are warned that foodstuffs must be secured against hungry bears and raccoons. Spruce Knob Lake is a short walk away, where early risers will often find anglers taking advantage of the morning fog to entice a hungry trout.
Immediately below the dam is a swampy area that often overflows with native songbirds. Little Narrow Ridge Creek is hardly more than a trickle, and shorebirds nest along the bubbling shallows. Water flow varies with the seasons, and wildflowers and march sedges proliferate in the spring. The area is a photographer's dream, and many visitors take their cameras along on every hike in the area. Although this is high-altitude for West Virginia, it is not alpine and there are always plenty of treed areas for cooling shade. One pleasant and relatively easy walk is around the one-mile shoreline of Spruce Knob Lake.
One of the most popular short hikes is to the summit of Spruce Knob. The route overland from Spruce Knob Lake can be rather rocky, but it is possible to drive a vehicle to within a short distance of the observation tower at the top. A stone-and-steel observation tower gives a panoramic view of the surrounding countryside. Due to strong winds, the red spruce growing on the Knob are deformed and have limbs only on one side. Native huckleberry bushes hug the slope. A half-mile, handicapped-accessible Whispering Spruce Nature Trail has interpretive signage and explains the geology and climate of the region, along with the plants growing here. Another route, the Huckleberry Trail, follows the ridge north along Spruce Mountain and intersects with the main trail system of the Monongahela National Forest's Seneca Creek sector. A full 60 miles of maintained trails crisscross the area. Trail maps are available from the US Forest Service.
Other special attractions within the Spruce Knob-Seneca Rocks National Recreation Area include the awe-inspiring rock pinnacles of Seneca Rocks. Named for a Native American legend which tells of a princess who demanded her suitors climb the difficult pinnacle to win her hand, the Seneca Rocks are still popular with rock climbers today. Located less than 20 miles north of Spruce Knob Lake, Seneca Rocks even permits instructors to teach rock climbing to novices. Not far from Seneca Rocks, privately-operated Seneca Caverns guides visitors through a spectacular natural cavern where calcite crystal and flowstone provide an awe-inspiring sight. A favorite activity of both young and old is the gemstone mining opportunity offered outside the entrance to Seneca Caverns. For a fee, visitors can purchase a quantity of mining waste which they wash in the provided sluice to possibly discover rose quartz, rubies, amethyst, garnets, 'fools gold' and other interesting and decorative gems.
Spruce Knob Lake is rather remote. The nearest store or telephone is about an hour away. Several other campgrounds in the vicinity also offer camping sites, and there are many streams that provide excellent trout fishing. The quiet country roads are perfect for mountain biking. Nature is always nearby and can surprise or even startle at any time. The nearest bigger city is two hours to the east at Harrisonburg, VA on I-81. The city offers a variety of lodgings, with several chain hotels located along the highway. Major northeastern cities can be reached easily with a few hours' drive. Other state routes through the Highlands hold small motels, guest cottages, and bed & breakfasts. The area is scenic and filled with interesting sights, tiny hamlets, and friendly people. It is in places such as Spruce Knob and Spruce Knob Lake that one comes to truly understand the term, 'Almost Heaven'.
Things to do at Spruce Knob Lake
Vacation Rentals
Fishing
Boating
Swimming
Canoeing
Kayaking
Camping
Campground
Picnicking
Hiking
Rock Climbing
Biking
Wildlife Viewing
Birding
National Forest
Fish species found at Spruce Knob Lake
Bluegill
Rainbow Trout
Sunfish
Trout
---
Spruce Knob Lake Photo Gallery
Spruce Knob Lake Statistics & Helpful Links
Spread the word! Share our Spruce Knob Lake article with your fellow Lake Lubbers!