Spavinaw Lake, Oklahoma, USA
Lake Locations:
USA - Southwest - Oklahoma - Green Country -
Also known as:  Lower Spavinaw Reservoir, Spavinaw Reservoir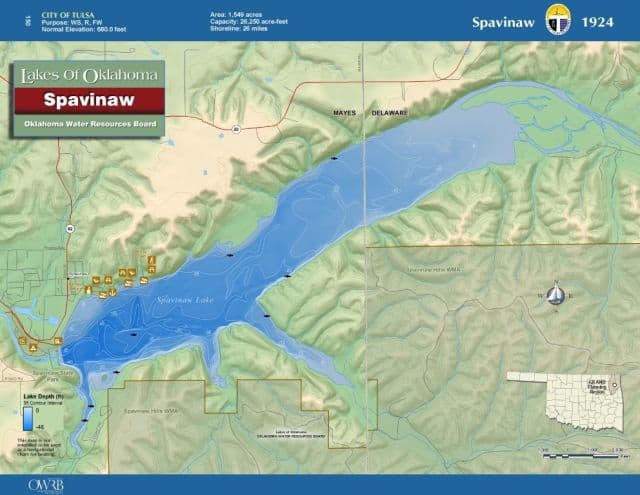 The tiny town of Spavinaw, in Oklahoma's Green Country Region, guards Spavinaw Lake – the principal water supply for the City of Tulsa over fifty miles away. Spavinaw Lake, sometimes called Spavinaw Reservoir is the result of a dam built across Spavinaw Creek in 1924. It is sometimes confused with the former Upper Spavinaw Reservoir a few miles upstream and now called Eucha Lake. There are similarities: both are the result of dams on Spavinaw Creek, both supply water to Tulsa, both have a State Park on their shore, and both abut the Spavinaw Wildlife Management Area.
Spavinaw Lake is reserved for fishing only. No water skiing or swimming is allowed on the reservoir itself. There are two boat launch areas located on the north shore just outside of town and a concession-operated marina. Several picnic areas with grills, rest rooms, a playground, fishing docks and many hiking trails encourage the visitor to get out and enjoy nature. Black bass, crappie, bluegill, catfish, largemouth and smallmouth bass, sunfish and white bass are the species most often fished for. The area around much of Spavinaw Lake is public lands. The Spavinaw Wildlife Management Area has dug several ponds and planted some food plots on the 14, 316 acres of land forthe benefit of animals. Primarily on the south side of Spavinaw Lake, WMA land stretches south and east til it abuts the dam area of Eucha Lake. This is a great place to watch wildlife but the hiker unfamiliar with the area should make sure to carry a compass or stay on the well-trod path: it is possible to get lost here in the Ozarks.
At the Spavinaw Lake dam just south of the town of Spavinaw is a small State Park that is a favorite of families with children. Spavinaw State Park is small ÃffÃ,¢Ãf¢,Ã,¬" only 35 acres. But it has an excellent swimming beach with shallow water, picnic areas with grills, playground, both RV and tent camping areas, showers and a dump station. Between the two public areas, there is something for everyone in the family.
The area around Spavinaw Lake is a favorite bird watching area. The quiet clearings within the Wildlife Management Area are excellent for viewing several types of warblers. In the winter months, bald eagles are often sighted. Avid wildlife watchers will often see Coyote, bobcat, raccoon, rabbit, fox and grey squirrels, turkey and white-tail deer. Bobwhite quail are seen in the prairie areas, and migrating birds often stop for a break at Spavinaw and Eucha Lakes. Several uncommon species of bat migrate through the area each year. Designated areas are open to hunting during the appropriate season.
Visitors looking for vacation rentals will want to check not only Spavinaw but nearby towns such as Hoot Owl, Kenwood, Chloeta, Strang, Jay, Pryor, Chouteau, Locust Grove, Adair and Big Cabin within a few miles of the reservoir. Vinita, about 25 miles away from Spavinaw Lake has specialty lodging opportunities such as Bed and Breakfast establishments among other choices.
Vinita, on old Route 66, is especially interesting. Although not established as a town until 1871, the Vinita area played a huge part in the struggles of the Cherokee after their removal to Oklahoma in 1838. It contains well-maintained Victorian homes, some of which are available for tours. Eastern Trails Museum has many exhibits detailing the establishment of the Vinita area, including early pioneer and Indian artifacts. The yearly 'Calf Fry' boasts the annual Will Rogers Memorial Rodeo, cowboy games, a cook-off, carnival and all sorts of entertainment for every age group. The tongue-in-cheek Calf Fry has a 'steering committee' which sends invitations every year to celebrities such as the Queen of England to act as judges and good naturedly jokes about the inevitable turn-down. For the uninitiated, a Calf Fry isn't about frying calves-at least not the whole animal. In some circles, calf fries are known as Mountain Oysters. This is cattle country!
Other times of the year, Vinita holds Oktoberfest, a Summerfest Car show, a Christmas Parade of Lights and on-going historical activities in the downtown area. Not far from Vinita, the Civil War Battle of Cabin Creek was fought in 1864. The battle is re-enacted every three years and is a huge attraction to Civil War buffs. East on I-44 in Miami, there are several small Indian-owned casinos where visitors can try their luck. Miami is just over 40 miles from Spavinaw Lake.
Schedule a visit to the area around Spavinaw Lake. It's an area rich in history, wealthy in recreation and absolutely loaded with quiet charm. Look for a vacation rental today, Fish ÃffÃ,¢Ãf¢,Ã,¬" and fun ÃffÃ,¢Ãf¢,Ã,¬" are waiting.
Things to do at Spavinaw Lake
Vacation Rentals
Fishing
Boating
Swimming
Beach
Water Skiing
Camping
Picnicking
Cabin Rentals
Hiking
Hunting
Wildlife Viewing
Birding
State Park
Museum
Playground
Casino Gambling
Fish species found at Spavinaw Lake
Bass
Black Bass
Bluegill
Catfish
Crappie
Largemouth Bass
Smallmouth Bass
Sunfish
White Bass
---
Spavinaw Lake Photo Gallery
Spavinaw Lake Statistics & Helpful Links
Spread the word! Share our Spavinaw Lake article with your fellow Lake Lubbers!