Smith Lake, Minnesota, USA
Lake Locations:
USA - Midwest - Minnesota - Central -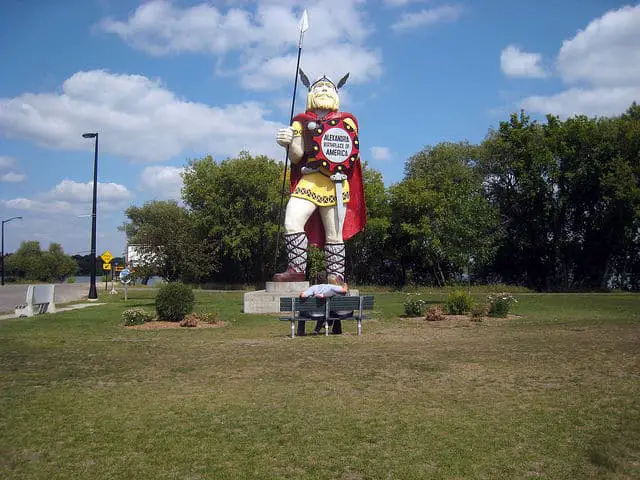 Nestled quietly between Lake Osakis and the City of Alexandria, Smith Lake in Minnesota's Central Region faces little tourist pressure. Not well known outside of the Alexandria Lakes area, Smith Lake nevertheless offers great fishing, plenty of water sports, and a great place for a vacation. Although other area lakes are larger and better-known, Smith Lake has much to provide those lucky enough to find the resort cottages or campgrounds along the north side of the lake. Homeowners and vacationers enjoy swimming, water skiing, jet skiing, pontooning, canoeing, wakeboarding, windsurfing and tubing on the 550-acre lake. This spring-fed lake was one of many gouged by glaciers in the distant past and serves to feed the headwaters of the Sauk River.
Smith Lake is the perfect picture of what a Northwoods lake should be: a wide expanse of water, fresh air, and a congenial neighborhood of folks determined to enjoy their little piece of heaven, There are no public parks on Smith Lake; those looking for large parks go to Lake Osakis or nearby Lake Carlos with a state park. What Smith Lake does have is an improved concrete boat ramp owned by the Minnesota Department of Natural Resources for trailered boats. Fishing is a favored activity as it is at most lakes in the Alexandria area. The lake holds black crappie, bluegill, largemouth bass, northern pike, walleye, yellow perch, hybrid sunfish and pumpkinseed along with such non-sport fish as bullhead and suckers. Walleye are generally stocked as fingerlings every other year. The lake's average depth is 15 feet. Wetlands along the margins of the six miles of shoreline allow for optimum fish spawning and great panfish angling. Ice fishermen try their luck in winter.
A small water control dam keeps water levels stable. Water from the outflow courses through a network of 'county drains' which have channelized the local intermittent streams and serve to drain marshy land in the vicinity for farming. The water eventually reaches Lake Osakis and finally the Sauk River. In recent years, water quality studies have determined that Smith Lake is prone to high levels of phosphorus entering the lake, likely from farm field run-off. The problem is common to lakes in the area, and efforts to alleviate the imbalance are underway so that the fishery and water quality are protected.
A commercial RV campground at the north end of the lake welcomes plenty of summer visitors. A small resort rents modern cottages and provides a beach, swimming area, and lakeside fun to registered guests. A few of the private homeowners rent their properties to short-term visitors. Although the Alexandria area holds a variety of lodgings, Smith Lake is sometimes less crowded and quieter than the bigger chain of lakes. The 55-mile Central Lakes Trail, built on an abandoned Burlington Northern rail corridor, passes nearby and offers nature observance, hiking, cycling, and cross-country skiing in season. The non-motorized trail is open to snowmobiles in the winter, with the Central Lakes Trail joining a network of other trails near Lake Osakis.
The nearby small town of Osakis at the south end of Lake Osakis holds restaurants, lodgings and necessary services. A few miles to the west, the Alexandria Chain of Lakes offers all types of pleasure boating and numerous services and eating establishments accessible from the water. Alexandria is the biggest city in the area, with St. Cloud 65 miles away and Minneapolis-St. Paul 130 miles to the southeast. Smith Lake's convenience makes it an attractive option for city dwellers desiring a weekend retreat or vacation home that can be reached within a couple of hours.
Alexandria has a regular schedule of festivals and activities geared toward visitors. Fishing tournaments, boat racing, living history events at Fort Alexandria, the Chain of Lakes triathlon, golf tournaments, harvest festivals and fairs mean there is always something going on in the area to pique the family's interest. Many of the events are Viking-themed or have Viking-based activities or parades. It is considered imperative that every visitor head north of Alexandria to view the Big Ole statue commemorating the area's presumed heritage of visits from these 14th century world travelers. More about this popular local story can be learned at the Runestone Museum in Alexandria.
There is still room at Smith Lake to build a cottage or year-round home. Real estate is often found for sale. And somewhere in Smith Lake is a walleye or largemouth bass with your name on it. So pack the tackle and pick up supplies for a week at Smith Lake.
Things to do at Smith Lake
Vacation Rentals
Fishing
Fishing Tournaments
Boating
Swimming
Beach
Canoeing
Jet Skiing
Water Skiing
Wakeboarding
Tubing
Golf
Camping
Campground
Hiking
Biking
Cross-Country Skiing
Snowmobiling
State Park
Museum
Fish species found at Smith Lake
Bass
Black Bass
Black Crappie
Bluegill
Crappie
Largemouth Bass
Northern Pike
Perch
Pike
Pumpkinseed
Sucker
Sunfish
Walleye
Yellow Perch
---
Smith Lake Statistics & Helpful Links
Spread the word! Share our Smith Lake article with your fellow Lake Lubbers!