Silver Lake, New Hampshire, USA
Lake Locations:
USA - New England - New Hampshire - Lakes Region -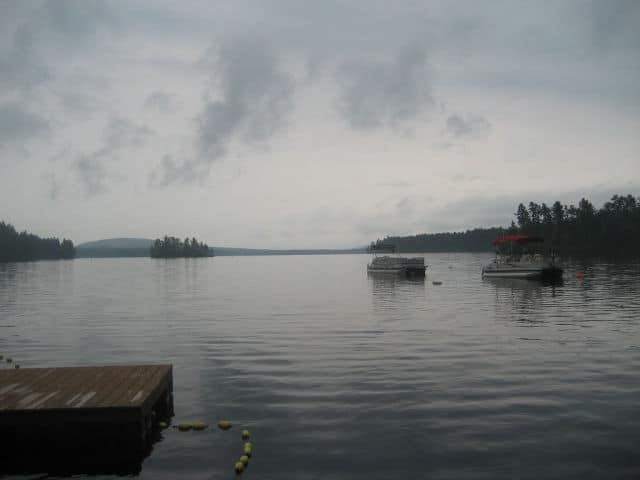 Silver Lake is located in eastern New Hampshire's Lakes tourism region, just south of the White Mountain National Forest. The lake spans almost 1,000 acres with seven miles of shoreline. Nestled in Carroll County, Silver Lake has an average depth of 47 feet and a maximum depth of 164 feet. Inflow into the lake comes from three sources (Deer River, Cooks Brook and Forrest Creek), while its outflow carries water from the southern tip of a lake through a stream to Ossipee Lake a few miles southeast. Silver Lake has a watershed area of 22 square miles. The dam, built in 1975 and located at the southern section of the lake, controls water levels and is owned and operated by the Town of Madison.
Visitors have access to three beaches (Nichols Beach, Monument Beach, and Kennett Beach) with crystalline waters to enjoy swimming and snorkeling. Residents and their guests have access to a fourth beach, Town Beach. A boat launch ramp is located at the south end of Silver Lake with mandatory boat inspection for invasive plants and animals. Personal watercraft (jet skis) are not permitted on the lake. Summertime brings sailboats, rowing shells and kayaks plowing the pristine waters. Silver Lake lures anglers with catches of smallmouth bass, pickerel, horned pout, lake trout, rainbow trout and white fish. Ice fishing is also popular during the winter for those hardy enough to brave the cold temperatures.
For a bit of time spent out of the Silver Lake's waters, make your way to the northern tip of the lake to visit the Village of Silver Lake and further north for the larger Town of Madison. The small town offers local cuisine with seasonal events throughout the year. To make your visit a bit more memorable, travel a few miles northwest of Madison and check out the Madison Boulder, a large granite rock that is 83 feet high and 23 feet wide. Called a glacial erratic, or a rock carried by glaciers far from its place of origin, this 5,000-ton boulder is one of the largest in the world. A quick stop in the Village of Silver Lake will put you next to another unique setting — the summer home of the famous poet E.E. Cummings.
The area around Silver Lake is not lacking in outdoor activities, either. There are nearly 230 acres of wetland habitat at Goodwin Forest to discover, located just to the southeast of the lake. Hiking trails within the Herbert Burke Forest, just below the Goodwin Forest, are also popular. Visitors can snowmobile in the winter and hike a trail up to Trout Pond in the summer or fall. A few miles to the north of Silver Lake is the White Mountain National Forest, with over 800,000 acres to explore. Check out daily loop hikes that range from easy to moderately difficult, or backpack into the forest and spend the night beneath the stars. Watch for bears and moose, both of which live and can be seen within the forest.
Rent a vacation home or cottage to explore the Silver Lake community. With numerous real estate opportunities available, making your home within this pristine setting has never been easier.
Things to do at Silver Lake NH
Vacation Rentals
Fishing
Ice Fishing
Boating
Sailing
Swimming
Beach
Kayaking
Snorkeling
Hiking
Snowmobiling
Wildlife Viewing
National Forest
Fish species found at Silver Lake NH
Bass
Black Bass
Lake Trout
Pickerel
Pike
Rainbow Trout
Smallmouth Bass
Trout
---
Silver Lake NH Photo Gallery
Silver Lake NH Statistics & Helpful Links
Spread the word! Share our Silver Lake NH article with your fellow Lake Lubbers!