Saranac Lakes, New York, USA
Lake Locations:
USA - Mid-Atlantic - New York - Adirondacks -
Also known as:  Lower Saranac Lake, Middle Saranac Lake, Upper Saranac Lake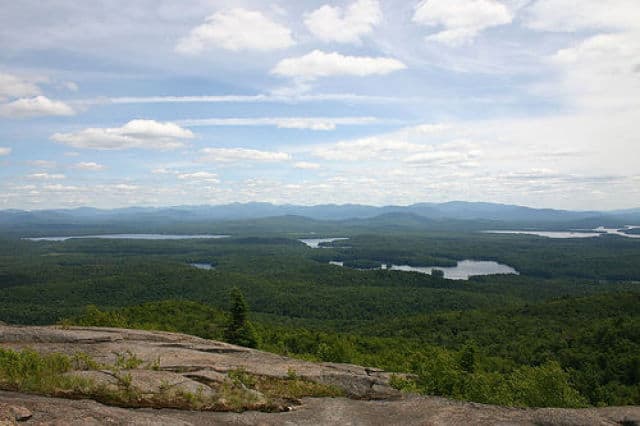 New York's Saranac Lakes — Lower Saranac Lake, Middle Saranac Lake, and Upper Saranac Lake — offer visitors peaceful islands, incredible Adirondack vistas, and beautiful waters to explore. Though once an important transportation route, the lakes now serve as a recreational haven in northern New York, welcoming many visitors to their shores every year.
The Village of Saranac Lake, located about one-half mile east of Lower Saranac Lake, was first settled in 1819. Before the innovations of the automobile and railroads, the lakes allowed for water transportation from Old Forge to Lake Champlain. The lakes began to support tourism in the mid-1800s, and in 1880 the Wawbeek Lodge was opened on Upper Saranac Lake. The lodge offered luxurious rooms, quaint cottages, and carpeted shoreline tents. Though the hotel closed in 1914, its importance as the first large hotel helped fuel tourism. The Saranac Lake area was also known as a healing area, with fresh, cleansing mountain airs that helped establish the area as a leading health resort in the late nineteenth century. Today, Saranac Lake is still known for its natural beauty, clean air, and wonderful restorative qualities.
Adirondack Park is a wonderful place to begin your trip, covering 6.1 million acres and offering the highest mountain peaks in the state. Created in 1892, the park is home to American beaver, fisher, American marten, moose, osprey, and many other species of animals and waterfowl. Nature lovers can traverse the park's groomed trails and canoe the rivers, taking photos of the amazing sights and appreciating the lake and mountain vistas that surround.
The Saranac Lakes offer excellent fishing, and a morning out on the lake not only offers a brilliant orange sunrise and quiet contemplation, but the opportunity to catch the day's dinner. The lakes are home to smallmouth bass, largemouth bass, northern pike, brown bullhead, yellow perch, rainbow smelt, and pumpkinseed. In addition, the New York Department of Environmental Conservation (DEC) stocks lake trout, rainbow trout, and brown trout in Upper Saranac Lake to enhance its Coldwater Fishery. Anglers can head out onto the lakes on their own, navigating the calm waters, or may go out with one of the lake's several guides.
Bird watchers flock to the Saranac Lakes each year. About 180 different bird species have been recorded, including woodpeckers, swallows, warblers, owls, and sparrows. Advanced birders can venture out on their own, armed with an area birding map, and beginners can join in on one of the area's several birding tours.
Camping is a Saranac Lake favorite. The DEC operates the Saranac Lake Islands Public Campground. More than 60 camping sites are available on Lower Saranac Lake, with another 25 sites available on Middle Saranac Lake. Camp sites book quickly as the weather begins to warm, so reserve your spot far in advance. You may never want to leave the Adirondack wilderness once you set up camp, build your camp fire, cook your freshly-caught fish, and curl up beneath the blankets for a night under the stars.
Of course, your visit to the Saranac Lakes isn't complete without some time on the water, and canoes and kayaks dot the lakes' surfaces on warm, sunny days. Bring your own or rent here at the lakes, and head out onto the clear, calm waters to do a bit of shoreline investigation. From your unique vantage point, you'll have a front row seat to animals drinking at the shores, birds swooping through the air, and the sun eclipsing the mountains. For a bit of variety, take a daytime cruise or venture out with a professional guide, and see the best of the Lower, Middle, and Upper Saranac Lakes.
Because Upper, Middle, and Lower Saranac Lakes are interconnected, long-distance paddlers can challenge their endurance with a 20-mile trip from Upper Saranac Lake all the way to the Village of Saranac Lake at the exit of Lower Saranac Lake. DEC operates the Upper Locks between Middle and Lower Saranac Lakes, and the Lower Locks at the exit of Lower Saranac Lake to the Saranac River.
Because of the popularity of DEC campsites and the proximity of services at the Village of Saranac Lake, the lake statistics provided on the sidebar are for Lower Saranac Lake. Statistics for the Upper and Middle Saranac Lakes follow here:
Surface Acres: 4,773 Upper, 1,393 Middle
Elevation (ft.): 1,580 Upper, 1,540 Middle
Shoreline Miles: 37 Upper, (?) Middle
Maximum Depth (ft): 90 Upper, 15 Middle
Mean Depth (ft): 33 Upper, 9 Middle
Saranac Lake, New York and its surrounding lakes and mountains offer visitors unforgettable scenery, beautiful hiking and biking trails, stellar fishing, and a great outdoors full of opportunity. Your visit here will be whatever you make it, and a day can be as fun-packed or relaxing as you choose.
Things to do at Saranac Lakes
Vacation Rentals
Fishing
Canoeing
Kayaking
Camping
Campground
Hiking
Biking
Birding
Fish species found at Saranac Lakes
Bass
Black Bass
Brown Bullhead
Brown Trout
Lake Trout
Largemouth Bass
Northern Pike
Perch
Pike
Pumpkinseed
Rainbow Trout
Smallmouth Bass
Smelt
Sunfish
Trout
Yellow Perch
---
Saranac Lakes Photo Gallery
Saranac Lakes Statistics & Helpful Links
At LakeLubbers.com, we strive to keep our information as accurate and up-to-date as possible, but if you've found something in this article that needs updating, we'd certainly love to hear from you!
Please let us know about it on our Content Correction form.
Spread the word! Share our Saranac Lakes article with your fellow Lake Lubbers!