Sam Rayburn Reservoir, Texas, USA
Lake Locations:
USA - Southwest - Texas - Piney Woods -
Also known as:  Lake Sam Rayburn, McGee Bend Reservoir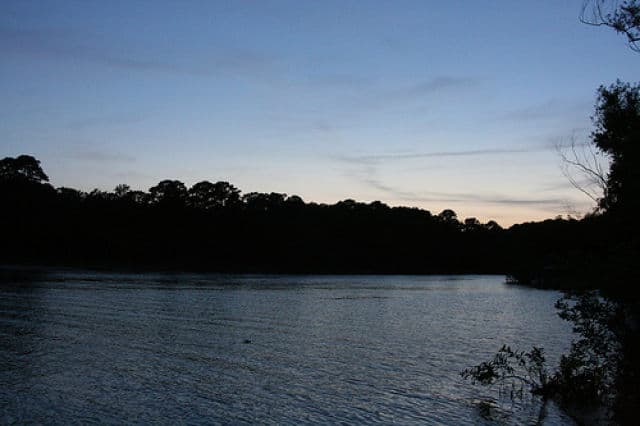 Sam Rayburn Reservoir, lovingly called "Big Sam", and formerly known as McGee Bend Reservoir, is the largest lake which lies completely within Texas. It is a giant lake in the heart of Angelina National Forest, sprawling for more than 114,000 acres over the beautiful Texas Piney Woods tourism region. The reservoir extends for 79 miles and is located about 15 miles north of Jasper.
Sam Rayburn Reservoir was created by the U.S. Army Corps of Engineers to control flooding along the Angelina River, produce hydroelectric power, and provide water for municipal, industrial, agricultural, and recreational uses. Construction of the dam began in 1956, with impoundment of the Angelina River beginning in 1965. The reservoir filled to its conservation pool level of 164 feet above sea level in 1966. Sam Rayburn Reservoir can hold flood waters up to 179 feet above sea level, although the highest elevation in lake history was 175 feet. Lack of rainfall, coupled with water releases for hydropower generation and water supply to the Lower Neches Valley Authority, contribute to a drop in lake elevation. Lake levels rarely drop below 156 feet.
Sam Rayburn Reservoir has earned the title of one of the south's hottest fishing lakes. Open water with a maximum depth of 90 feet, plus huge areas of flooded timber, provide a prime fish area. Sam Rayburn Reservoir is touted as one of the premier largemouth bass fisheries in the south and is home to over 300 fishing tournaments each year, including ESPN/BASS Masters, BASS Champs, Wal Mart BFL, FLW Outdoors, Angler's Quest, BASS Champs, Bass-n-Bucks, McDonald's Big Bass Splash and numerous others. Catfish, hybrid stripe bass and crappie fishing is also excellent.
Sam Rayburn Reservoir is a nature lover's lake, scenic and uncluttered by heavy commercial development. It's not the size that impresses people the most but rather the sheer, breathtaking beauty of it all. Surrounded by rolling green acres of piney forests, Lake Sam Rayburn offers a rural, tranquil scenic setting while making a home for such endangered species as the American bald eagle and the red-cockaded woodpecker. Twenty-two maintained access areas, including parks and private concessions, are located on 560 miles of shoreline around the reservoir. Several marinas are present on the lake, and nearby towns provide all the amenities desired by most people. Recreation areas have camp sites, RV sites, picnic areas, swimming areas, nature trails, and hiking or horseback trails. Boat ramps are available at these areas. Cabins & homes dot the shoreline, but private boat docks are not allowed. With a fluctuation averaging 10 feet annually, some ramps may be unavailable for use when the lake is low, so it's a good idea to check with local authorities for current water levels and ramp conditions.
Things to do at Sam Rayburn Reservoir
Vacation Rentals
Fishing
Fishing Tournaments
Boating
Swimming
Camping
Picnicking
Cabin Rentals
Hiking
Horseback Riding
Birding
National Forest
Fish species found at Sam Rayburn Reservoir
Bass
Black Bass
Catfish
Crappie
Largemouth Bass
---
Sam Rayburn Reservoir Photo Gallery
Sam Rayburn Reservoir Statistics & Helpful Links
We strive to keep the information on LakeLubbers as accurate as possible. However, if you've found something in this article that needs updating, we'd certainly love to hear from you! Please fill out our Content Correction form.
Looking for the Sam Rayburn Reservoir forum?
For years, we offered LakeLubbers visitors the option to create an account, vote on favorite lakes, edit lake descriptions and participate in forums.
In 2021, we embarked on a major site overhaul with a new content database system. While the result is a modern and faster site which is now optimized for both desktop and mobile users, it also meant we had to put account options on hold and take some time to reevaluate ways to interact with our visitors. 
We hope you'll stick around and see what's new here, and of course, we still welcome your comments and feedback regarding anything on LakeLubbers! You can do that here.
Spread the word! Share our Sam Rayburn Reservoir article with your fellow Lake Lubbers!