Ray Roberts Lake, Texas, USA
Lake Locations:
USA - Southwest - Texas - Prairies and Lakes -
Also known as:  Ray Roberts Reservoir, Lake Ray Roberts, Lake Aubrey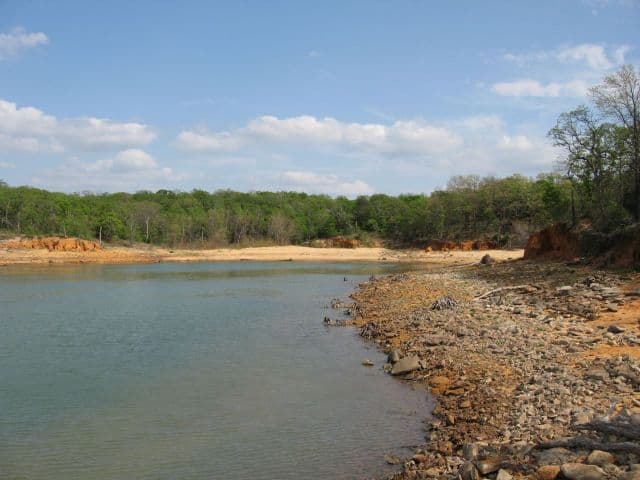 Sprawling across the prairie in the Texas Prairies & Lakes Region, Ray Roberts Lake is one of the newest lakes in Texas. Named after a Texas legislator, this huge reservoir was filled in 1990 to provide a water source for the cities of Denton and Dallas. Located 30 miles north of the Lewisville Dam, Ray Roberts Lake acts as water storage for Lewisville Lake and direct water supply for Denton 12 miles away. When the Army Corps of Engineers built the dam across Elm Fork on the upper reaches of the Trinity River, it submerged forever land roamed by the Comanche, Kiowa, and Tonkawa before the advent of European settlers. Through careful management, Lake Ray Roberts has become one of the premier fishing lakes in Texas. The entire shoreline is public lands under the management of Texas Parks and Wildlife. Several state park units have been developed to provide camping, fishing, picnicking, walking trails, wildlife viewing, cycling, skateboarding, swimming and boating.
In a land of scarce water resources, Texas Parks and Wildlife is committed to providing the largest possible amount of recreational opportunities at Ray Roberts Lake. Two State Park units, Johnson's Branch and Isle du Bois, are situated along the southern part of the lake. Six satellite units provide concession accommodations including a full-service lodge with excellent modern rooms, a restaurant and even horse boarding for equestrians. Another unit sports a full-service marina with boat launch, slip rental, watercraft rentals and all necessary marine amenities. Camping facilities are available for any size recreational vehicle or primitive camp. Water skiing is a favorite at Ray Roberts Lake, with sailing, wind surfing, tubing, pontooning, power boating, canoeing and kayaking engaged in also. Swimming areas are particularly well attended in the hot summer months. Only an hour's drive from Dallas, Lake Ray Roberts is a popular spot for week-enders.
A wealth of trails, many paved, surround the main usage areas and are popular for mountain biking and skateboarding. The 29,350-acre lake is a part of the Ray Roberts Lake Wildlife Management Area. Open for hunting in selected areas during season, the area is also excellent for wildlife viewing and bird watching. Some of the more common species seen are waterfowl (ducks, geese teal, doves), feral hogs, rabbits, hares and squirrels. Other wildlife consists of raccoons, gray foxes, coyotes, beavers and opossums. Bald eagles nest here in winter, and other migratory birds arrive in spring for a stop-over on their way north. A 20-mile greenbelt pathway meanders along the banks of the Trinity River outlet from the dam area south.
Fishermen the world over dream of a fishing trip to Ray Roberts Lake. The most popular game fish sought are largemouth bass, white bass, channel catfish, crappie and sunfish. The many shoals and bays hold an amazing number of record-breaking bass and catfish. Because the size of the lake makes it difficult for a visiting fisherman to ferret out the hot spots, several fishing guide services exist in the immediate area to lead the fishing party to a successful catch. Many fishermen return year after year for another chance at a 40-pound channel cat or nine-pound bass.
For time away from the water, there are several quaint small towns near the Ray Roberts Lake shores. Pilot Point is located near the dam at the south end. The oldest settlement in Denton County, Pilot Point has served as the backdrop for several movies set in the Old West. Those needing groceries or incidentals can easily pick them up in either Pilot Point or Tioga, farther north on the lake. Located on one of the eastern arms of the lake, Tioga was the birthplace of America's Singing Cowboy, Gene Autry. A somewhat larger town, Sanger, lies only a mile or so west of the lake. Vacation rentals are available in Sanger and in Denton, 12 miles southwest of the lake.
Home of two state universities and a rich history, Denton is well-supplied with nightlife and festivals. Called the "Redbud Capital of Texas," the town is known for its active music life. The annual North Texas State Fair and Rodeo and the Denton Arts and Jazz Festival are major events that attract over 300,000 people. All types of lodgings are available in the Denton area. Fifty miles south of Lake Ray Roberts is the heart of downtown Dallas, with its large sports venues, shopping, museums and art galleries.
Although the area between Dallas and Denton is a growing business corridor, real estate is still available in every price range. After spending a week fishing and boating Ray Roberts Lake, visitors may find themselves seeking out real estate listings, hoping for just the right property for a vacation home or year-round residence. After all, what could be better than some of the largest bass in Texas only an hour away from the Dallas-Fort Worth metropolis? Come to Ray Roberts Lake and see for yourself!
Things to do at Ray Roberts Lake
Vacation Rentals
Fishing
Boating
Sailing
Swimming
Canoeing
Kayaking
Water Skiing
Wind Surfing
Tubing
Camping
Picnicking
Hiking
Biking
Horseback Riding
Hunting
Wildlife Viewing
Birding
State Park
Museum
Shopping
Fish species found at Ray Roberts Lake
Bass
Black Bass
Catfish
Channel Catfish
Crappie
Largemouth Bass
Sunfish
White Bass
---
Ray Roberts Lake Photo Gallery
Ray Roberts Lake Statistics & Helpful Links
Spread the word! Share our Ray Roberts Lake article with your fellow Lake Lubbers!