Possum Kingdom Lake, Texas, USA
Lake Locations:
USA - Southwest - Texas - Prairies and Lakes -
Also known as:  Possum Kingdom Reservoir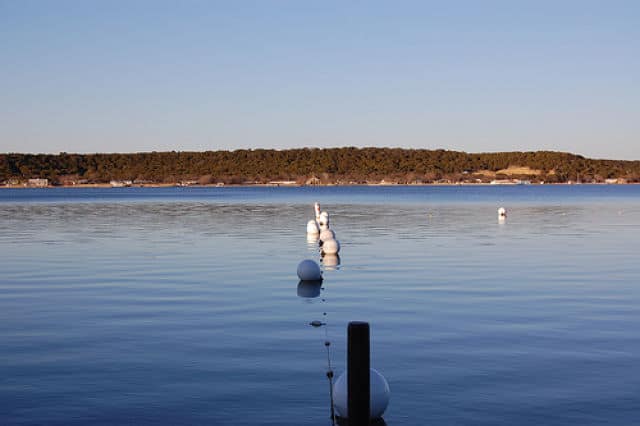 One of the most amusing names in lake recreation has to be Possum Kingdom Lake in the Prairies and Lakes region of Texas. Often called simply PK, the reservoir has been termed the best man-made lake in Texas, in Kirk Dooley's "Book of Texas Best". From the number of recreational opportunities listed along the 219-mile shoreline, Possum Kingdom Lake is open and ready for business. And that business is water-based fun. That wasn't the intention of the Brazos River Authority, who built the lake in 1941 with the help of the Works Progress Administration. The purpose was flood control and water supply. But it didn't take long for the public to discover the joys that existed above the Morris Sheppard Dam, especially since the Civilian Conservation Corps promptly constructed Possum Kingdom State Park along its southwest shore.
Possum Kingdom Lake is a major boating destination with nearly 17,000 acres of water meandering along a 60-mile stretch of the Brazos River. An ample number of marinas provide ramp facilities, boat gas, docking, slips, supplies, repairs and restaurants. All types of boating are welcome here, so power boats share space with pontoons, sailboats, water skiers, tubers, kayaks and personal watercraft. Eight Brazos River Authority Public Access sites offer picnic areas, campsites, courtesy docks, fishing piers, swimming areas and restrooms. A canoe rental below the dam offers access to a 20-mile stretch of river downstream. The many coves, arms and bays are favored by canoes and kayaks for quiet water and nature observance. All registered boats are required to have a Water Recreational User Permit from the Brazos River Authority.
Over 400 campsites exist on the lake, including BRA-access locations, the state park and private facilities located around the lake. Numerous privately-owned restaurants, convenience stores and lodges along the shoreline keep visitors well-fed and well-supplied. Every possible amenity is offered to keep the lakelubber happy, from boat rentals to cabins to resorts. Only 70 miles west of Fort Worth, Possum Kingdom Lake is the destination of choice for thousands of lake visitors on weekends, and plenty of campers and vacationers throughout the week.
Fishing is a major draw to Possum Kingdom Lake. Texas Parks and Wildlife has made sure Florida-strain of largemouth bass are stocked, along with striped bass. Anglers also cast for smallmouth bass, white bass, spotted bass, channel catfish, bream, blue catfish, crappie and flathead catfish. All Texas fishing regulations must be observed, and boats must have appropriate permits to access the water. An extensive system of hiking and biking trails is being developed to allow nature access to visitors. There is a one-quarter mile nature trail at Westside Park and a one-mile hiking trail along the Brazos below the dam. A 16-mile trail on the east side of the lake offers several trailheads with restrooms, public parking areas, access to a 90-foot high vantage point overlooking the lake, wooded areas, and limestone canyons. Lovely natural views are numerous from atop the limestone bluffs towering over much of the lake.
One of the best-known landscape features of Possum Kingdom Lake is Hells Gate, a narrow channel which cuts between an island and a row of cliffs. Both a Boy Scout camp and a YMCA camp have long owned acreage along the shoreline. A number of housing developments overlook the meandering lake, often set back from the shoreline with leased access to the water. A few cottages still sit on leased lots along the shore, although the BRA is in the process of selling many of the leases. A few areas sublease building lots for private cottages and cabins. Possum Kingdom Lake even has its own Chamber of Commerce, helping to engender a sense of community and encourage visitors. To that end, several annual events are produced that encourage visitor participation. One is the Annual Possum Fest and Cook-off. No 'possums' are injured in pursuit of the winning barbecue or chili. The TRIFECTA Triathlon and the Sprint Distance Triathlon are held here each fall. And at Clark Gardens Botanical Park near Mineral Wells, the annual Run From The Ducks timed event each year benefits the National Vietnam War Museum.
Mineral Wells, about 25 miles from Possum Kingdom Lake, is a historical little city with a colorful past. One of the more interesting historical excursions available in Mineral Wells is the Old Jail Museum which anchors a complex of restored frontier buildings that demonstrate life for the area's pioneers. Every building is furnished with period artifacts. A favorite of children and adults alike is the Mineral Wells Fossil Park. This park is operated by Mineral Wells Parks and Recreation with the assistance of the Dallas Paleontology Society. Here, an eroded embankment exposes small common fossils, mostly extinct marine animals. Visitors can still arrange tours of one of the mineral water bottling plants in the area. Crazy Water got its name from a claim that a mentally ill woman regained her sanity after drinking the mineral waters found locally. As the mineral mixture contains a large amount of naturally-occurring lithium, which is used in treatment for some mental diseases, there may have been a hint of truth to the legend.
Mineral Wells figures prominently in the story of how Possum Kingdom Lake got its unusual name. An eastern merchant came to Mineral Wells hoping for improved health from imbibing the waters and apparently became healthy enough to develop a business buying and selling furs. One group of trappers repeatedly brought him large numbers of opossum pelts from an area he began to call Possum Kingdom. The name stuck, and the reservoir built many years later inherited the name. In keeping with the light-hearted name, Possum Kingdom Lake is reputed to be one of the best 'party' lakes in Texas – and there's usually one going on somewhere every weekend during the warmer weather.
The lucky visitor to Possum Kingdom Lake will find all types of lodgings available for a night or a week's stay. Several resorts, camps, guest ranches and tourist cabin-type self-catering facilities are located along the shore. Bed-and Breakfasts are located nearby, and occasionally private cottages are found for weekly rental. Larger hotels and motels can be found near Mineral Wells. And real estate is still available, some existing homes and some building lots. Many have water access and views, and a few actually have lake frontage. There's something at Possum Kingdom Lake to suit every budget and activities to meet every interest.
*Statistics for lake size vary widely from different sources. Those listed are from the Brazos River Authority. Water levels are lower than usual at present due to drought.
Things to do at Possum Kingdom Lake
Vacation Rentals
Fishing
Boating
Sailing
Swimming
Canoeing
Kayaking
Water Skiing
Camping
Picnicking
Cabin Rentals
Hiking
Biking
Wildlife Viewing
State Park
Museum
Fish species found at Possum Kingdom Lake
Bass
Black Bass
Blue Catfish
Catfish
Channel Catfish
Crappie
Flathead Catfish
Largemouth Bass
Smallmouth Bass
Spotted Bass
Striped Bass
White Bass
---
Possum Kingdom Lake Photo Gallery
Possum Kingdom Lake Statistics & Helpful Links
Spread the word! Share our Possum Kingdom Lake article with your fellow Lake Lubbers!