Pitch Lake, Trinidad and Tobago
Also known as:  Lake Pitch, La Brea
Welcome to the ultimate guide for history, statistics, local fun facts and the best things to do at Pitch Lake.
If you're considering Pitch Lake vacation rentals, we've made it super easy to explore accommodations and nearby hotels using the interactive map below. Simply click on a listing to compare similar properties, best rates and availability for your dates. Or keep scrolling to read our Pitch Lake guide!
Pitch Lake visitor and community guide
Pitch Lake may seem an unusual vacation destination. There's no swimming, boating or fishing at Pitch Lake in Trinidad's southern region. That's because the entire lake is a pool of petroleum pitch, the thickened remaining deposit left when lighter liquids have evaporated. Most know it as either tar or asphalt. But seldom does one see it in a naturally-occurring 100+-acre lake! Scientists speculate that the lake lies at the junction of two fault lines which allows oil to seep upward to the surface. Surprisingly, the pool of asphalt is teeming with microscopic life that lives without water and in limited oxygen. These conditions are similar to the hydrocarbon seas of Titan, Saturn's largest moon, leading researchers to speculate on the possibility of life beyond our planet. Trinidad is only seven miles off the coast of Venezuela, where another pitch lake exists, so scientists speculate that both lakes were part of one formation in the distant past.
Visiting Pitch Lake is usually part of a larger visit to Trinidad. Some have heard of La Brea Tar Pits in California; Pitch Lake is the same type of geological formation, only much bigger. At 114 acres, Pitch Lake is the largest of its kind in the world. Some areas of the oozing pond are quite firm- firm enough to walk on, as long as one keeps moving. Other areas are quite soft and unsafe. Several long-established areas hold rainwater pools large enough to support bird life and pond plants. Strange things sometimes emerge from the tar, the depth of which is unknown. At one time a 4,000-year-old tree trunk emerged about ten feet into the air before slowing sinking out of sight again. Ancient logs often appear and disappear, leaving tantalizing hints of the secrets this lake may hold. Visitors are advised to engage the services of a guide who knows the pool, as it isn't always easy to tell where the surface is solid enough to bear weight.
Pitch Lake was officially discovered by Sir Walter Raleigh in 1594 while he sailed around Trinidad. The practical Raleigh used the pitch to caulk his ship. Within the next three hundred years, tar from Lake Pitch found its way into road surfaces and waterproofing applications in nearly every developed country around the world. The asphalt was extracted by slave labor for much of that time until the British Empire announced they would abolish slavery in several years. The enterprising Trinidad and Tobago slaves managed a peaceful rebellion and gained their freedom early. The resulting labor shortage caused the local land owners to import indentured workers from China and India, resulting in a mix of cultures, religions and traditions on the two islands. The pitch is still being extracted commercially from Pitch Lake. Although the removed material has dropped the level of the lake to about 30 feet below sea level over 400+ years, it is obviously being replenished from below.
Located a few miles south of San Fernando on Trinidad's southwest coast, Pitch Lake makes an interesting excursion to a Trinidad vacation. A popular cruise ship stop, Trinidad has scores of sandy beaches, coastal hotels and resorts. Featured activities such as steelpan bands, exotic nightlife and colorful festivals are beginning to give way to nature adventures in the Trinidad rain forests, kayaking the massive swamps and marshes, bird watching tours, cycling, hiking and back-country touring. Several preserves are dedicated to replenishing the 'wildfowl' (ducks, geese and swans) native to the area. Reclaiming lands for the preservation of bird life such as the distinctive Scarlet Ibis has paid off in both increased natural habitat and more tourism focused on bird watching and photography.
Trinidad has a wide variety of terrain for hiking and camping. Some may be accessed by the novice, but many require the safety of a guide to avoid injuries, particularly among the low mountains and cliffs. Cavers will enjoy the many opportunities for cave exploration common in the limestone hills. Some of the most famous include Gasparee Caves, which lie below ground on the island of Gaspar Grande, off Trinidad's northwest coast. The caves were once used by pirates and smugglers to hide their stolen treasures. As Trinidad is only about 50 miles long and 30 miles wide, visiting both ends of the island is possible within a day.
Sea kayaking is popular as is fishing in the Gulf of Paria. Charters can be arranged in San Fernando and in Point Fortin, the oil and gas capital south of Pitch Lake. Other activities nearby include visiting the Hindu Temple-In-The-Sea at Waterloo. The restored temple lies on a man-made island base and is reached by a short causeway. Another nearby destination is the Pointe-a-Pierre Wildfowl Trust, just outside San Fernando. This non-profit water bird sanctuary and rescue organization lies on the grounds of the Pointe-a-Pierre Wildfowl Trust. The 6,000-acre reserve offers trails, two lakes and many species of endangered birds. Trinidad and Tobago produce an excellent down-loadable tourism guide, with information on everything from activities to phone service on the island.
There are many opportunities for vacation rentals in the area near Pitch Lake. San Fernando has a variety of lodging opportunities. Although Tobago is more popular for holiday rentals, surprising bargains can be found on Trinidad, including villas, vacation apartments, resorts and bed-and-breakfasts. Some hostels and campgrounds exist close to beaches and local nightlife. Real estate is sometimes available as existing owners move on or move up. One couldn't find a better spot to do scientific research, perhaps on natural tar microbes or native Caribbean bird life than the area around Pitch Lake. Check out Trinidad and Lake Pitch; you may have found your life's calling!
Custom Pitch Lake house decor
Read our full review of these personalized lake house signs.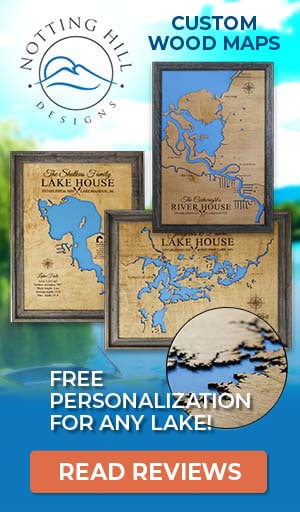 Things to do at Pitch Lake
Vacation Rentals
Fishing
Boating
Swimming
Beach
Kayaking
Camping
Campground
Hiking
Biking
Wildlife Viewing
Birding
---
Best hotels and vacation rentals at Pitch Lake
The Pitch Lake map shown above is a simple and stress-free way to search for trip accommodations. But if you want to take a deeper dive to find the ideal waterfront home, cabin, condo, hotel or resort, visit our favorite lodging partners by clicking the buttons below.
Note: These are affiliate links so we may earn a small commission if you book through them. While there is no extra cost to you, it helps provide resources to keep our site running (thank you)! You can read our full disclosure policy here.
---
Pitch Lake photo gallery
New photos coming soon!
Pitch Lake statistics & helpful links
We strive to keep the information on LakeLubbers as accurate as possible. However, if you've found something in this article that needs updating, we'd certainly love to hear from you! Please fill out our Content Correction form.
Advertise your Pitch Lake vacation rental
LakeLubbers will soon offer homeowners and property managers the opportunity to to showcase their vacation rentals to the thousands of lake lovers searching our site daily for accommodations. If you'd like additional details, please contact our advertising team here.
Looking for the Pitch Lake forum?
LakeLubbers previously offered visitors the ability to create accounts and participate in lake forums. When we overhauled the site's content management system in 2021 we had to disable those features. We're evaluating options and welcome your comments and feedback here.
We also encourage you to join our lake-lovin' community on Facebook and Instagram!
Spread the word! Share our Pitch Lake article with your fellow Lake Lubbers!