Pike Lake Chain of Lakes, Wisconsin, USA
Also known as:  Pike Lake, Round Lake, Amik Lake, Turner Lake, Tucker Lake
Welcome to the ultimate guide to Pike Lake Chain of Lakes — things to do, where to stay, fun facts, history, stats and more. Let's dive in!
Topics we cover in this article:
Looking for Pike Lake Chain of Lakes cabins or other accommodations? Save time and use this interactive map to find, compare and book at the best rates. Or explore our comprehensive list of favorite travel partners.
All About Pike Lake Chain of Lakes
The Pike Lake Chain of Lakes is a group of four fully navigable, spring-fed lakes, two creeks and a fifth lake accessible by a short portage. Located in the northeast corner of the Chequamegon-Nicolet National Forest in northwest Wisconsin, all of the lakes are noted for their excellent fishing.
With a total of 2,023 acres of water, the Price County chain offers visitors many ways to have fun and relax. Although water sports are the main attraction, the surrounding heavily wooded terrain is paradise for ATV riders, hiking enthusiasts, mountain bikers and nature lovers.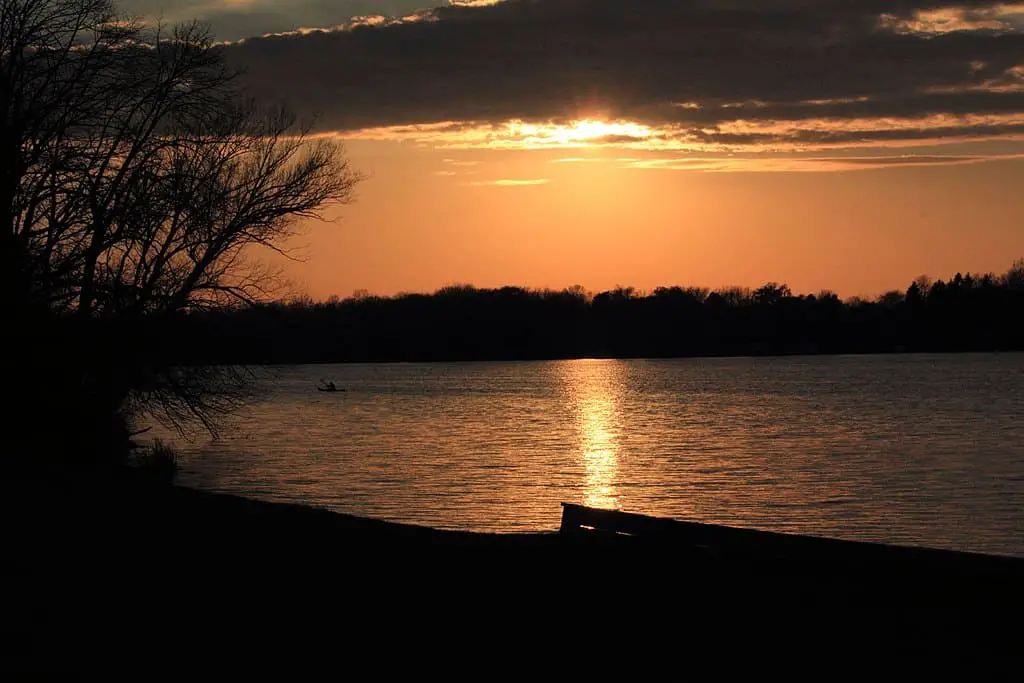 What lakes make up the Pike Lake Chain of Lakes in Wisconsin?
The Pike Lake Chain of Lakes is made up of Pike Lake, Round Lake, Amik Lake, Turner Lake, and Tucker Lake. Accessibility to Tucker Lake requires a portage through the Chequamegon-Nicolet National Forest from Round Lake.
Pike Lake is the largest of the lakes at 806 acres, with an average depth of 11 feet and a maximum depth of 17 feet.
Round Lake is the second largest and most popular of the chain covering 726 acres and boasting an average depth of 16 feet and a maximum depth of 24 feet.
Amik Lake is the third largest lake at 224 acres, with an average depth of 5 feet and maximum depth of 8 feet.
Turner Lake is the fourth largest of the lakes at 149 acres, with an average depth of 8 feet and a maximum depth of 12 feet. Tucker Lake is the smallest of the lakes at 118 acres, but holds the title of being the deepest lake with a maximum depth of 32 feet and an average depth of 14 feet.
All of the lakes are known for great fishing with an abundance of muskie, smallmouth bass, walleye, northern pike, crappie, perch, rock bass, bluegill and sturgeon. Motor trolling is permitted on Round Lake and Pike Lake. Note: Although most fish taken from Wisconsin lakes and streams are safe to eat, refer to the Fish Consumption Advice from the Wisconsin Department of Natural Resources before eating fish caught from any Wisconsin waterway.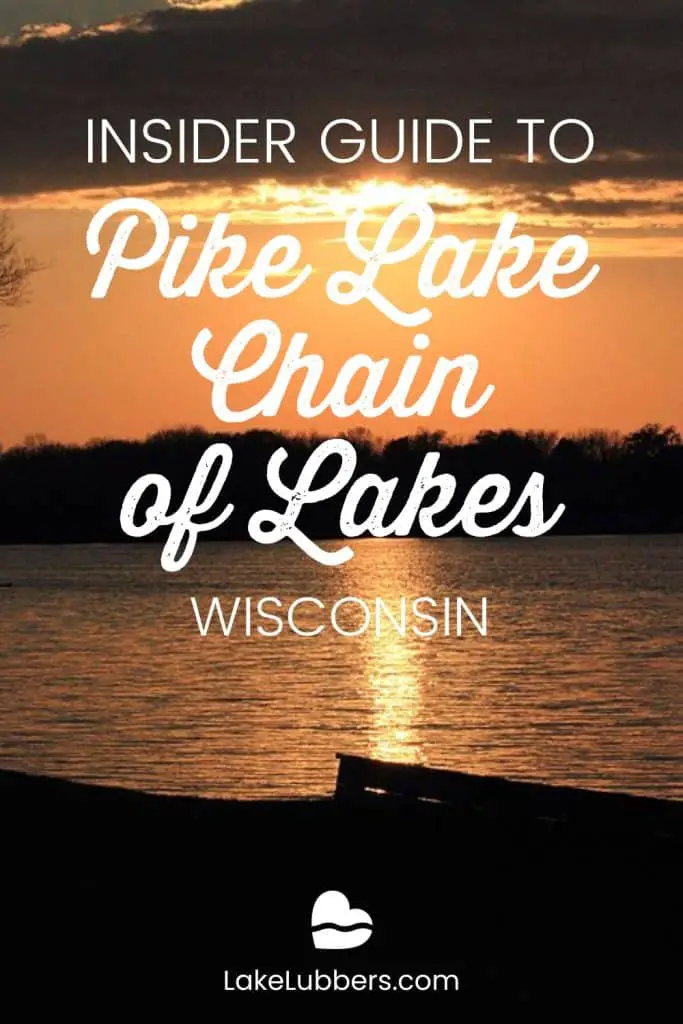 How to access Pike Lake Chain of Lakes (and where to camp)
Access to the Pike Lake Chain of Lakes can be found on Round Lake. Private boat launches can also be found at some of the resorts and lodges located on the banks of the chain.
To make sure fisherman, water skiers, and boating enthusiasts have ample time and space on the lakes, an ordinance regulates waterskiing hours from 10 am to 5 pm. Swimming in the lake is encouraged and there are a number of sandy beaches and floating docks on the larger lakes.
Camping opportunities are numerous in the area with many public and several privately owned campgrounds. Camping is allowed anywhere in the Chequamegon-Nicolet National Forest as long as you are at least 50 feet from any trail or water edge.
Private campsites on Round Lake and Pike Lake offer all the latest camping amenities. There are also a number of designated campsites in the Forest which offer electrical hookups, water, showers and flush toilets. Vacation rentals and private real estate can be found near the shoreline of Round Lake and Pike Lake.
Things to do Pike Lake Chain of Lakes
Surrounded by the Chequamegon-Nicolet National Forest, there is no shortage of hiking and biking trails around the Pike Lake Chain of Lakes. Covered bridges, nature preserves and spectacular fall colors await those who would like to explore the area.
The terrain is rolling and wooded and frequented by wildlife, offering hikers a beautiful experience in the northern forest. For ATV riders, many miles of well-marked trails provide the rider with beautiful scenery and excitement.
Wildlife in the area includes deer, bear, fox, raccoons, eagles and osprey. For hunters, Price County has 260,000 acres that are open for deer, bear, grouse, ducks and snowshoe hunting. Hunters can walk for miles along trails without worrying about "no hunting" signs. The city of Park Falls is the "Ruffed Grouse Capital of the World" and deer are abundant for both rifle and bow hunters.
Other outdoor activities in the Pike Lake Chain of Lakes region include golf and horseback riding. Shopping, casinos, theaters, entertainment and dining are all within a 30-minute drive of the lakes. There are also a few restaurants on the banks of the chain making canoeing and kayaking a pleasurable experience.
When the snow begins to fall, winter activities on the Pike Lake Chain of Lakes keep the area busy. Snowmobile enthusiasts will discover an outstanding network of groomed trails maintained by the Price County Snowmobile Association. Cross-country ski trails, including the Round Lake Wilderness Study Area, offer a variety of challenges for both beginners and experienced skiers. Ice fishing and skating are also popular lake activities.
Pike Lake Chain of Lakes trails for hiking, biking and more
One of the biggest draws of the Pike Lake Chain of Lakes is the 850,000-acre Chequamegon-Nicolet National Forest where recreational opportunities abound.
Over 365 miles of trails are maintained for snowmobilers and off road vehicles and 230 miles of trails have been developed for non-motorized use including two national scenic trails and one national recreation trail.
The Rainbow Lake and Porcupine Lake Wilderness areas offer backpackers and hikers 11,000 rugged acres of pristine nature. In the heart of the forest is an extensive network of trails that are perfect for horseback riding. The majestic pines and many lakes and streams create a wonderful escape from the drudgery of everyday life.
The Pike Lake Chain of Lakes offers anglers and outdoor enthusiasts unlimited opportunity for recreation. Fish for record size pike, golf some of the most scenic golf courses in Wisconsin, mountain bike for miles, ski some of the state's finest cross country ski trails, snowmobile right from your front door onto well-groomed trails or unwind while patiently waiting for a glimpse of a grazing deer or elk.
Each season offers a unique opportunity to experience all the natural allure that await your vacation to the lakes. Plan your visit to the Pike Lake Chain of Lakes in Wisconsin.
RELATED:
Things to Do at Pike Lake Chain of Lakes
Vacation Rentals
Fishing
Ice Fishing
Boating
Swimming
Beach
Canoeing
Kayaking
Water Skiing
Golf
Camping
Campground
Hiking
Biking
Snowmobiling
Horseback Riding
Hunting
Wildlife Viewing
Birding
National Forest
Shopping
Casino Gambling
Fish Species Found at Pike Lake Chain of Lakes
Bass
Black Bass
Bluegill
Crappie
Muskellunge
Northern Pike
Perch
Pike
Smallmouth Bass
Sturgeon
Sunfish
Walleye
Find Places to Stay at Pike Lake Chain of Lakes
If you're considering a Pike Lake Chain of Lakes lake house rental or hotel, we've made it super easy to find the best rates and compare vacation accommodations at a glance. Save time using this interactive map below.
Recommended Sites to Book a Pike Lake Chain of Lakes Vacation
If you want to take a deeper dive to find waterfront lake cabins, cottages, condos, hotels or resorts, check out our favorite Pike Lake Chain of Lakes lodging partners.
Note: These are affiliate links so we may earn a small commission if you book through them. While there is no extra cost to you, it helps provide resources to keep our site running (thank you)! You can read our full disclosure policy here.
Pike Lake Chain of Lakes Statistics & Helpful Links
We strive to keep the information on LakeLubbers as accurate as possible. However, if you've found something in this article that needs updating, we'd certainly love to hear from you! Please fill out our Content Correction form.
Shop Pike Lake Chain of Lakes Gifts
Advertise Your Pike Lake Chain of Lakes Business or Vacation Rental
LakeLubbers will soon offer businesses the opportunity to advertise and homeowners and property managers the ability to showcase their vacation rentals to the thousands of lake lovers searching our site daily. If you would like additional details, please contact our advertising team.
Looking for the Pike Lake Chain of Lakes Forum?
LakeLubbers previously offered visitors the ability to create accounts and participate in lake forums. When we overhauled the site's content management system in 2021 we had to disable those features. We're evaluating options and welcome your comments and feedback here. We also encourage you to join our lake-lovin' community on Facebook, Instagram and Pinterest!
Pike Lake Chain of Lakes Photo Gallery
New photos coming soon!
Spread the word! Share our Pike Lake Chain of Lakes article with your fellow Lake Lubbers!