Pewaukee Lake, Wisconsin, USA
Lake Locations:
USA - Midwest - Wisconsin - Southern Savanna Region -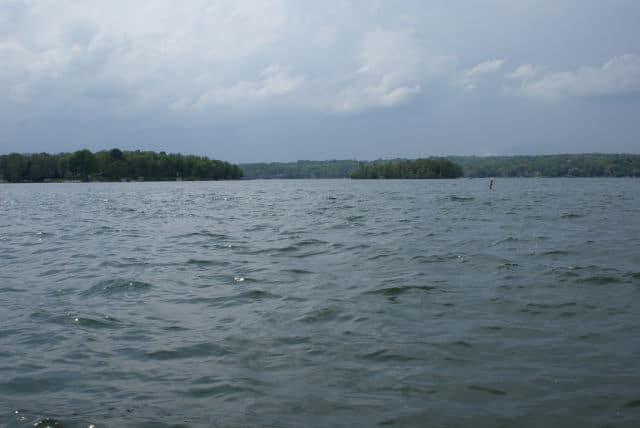 Named from the Potawatomi word "Pee-wauk-ee-wee-nick" for "lake of shells," Pewaukee Lake is a beautiful spring-fed lake. Just 20 miles from Milwaukee in Waukesha County, it is a great place to boat, swim and fish and an easy weekend getaway.
In 1838 Asa Clark built a dam and sawmill on the Pewaukee River. The dam flooded a wetland and the existing Snail Lake joining the two bodies of water into Pewaukee Lake. Although the two bodies of water became one, they still maintain different climates and characteristics. The eastern basin of Pewaukee Lake is the flooded wetland with a maximum dept of only ten feet. The western basin is what was Snail Lake. With a maximum depth of 45 feet, it is much more like a deep water lake.
The Village of Pewaukee rebuilt the Pewaukee Dam in 1976 for recreation, and there is plenty of it on Pewaukee Lake. The lake has been a popular resort destination since 1901, and the Pewaukee Lake Yacht Club has been active for 112 years. The Yacht Club is still active, and Pewaukee Lake is a very popular sailing lake. Boating opportunities don't end there, however, there is power boating, jet skiing, and water skiing. The Pewaukee Lake Ski Club performs on the lake most summer weekends and their free shows are great entertainment for the entire family. A lot of the lake's shore is still wooded and there are three islands – perfect to explore by canoe or kayak. With its sandy beach, Pewaukee Lake Front Beach is a great place to swim.
Water quality on Pewaukee Lake used to tend toward eutrophic. With careful management the lake has come back to a mesotrophic state making it a great place for fish. Anglers will find abundant populations of bluegill, northern pike, walleye, and large mouth bass. There are also muskie and tiger muskie. After a day of fishing or boating, there are several restaurants and taverns with boat access. In the winter the ice fishing is exceptional and there is ice boating and snow mobiling on the lake.
Accommodations around the lake range from cottages to resorts. The Village of Pewaukee Lake is large enough to have any amenities a visitor could want, but it retains its small town charm. Less than forty miles away, 32,000 acre Horicon Marsh is the largest freshwater cattail marsh in the United States. It has both a State and National Wildlife Refuge and is a fantastic place to hike, bike, hunt, fish, and bird watch.
Just a few miles from Pewaukee Lake, the Kettle Moraine State Park is a great place to explore. The 20,000 acre park includes the 3,500 acre Scuppernong River Habitat Area. There are also three restored log cabins, and America's largest outdoor museum of rural life. The state park has plenty of trails for hiking and biking and several camping areas.
With its proximity to Milwaukee and all the amenities of the Village of Pewaukee Lake there is sure to be something to delight everyone. Add the abundant fishing, boating, and beautiful water and Pewaukee Lake is sure to become a favorite Wisconsin destination.
Things to do at Pewaukee Lake
Vacation Rentals
Fishing
Ice Fishing
Boating
Sailing
Swimming
Beach
Canoeing
Kayaking
Jet Skiing
Water Skiing
Camping
Cabin Rentals
Hiking
Biking
Hunting
Wildlife Viewing
National Wildlife Refuge
State Park
Museum
Fish species found at Pewaukee Lake
Bass
Bluegill
Largemouth Bass
Muskellunge
Northern Pike
Perch
Pike
Sunfish
Tiger Muskellunge
Walleye
---
Pewaukee Lake Photo Gallery
Pewaukee Lake Statistics & Helpful Links
Spread the word! Share our Pewaukee Lake article with your fellow Lake Lubbers!